Best Pumpkin Recipes With Cake Mix
During Fall it is an absolute necessity to enjoy some of the best pumpkin recipes with cake mix. These make a great dessert of sweet treat at any time of the day.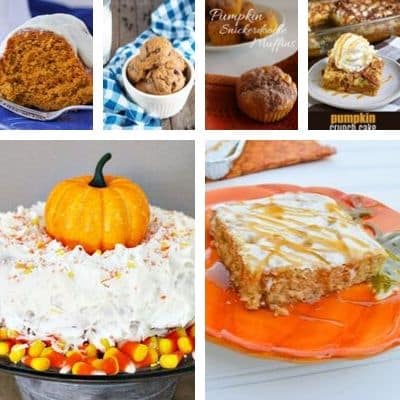 Recipes with cake mix and pumpkin are so easy to make! Pumpkin recipes with yellow cake mix or spice mix are the most common. The cake mix itself is so handy and convenient and saves on preparation and time! This is crucial if you are a busy Mom like me trying to get cakes made ASAP!
I have a whole host of healthy pumpkin dessert ideas and even some great Halloween pumpkin desserts, but you need to try some of my quick pumpkin recipes with cake mix too. Fortunately some of my foodie friends have provided some great ones for you all to make and enjoy.
Must Try Pumpkin Recipes With Cake Mix
If you want to bake some amazing pumpkin desserts and cakes as quickly as possible you ought to try recipes with cake mix. Goodness these save so much time as you do not have to stand and measure flour, sugar, eggs etc.
The good news is you can make such a large variety of these with either yellow cake mix or spice cake mix.
You'll love the ease of this pumpkin dump cake with yellow cake mix! Like the title says, you literally just have to "dump" and cook! This easy Thanksgiving dessert idea is perfect for family get togethers!
Get the Recipe
Goodness this pumpkin crunch made with yellow cake mix and pecans looks divine! I had to admit I still have not got around to making one of these but it is definitely on my Fall to do list. Served with whipped cream and caramel sauce this will be a real winner for Thanksgiving dessert.
Continue Reading
Everyone needs some chocolate chips in their life! I absolutely adore chocolate chip pumpkin recipes so I instantly knew Id love this one.
I have actually made these myself but have never used spice cake mix. This actual recipe only uses 4 ingredients!!
I have to say in future I will use this pumpkin recipe with spice mix as it would save so much time.
Continue Reading
Instant pot pumpkin recipes are know for their healthiness as well as amazing taste! This pumpkin cake is made using an instant pot and white cake mix, so not only is it more healthy than its counterparts it is also quicker to make too.
Pumpkin cakes go so well with cream cheese frosting and this combined with pecans make this perfect for Fall! Eat it after dinner or with hot cup of coffee!
Continue Reading
Pumpkin snickerdoodle recipes are hugely popular over Fall and it is easy to see why...they taste so darn good!
Pumpkin muffins are a must eat treat for a girly get together!
Continue Reading
Everyone loves easy pumpkin bars and these certainly come into this category.
These are one of those pumpkin recipes with spice cake mix and of course they are topped with divine cream cheese frosting, that seems to be one Fall trend that never changes!
Continue Reading
If you are planning a big gathering for Thanksgiving and want a quick Pumpkin cake recipe that serves over 8 people this is it! Plus it looks pretty. All you need to add is glaze or frosting as is done here!
This lady uses yellow cake mix but makes sure she has ample pumpkin pie spice (we all know that this is necessary to make the cake taste even more pumpkin like)!
Continue Reading
I am a massive fan of donuts and have my own easy pumpkin donut recipe. As soon as I seen a picture of these pumpkin roll donuts made with spice cake mix I knew I needed to make them!
I was pleasantly surprised to hear you can make 60 of these minis in under 30 minutes!! To be honest I cannot think of a better way to spend half an hour!
The frosting sounds delish too!!
Continue Reading
Everyone needs a pumpkin poke cake in their life once Autumn is in full swing! If you have some yummy cake mix in your cupboard this one is pretty easy to make!! Plus you get to eat salted caramel, which is way too good to resist!
Continue Reading
An explosion cake seems like so much fun and this one looks fab too!! Even better the baker let her kids do the decorating, so if you want to get your kids involved with some Fall baking check out this recipe.
Pumpkin recipe with spice cake mix and you need a Bundt pan to be able to make it!
Continue Reading
Have you tried any of these Pumpkin Recipes with Cake Mix?