Pumpkin Decorating Kits
Pumpkin decorating kits are now widely available, and make your Halloween decorating much easier and safer than ever before.
Check out the pumpkin carving kits available now on Ebay. I've chosen a selection for you below.

Thanks to the work of a safety engineer, Paul Bardeen and his sons, special pumpkin carving tools have been available since 1983, and can be bought through many department stores, and seed merchants at this time of year. The best make belongs to the Bardeen family and is called Pumpkin Masters.  You can be sure you are getting the original and best quality if you buy these.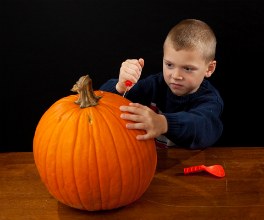 These tools are the safest you can get for making the traditional Jack O'Lanterns for your Halloween yard decoration.  They are also much easier to use than anything you will find in your kitchen or shed.  Many include stencils, designs, pattern books and instructions. Designs include themes from kids favorites such as Disney and ghouls, ghosts and fairies.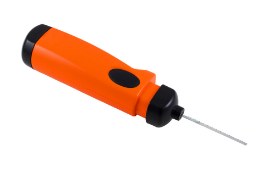 The Jack O'Lantern that we all know and love, and which is such an essential part of Halloween, originated in Ireland.  The mythical character Jack, was supposed to have been rejected from heaven, and from hell too as he had even made tricks against the devil.  Jack was condemned to walk the earth until judgement day with a lantern to guide him.  Jack's lantern was made out of a turnip, but the ones we have now, made out of beautiful large orange pumpkins are so much more attractive. 

Another story tells that the faces carved onto pumpkins were those of lost souls, and they were lit up and placed by the doorstep to ward off evil spirits. 

In 2010, the world record for the fastest time to cut a face into a pumpkin was broken in the UK by David Finkle.  He did it in 20.1 seconds!
So, get some great quality tools, and get cracking with that carving.

Here is a selection available now on Ebay USA:
Return from Pumpkin Decorating Kits to Halloween Pumpkin Patterns

---