Pumpkin Rice Pudding a la Balinese!
by Jenny
(Western Australia)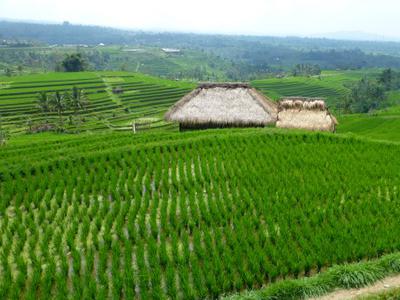 Balinese Rice Paddy at Jatiluweh
Hi Lesley - thought you might appreciate this one since you love Bali so much! Love Jenny

This is inspired by one of my favourite Balinese recipes – sticky black rice pudding. But I thought that if I used black rice, I'd lose the wonderful orange colour of the pumpkin. So it's made with white pudding rice. The Balinese touch is from the palm sugar and the coconut milk.

So, it's called – Pumpkin Rice Pudding a la Balinese

It needs:

1 cup of white rice – Valencia, or short grain is best
3 cups of water
½ cup pumpkin puree – canned or fresh, (or any left over cooked pumpkin, so long as it hasn't been salted or taken on any meat flavours, or you might have a very unusual pudding!).

Can of coconut milk – about 13 – 15 ounces
6 tablespoons sugar – if you can get it use palm sugar – it might need bashing to break it up if it comes in solid lumps. Or you can use liquid palm sugar which is available sometimes in jars. If you can't get palm sugar, use dark brown sugar, maple syrup or just plain granulated sugar.

Boil the rice in the water until cooked – about 20 minutes and drain. If it's very starchy, you might want to rinse it in some boiling water.

Then return to the pan and add the coconut milk, sugar and pumpkin. Cook through for another 30 minutes or until most of the liquid has been absorbed. You can eat this hot with some cream and a bit more liquid palm sugar drizzled on top, or chill in the fridge for a few hours.

This can be a comforting pudding for a cold winter's night, while dreaming of coconut palms on a tropical island. Or chilled, it makes a delicious dessert for a warm sunny day, coconut palm optional!