Every year, I try to do a Halloween countdown with my kids. Something with pumpkins is always included on the list. Everyday for the month of October, we pick a different Halloween themed activity like this Thanksgiving Pumpkin Flower Arrangement.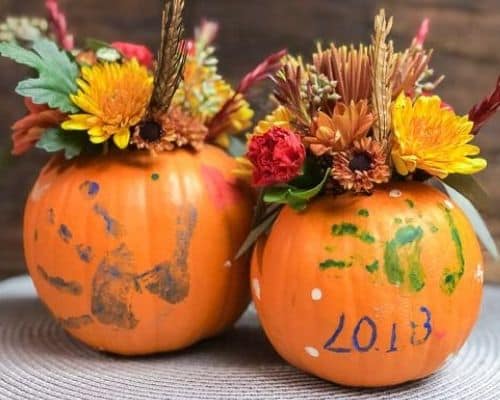 This year we chose to paint pumpkins. My kids are still a little too young to carve pumpkins for Halloween, so we painted them instead.
I'm sure you've seen the cute painted pumpkins all over the internet. Because my kids are small and painting doesn't hold their attention, we decided to do handprints and finger painting. Creative pumpkin decorating sure is the best fun of all during Fall!
The great thing about not cutting open the pumpkin, is that they last an awfully long time! We painted them mid-October and I kept the pumpkins on my mantel well into November.
Honestly painted pumpkins make some of the best pumpkin home décor I have ever seen. You can do whatever you wish with them. Every year I seem to add to my collection of painted creations.
I kept seeing them sitting on my mantel wondering what else I could do with them. Since I wasn't ready to throw them away just yet, so I decided to give them new life!
They are just so cute and they really needed to be displayed somewhere everyone would see them. I figured they would make adorable floral arrangements for our Thanksgiving dinner table!
I love the combination of pumpkins and flowers, and of course before we harvest this fine fruit it has it's own pumpkin flowers in the garden.
How To Make a Thanksgiving Pumpkin Flower Arrangement
This is a super simple project that even the kids can help with and it is so much fun. I really ought to add it to my list of easy pumpkin crafts for adults, as those who love gardening would really enjoy this.
You can use painted pumpkins or any type of decorated pumpkins you wish. Personally I might let my kids help with one and let them put stickers and sequins all over it! They can set it on top of their desk in the toy room!
My kids particularly enjoyed helping me punch holes in the pumpkins. They begging me to make as many as possible!!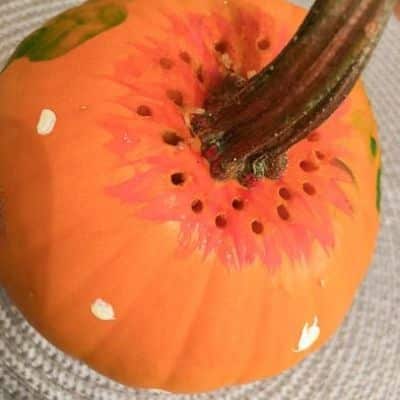 If you really do not wish to use decorated pumpkins you can use any type of sturdy, flat bottomed pumpkin (you want one that sits flat and does not topple over).
You can buy flowers to put in the pumpkin or you can collect your own from the garden if you are lucky enough to have a large selection.
Find out below how to create a pumpkin flower arrangement.
Yield: 2
Thanksgiving Pumpkin Flower Arrangement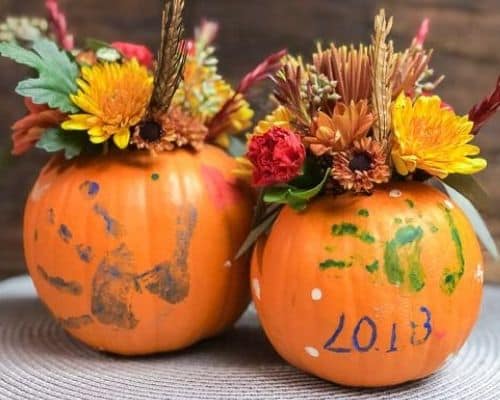 Simple pumpkin flower arrangement which will look fabulous on your table at Thanksgiving.
Tools
Skewer or other pointed object
Scissors
Instructions
Start by prepping your flowers. You want to separate all your flowers and cut them down to size. Make the stems about half of your pumpkin, you can always cut them down more if needed. If they are too long they will bend!
Then take your pumpkins and make holes all around the stem. Don't worry if you make too many, you can cover them up with the flowers later.
Start arranging your flowers by poking the stems into the holes. Arrange them to cover the stem. You can split one floral arrangement between the two pumpkins.
That's it! You're done!
Notes
When making the holes, make sure they are wide enough to fit the stems. They don't have to be too deep though.

I would also suggest not to make holes down the side of the pumpkin, just on top.

Make this pretty close to the time you want to display it using fresh pumpkins with lots of moisture. The water in the pumpkins will help feeds the flowers.

I made it this night before Thanksgiving. The flowers lasted about 3 days before they started looking droopy.

If you don't have skewers improvise with another sharp pointy object. My friend used liquor pourers!

Of course who says you have to use orange pumpkins for this pumpkin floral arrangement? You could use white ones. I absolutely adore white pumpkin décor ideas as I think they are extremely rich looking!
Have you ever made any pumpkin floral centerpieces? Please share some pictures with all my readers in the comments.
This post was written for Pumpkinlicious.com by Amy. You can find her over at amylanham.com. She is a wife and stay at home mom to two kids, trying to build her empire during naps and nights when her husband is home.
To keep her sanity, and stay on budget, she creates DIY crafts for the kids, home decor, and gifts. If she's not sleeping, hanging out with her kids, or working, you can find her binge watching "The Office" reruns with her high school sweetheart, John.
Will you be displaying a Thanksgiving Pumpkin Flower Arrangement on Your Dinner Table?