If you have a color happy house but want something neutral around Fall and Halloween you might be interested in white pumpkin décor ideas. Long gone are the days when pumpkins have to stay orange! In fact you can have them in lots of different colors.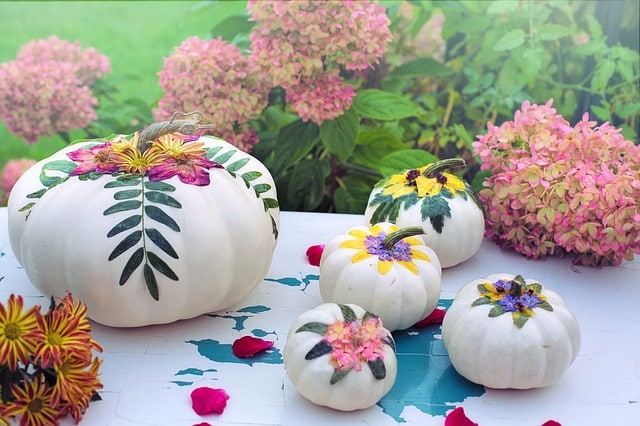 I love to mix n match the best pumpkin home décor in my house so I will have some in traditional orange, some in blue and some in white.
Here I will feature some general white pumpkin home décor, small white pumpkin décor ideas, lighting and candles and lots more.
General White Pumpkin Décor Ideas for The Home
There are several understated pieces which can easily be used all year long as home décor. I particularly love the ceramic pumpkin furniture knobs which can be used for drawers and doors. These are also available in light blue, if blue pumpkin décor is your thing. Another great idea is some garden flags! These are very welcoming and are fabulous if you are having a party over Fall or if you are having some family to stay. These will definitely get your guests in party mood for Thanksgiving.
I had to feature the white pumpkin fairy house decoration. My goodness it is oh so cute! My little girl would absolutely love this but she is far too young to appreciate it so I will hold off buying it for a while. I would really recommend it as one of the great Pumpkin gifts for fans. I have also featured a white pumpkin bowl for kitchen use.


Small White Pumpkin Décor Ideas
Small pumpkin décor is perfect for dining tables especially during Thanksgiving dinner. In fact you can add these to any table or corner unit for that little something extra. We all know décor is about the tiny details.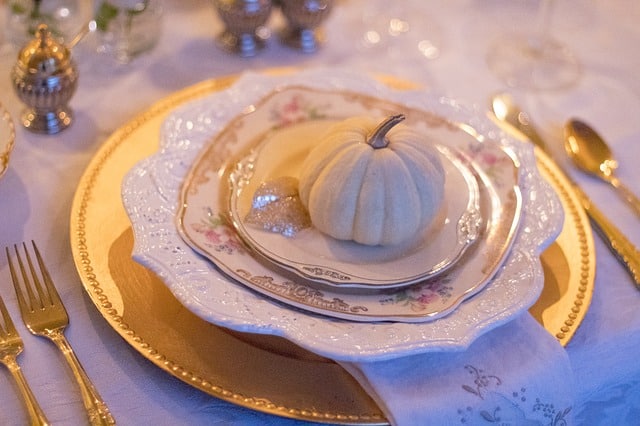 Many of these white pumpkins are just like ornaments. They look dainty and pretty. They will work well in small areas. I have a white dining table or else I would fill the center of my table with these! You can get some tips on how to display these below.
Small Pumpkins for Decor Halloween Fall Harvest Thanksgiving DIY
Factory Direct Craft 5 Assorted Size Harvest Off White Artificial Pumpkins
white pumpkin ornament with writing
white pumpkin decoration with writing
There are just so many things you can do with white pumpkins! I fell in love with the video below as it has some great DIY white pumpkin décor ideas. This lady shows you how to transform your decorations and make them look really good. She uses pumpkins as centrepieces and candle holders. She even writes on them. I have to say her choice of ink color looks very rich indeed. She mixes white pumpkins with flowers of different colors.
White Pumpkin Candle Holders and Lighting
If you want to add a splash of color to a white pumpkin candle holder then add a colored candle. I think bronze and orange work very well and look appropriate for Thanksgiving celebrations. There are also several lanterns available which can be set in a front porch or in one of the main living areas.
Mud Pie Sculpted Pumpkin White Tapered Candle Holder
Hosaire Metal Tealight Candle Holder Hollow Pumpkin Hanging Lanterns
DII Short White Pumpkin with Damask Lantern Halloween Battery
Final Thoughts on White Pumpkin Décor Ideas
I hope you like the white pumpkin décor ideas I presented here. There are new things being added all the time especially as Fall approaches. However you should learn to grow pumpkins and then you could have lots of white ones of your own to decorate. You could easily paint these and use them as great DIY pumpkin home décor. If you are interested in growing white pumpkins the seeds below will help you start your dream!


You Might Also Want To Read These Articles on Pumpkin Décor
Best Pumpkin Home Décor - help is on hand to decorate your home in pumpkin theme
Blue Pumpkin Décor - if blue is your color then this is where you need to go!
Creative Pumpkin Decorating Ideas - if you want some inspiration on DIY pumpkin décor then this is for you.
Free Pumpkin Stencils - decorate your pumpkin with one of these cool free pumpkin carving templates
What are your favorite white pumpkin décor ideas? Do you prefer them in white as opposed to other colors?