Why not use some more adventurous and interesting free pumpkin stencils for your Fall pumpkin patterns this year? There are so many great options to choose from!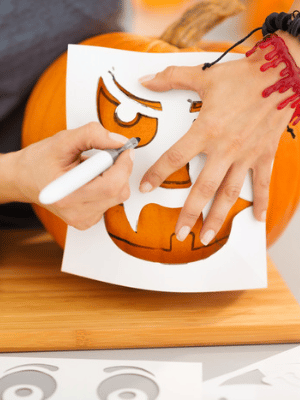 Its that time of year again, Autumn is rolling in with crisp nights, the smell of wood smoke is in the air, and the leaves are turning brown. The farm stands are full of sumptuous orange pumpkins.
Your thoughts turn to Fall parties and decorating the yard for the most entertaining time of the season. The entire family is excited and you want to make it really special this time.
The kids start talking about pumpkins at school from late September and are trying to persuade Mummy and Daddy to get some cool stencils to help them have a fabulous Jack O Lantern for the occasion.
School is encouraging kids saying they will have a competition and the first 3 places will get gift cards for the local toy store. The pressure is on us as parents to ensure our kids are happy with their carved pumpkin design.
Older kids are trying to do the carving themselves and are sharing their creations on Facebook and Snapchat.
Below you can find:-
Basic introduction into pumpkin carving designs and pumpkin stencils
Where To Find Pumpkin Stencils
My Favorite Free Pumpkin Stencils
How To Use Stencils to Carve Your Pumpkin
What's everyone excited for? Pumpkin carving designs!
What are we going to do this time? Pumpkin carving has become a real art form in recent years. Two triangles for eyes and a slit mouth are just not going to cut it anymore, pardon the pun!
Thankfully help is at hand, and you don't have to be an expert artist, or a creative expert to do a great job and impress the kids and your neighbors.
I would recommend you make a mental note on what day is Halloween in case you are super busy with work the few days beforehand.
You might want to search for your dream designs at least a week before Halloween and ensure you have your stencil at hand several days before October 31st.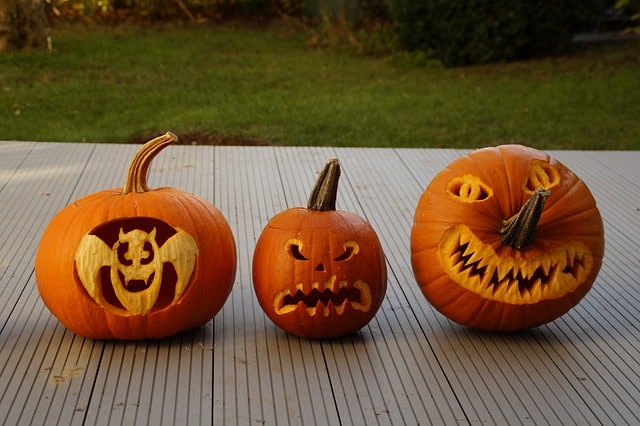 No matter if you make your own, or use someone else's Fall pumpkin designs, there are lots of pumpkin stencils to choose from. Trace a picture from the kid's favorite book, tape it to the pumpkin and transfer the design using a pin or nail through the paper.
Even better let the kids do it themselves. There are some safe pumpkin decorating kits and carving tools on the market now which make it fun and simple for the youngsters.
Where To Find Pumpkin Stencils
There are lots of pumpkin carving templates available these days, and you can find a great choice on Ebay, Amazon and in department stores.
You can even get Disney pumpkin carving patterns too.
Seriously, everyone wants in on the pumpkin stencil game. You name what you want and I bet I can find it or something pretty close to it for you.
I decided to do a search and bring you my favorite free pumpkin stencils! If you are lucky enough to grow your own pumpkins and have a large supply you can carve as many as you wish.
My Absolute Favorite Free Pumpkin Stencils
Hands up who wants an awesome freebie this Halloween?! Yep you will not get much better than a free pumpkin carving pattern. These are available to download and print.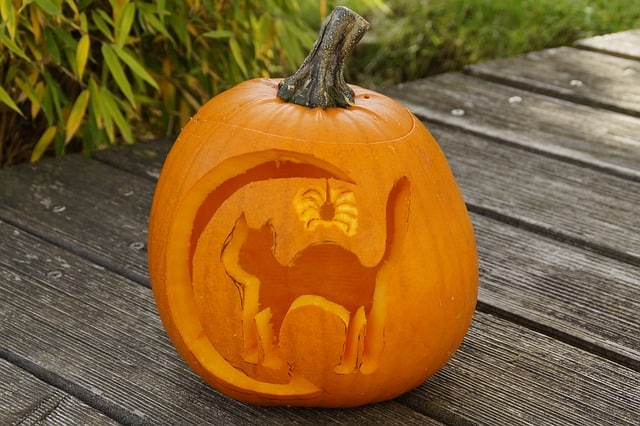 Free Pumpkin Stencils featuring Snowmen and Winter related objects! I know you are asking why someone would want to do this in October, but my kids would! The talk about Christmas all year long and love snowmen.
Christian and Faith Pumpkin Carving Templates To Print - I love religious stuff and it is great we can show our appreciation and dedication to religion during this time.
Cat Pumpkin Stencils - I love these and we always try and do a cat every year, but just the face. We use star eyes which look fab and have basic whiskers. I have to be honest though some of the experts can carve far superior looking cats than ours.
They do the body as well as the face. Pumpkin Cat faces are so cute and everyone needs to do at least one of these over Halloween.
If you have a furry friend in the house you might want to do a dog face on pumpkin and choose from a particular breed of dog.
If you like birds you might like my pumpkin owl carving templates. Some of these are easy while others are more advanced.
Disney Pumpkin Carving Templates - My little girl loves Disney especially frozen so she was delighted when I told her I found some free pumpkin templates featuring her favorite Frozen characters.
Harry Potter Pumpkin Stencils - wow who does not long this magical wizard! I have to say these designs are amazing and easier to carve than you think.
How to use your pumpkin stencils
Its a great idea to photocopy your stencils before use, in case they get damaged and then you can use them again next year. Trim the stencil so it has only ½ inch edge all round. Tape to the pumpkin, folding to make it sit smoothly.
Trace the image onto the pumpkin by puncturing along the lines every 5mm with a pin or nail.
Remove the stencil and make the lines darker with a pencil or marker pen. Color in any areas which are going to be completely cut out, so you can make sure they don't join up with any other areas and weaken the structure.
Cut out those areas with cuts straight through the pumpkin and they can then be pushed out with a finger.
Any other lines don't need to go right through, but can just be cut into the surface.
And if you really want to be amazed by a pumpkin carving, look at the pictures on this site of the carvings done by Sam Gendusa, who even wrote a book about his Jack O'Lantern carvings.
Some people are curious how long it takes to actually complete the pumpkin carving. That totally depends on your tools and how complicated your pattern is. You will get faster the more carving you do and if you have all your supplies organized.
Here are some pumpkin stencil supplies for all the family!
Professional Pumpkin Carving Tool Kit-Includes 12 Carving Tools And 10 Carving Stencils, Heavy Duty Stainless Steel Tool Set
Pumpkin Carving Tools Kit - 37 PIECES - 30 STENCILS - 5 TOOLS - 2 LIGHTS - Pro Level Stainless Steel Pumpkin Carving Kit Tools Set
4 Piece Pumpkin Carving Tools Kit, Stainless Steel .Professional Quality, Free 10 Carving Patterns/Stencils for Halloween
Final Thoughts on Pumpkin Stencils for Halloween
Two pieces of good news are that pumpkin stencils are easy to find and easy to use. There are also lots of free pumpkin carving stencils out there which can help you create an awesome design. These are kid friendly and you will want to create several.
If you have gained confidence and enjoy this you might want to check out some of the free advanced pumpkin carving patterns.
You Might Also Find Some Pumpkin Inspiration Below
Creative Pumpkin Decorating Ideas - some more pumpkin designs for you including no carve decoration
Pumpkin Home Décor - If you create the best ever pumpkin carving you might want to showcase it in your own alongside the other magnificent pumpkin decorations.
Pumpkin Crafts For Kids - get the kids creative and busy making some cool pumpkins this Halloween.
What type of free pumpkin stencil are you looking for this year?