Now that Fall is fast approaching you might be interested in some FREE advanced pumpkin carving patterns. There is something here to suit everyone!
If you are an experienced carver and have mastered some of the simpler pumpkin template designs, you might want something more challenging!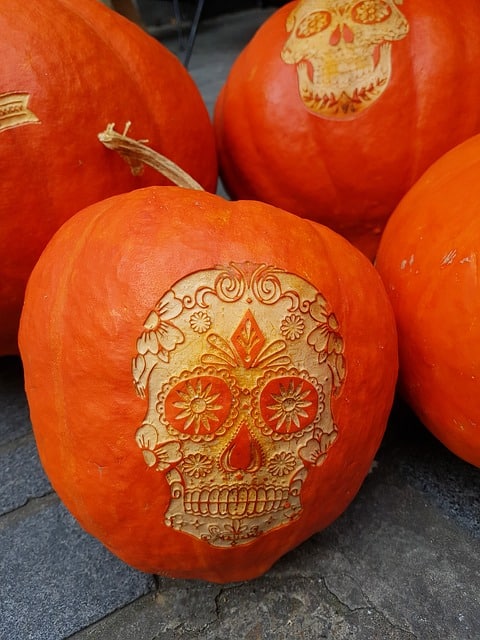 Whether you want to create a patterned skull, a Disney princess or the hot star from your favorite movie or your favorite musician it is possible with an advanced pumpkin carving stencil and some guidance.
Do not be fazed by the intricate design! As long as you can either find or create a stencil you will be able to replicate the carving.
It is extremely easy to find a picture, print it out, trace over it and apply your tracing to the pumpkin!
I am practising all the time and absolutely love my Pumpkin Owl Templates and my Dog Face on a pumpkin, which also has a no carve option for those who want a break from using knives.
If you like being spooky how about some scary pumpkin face carvings!
Where to find Advanced Pumpkin Carving Patterns and Stencils
I was a little shocked when so many sites asked for membership fees for access to advanced pumpkin carving designs and stencils so I had to search long and hard to come up with some freebies for you all.
I mean who wants to pay when you can find the templates for free!
Hands up who wants a cat face on their pumpkin this Halloween! I have found some pretty cool ideas for pumpkin cat face carvings and paintings for you to try!
If you need a quick pumpkin carving for a Jack O Lantern then please check out my easy pumpkin carving ideas!
Budget 101 is My First Place To Visit for Halloween Pumpkin Face Ideas
Budget 101 has lots of easy, intermediate and advanced pumpkin carving patterns and designs which are FREE!! Even better they classify their templates so you can go straight to the more complex ones if you prefer.
I totally recommend this site as the first port of call if you want some free pumpkin stencils to help you carve your Jack O Lantern.
I really love their Freddy Krueger, Damsal in Distress, Grim Reaper and Angel pumpkin stencil designs. I would totally do these if I was entering a competition.
This site also has musicians and movie characters including Elsa from Frozen. I am going to hide this one from my daughter as she will expect me to do this one!! Justin Bieber would be a hit, pardon the pun with my 10 year old niece.
Tiger Woods and sporting stars pumpkin stencils are also hot right now and Budget 101 has some of these also.
Just recently I have sourced some great Pokemon pumpkin stencils; most of these are for experienced pumpkin carvers.
Pumpkin Lady is Another Fabulous Resource for Free Advanced Pumpkin Carving Stencils
I visit Pumpkin Lady also daily leading up to Halloween for hints and tips on pumpkin carving! She has thousands of printables and I decided to tell you about my favorites!
Famous people are one of her best including Angelina Jolie, Alfred Hitchcock, George Washington, Marilyn Monroe to name a few.
One neat idea she has come up with is celebration pumpkin carving designs. Some of these are very advanced but are brill all the same. I love her Baby's First Halloween, and baby announcement, so these are other carving ideas you can consider.
Advanced Pumpkin Carving Techniques - Elvis Portrait on a Pumpkin
I just had to share this video on how to carve portraits into pumpkins, and how this guy makes this look so easy! If you are Elvis fan and you want to carve him onto a pumpkin keep watching!
I have to confess I have never tried a portrait carving before but maybe 2019 will be the year! However I have heard these do not last long and should be carved on the day they are to be displayed!
Final Advice on Advanced Pumpkin Carving Patterns
I think you will agree that these advanced pumpkin carving patterns look amazing, but do not be put off by their complexity. I have some further tips to encourage and guide you.
Make sure you use appropriate pumpkin carving tools to perfect your Jack O Lantern. You would be surprised how easy it is to carve a Jack O Lantern if you use professional tools.
Practice, practice, practice. No one started carving work of arts initially, they all started slowly and built up. I heard a good tip from another blogger to start practising as early as July using watermelons for your carving. By the time October comes around you will be a real whizz.
Give yourself plenty of time and space to perfect your pumpkin carving design and you will be amazed how easy it is. Sometimes I do not do a full carving in one sit, and space it out over a whole day. Taking a break is a good idea when you have a complex design.
If I still have not convinced you to try these advanced pumpkin carving templates you might want to check out some of my free pumpkin stencils which are much simpler.
Will you be attempting any of these Advanced Pumpkin Carving Patterns?