Banana Pumpkin Bread Recipe
This banana pumpkin bread recipe is a real treat and lovely and moist with yoghurt as well as the bananas to help bind it all together.

Many pumpkin bread recipes use fruit to add a different flavor to the bread, such as this one that incorporates bananas as well as the following ingredients:

1 1/2 cups of homemade or canned mashed pumpkin puree, if you use pumpkin pie filling, miss out the spices
4 cups of all-purpose flour – choose your favourite, wholemeal is good too.
1.5 teaspoons of baking soda
1.5 teaspoons of baking powder
1 teaspoon of ground ginger
2 teaspoons of ground cinnamon
1 1/2 teaspoons of ground nutmeg
1/2 teaspoon of ground allspice
1 teaspoon of salt
3 or four mashed, ripe bananas
1/2 cup of vegetable oil
1 1/2 cups of vanilla yoghurt
4 large eggs
3/4 cups of packed brown sugar
3/4 cups of granulated sugar
1 cup of chopped walnuts

Preheat your oven to 350 degrees F.


This recipe is easiest mixed in a food mixer or processor. I love to use my old vintage sunbeam, which still works a treat.

Beat together yoghurt, pumpkin, bananas, eggs, both sugars and oil until smooth. Then slowly add the rest of the dry ingredients, leaving the walnuts til last, into the pumpkin mixture, beating on medium speed. Add walnuts by slowly folding them into the bread mix.

Pour your fabulous pumpkin banana bread mixture into two greased and floured nine-inch loaf pans and bake for about one hour. Let the loaves cool before removing them from pans.

Great for morning coffee or afternoon tea with your friends, or save it all for yourself as a wonderful indulgence in front of the TV at night!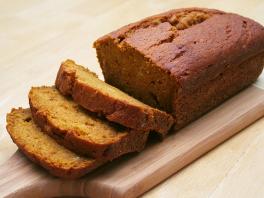 Return from Banana Pumpkin Bread Recipe to Pumpkin Bread Recipes
---