Nothing beats a bowl of creamy pumpkin coconut soup this Autumn. Combine the taste of Fall and Indian with the addition of the coconut!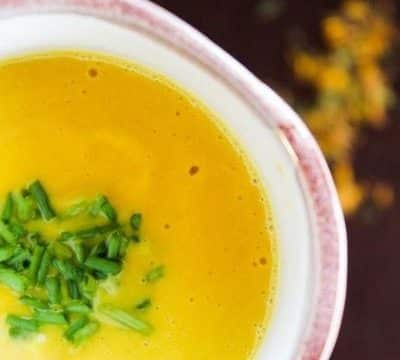 Is Fall even Fall without at least one bowl of pumpkin soup! It is one of the most satisfying things to eat, especially on a cold day!
There is nothing better than eating a bowl of this delight while chilling on the sofa!
There are literally tons of pumpkin soup recipes online, and I particularly adore my pumpkin beetroot soup when I am feeling under the weather trying to bulk on Vitamin C.
If I feel a cold coming on I reach for this pumpkin soup with coconut as the curry powder gives it a bit of oomph and the extra spice in this dish makes me feel so much better!
I also find it a great starter for a dinner party! It is much tastier than plain pumpkin soup and my guests agree!
During Fall I always have it for at least one course, whether it be appetizer, a pumpkin dinner recipe or one of my divine Pumpkin desserts.
Find out how to make this spicy pumpkin coconut soup below
Yield: 4
Creamy Pumpkin Coconut Soup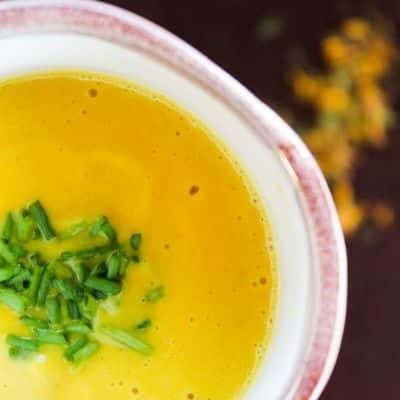 This creamy pumpkin coconut soup will bring the spice into your Fall! Perfect for a Fall dinner party.
Ingredients
-1 medium sized pumpkin.
-2 small sized onions.
-3 carrots.
-One can of full fat coconut milk (13.5 fl OZ) (400 ml)
- 1 tablespoon of curry powder.
- ½ tablespoon of ground ginger.
-Salt and pepper to your taste.
-Lemongrass (optional)
Instructions
-Start of by peeling and chopping roughly the pumpkin, carrots, and onions.

-Fill half a medium pot with salted water (300ml) and bring it to a boil.

-When the water starts boiling, add the vegetables and salt and let them simmer for at least 20 minutes or until the pumpkin and carrots are tender.

-Put the spices in a separate bowl with the full can of coconut milk and mix thoroughly.

-Once the vegetables are boiled, add them into a blender with the remaining water and the full can of coconut mixed with the curry powder and grounded ginger.

-Blend all the ingredients well together for at least 60 seconds.

-Pour the creamy soup into a bowl and add some chopped lemongrass on top for decor. (optional)

Did you enjoy my pumpkin coconut soup recipe? What would you add to it?
What would you eat alongside yours? I have tons of ideas for what to serve with pumpkin soup.
I guess I would stick with an Indian theme and have poppadoms. These would help bulk up the calorie content and make this into a decent portion for lunch.
If you like the idea of this spicy pumpkin soup I can guarantee you will want to check out my list of pumpkin curry recipes.
Do you like this Creamy Pumpkin Coconut Soup?