I absolutely adore Fall because I love the beautiful orange glow and the fact there are pumpkins everywhere! I am a massive lover of everything curry as well as pumpkin so I enjoy nothing better than sitting down to a hot bowl of pumpkin curry!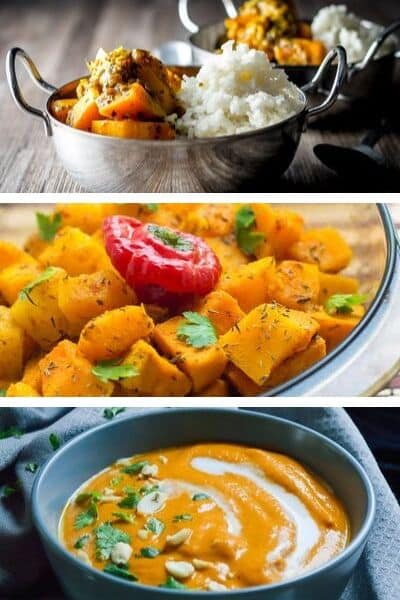 I can remember eating curry dinners as a little girl. They were a firm family favorite every Saturday evening. We used to call in at our local Chinese takeaway on the way home from picking my Dad up from work. Even now as a busy Mom I still like to treat everyone to good curry. When my little girl was 13 months old she adored mango chicken curry! She still has to enjoy the delight of a pumpkin curry! I am hoping this Fall with be the perfect chance to do so.
These amazing Pumpkin curry recipes are amongst some of my favorite pumpkin dinner recipes this year, so if you are struggling to know what to serve for dinner, please take some inspiration from the ideas below. I am planning on sampling several of these.
Perfect Pumpkin Curry Recipes To Heat Up Your Fall
I have pretty sure I have the best pumpkin curry recipes list here to put the heat into Fall!!

Choose from traditional curries, soups and some unique ideas to get your tastebuds tingling!

This spicy Indian themed pumpkin curry is not to be missed! Even better is the fact that it suits most diets including vegan and gluten free!

This is so easy to whip together and takes 35 minutes from prep to cook to serve. It will take you from Fall into Winter and make those cold days more bearable!

I will definitely be sampling this one if I ever get time to make it, as I adore pumpkin apple recipes!

Continue Reading

Pumpkin soup recipes are an essential part of Fall days and this pumpkin vegetable soup is one to be enjoyed.

This healthy soup is the perfect mix of cream, vegetables and pumpkin puree!! It even has some cashew nuts thrown in for good measure.

Continue Reading

If you are looking for a fabulous looking Thanksgiving appetizer look no further than these curried pumpkin deviled eggs! Best of all they are super simple and quick to put together in around 30 minutes!!

This is a healthy appetizer that can be enjoyed at any time of the day over Fall and beyond.

Continue Reading

We all love instant pot pumpkin recipes as they are healthy and taste amazing.

Bintu combines African and Indian tastes perfectly with this pumpkin curry recipe which is a great dinner idea for kids and adults alike.

I love the way she suggests serving this with flatbreads but you could also serve with white rice or any carb rich food like potatoes.

Continue Reading

I love trying different pumpkin curry recipes that have influences from other countries! All the dishes are unique, but they have on thing in common, they taste great.

This one has carbohydrate content in the form of sweet potatoes! We all know pumpkin goes amazing well with this fine tasting vegetable.

Unlike some of other dishes here this one has probably more of a sweet taste as opposed to hot curry taste due to the pineapple and potatoes.

Continue Reading

If you prefer a chicken curry recipe with a pumpkin sauce this is for you! Traditional chicken curry in my view is one of the most comforting foods you can eat. This healthy recipe takes 30 minutes to make and comes in at under 300 calories, which is perfect for those watching their waistline.

Continue Reading

This Asian inspired pumpkin curry is full of spice and all things nice!! It works perfectly well with the tamarind and definitely should be on your too eat list this Fall!

Continue Reading

Of all the pumpkin curry recipes I have featured here this one inspired me the most! I have to confess I read every word of this post because I had no idea what type of curry it was!

I love the fact it has chilies (as they boost metabolism) and also has a mango influence.

Please please give this one a try everyone!

Continue Reading

I am pretty sure you will enjoy these pumpkin curry recipes, but please check out my extensive range of pumpkin recipes where you will find something for everyone!
Some other ideas on what you can add to these pumpkin curry recipes
I have to say I enjoyed reading and looking at the different pictures of these curry recipes with pumpkin, but one thing I noticed was the lack of meat. I did come across a pumpkin chicken curry recipe, but I know myself that pumpkin is immensely versatile and works with lots of different ingredients.
My husband adores lamb so I might try and make a lamb pumpkin curry. I have previously made a lamb pumpkin casserole which tastes incredible to I know these two work well together.
Will you be cooking any of these Pumpkin Curry Recipes this Fall?