Happy days it is almost Fall, and that can only mean it is time to enjoy some delicious pumpkin dinner recipes! My oh my the choice is unlimited! I love the crisp Autumn leaves, the smell of logs on the fire and of course the taste of divine pumpkin whether it be in a curry, stew or risotto!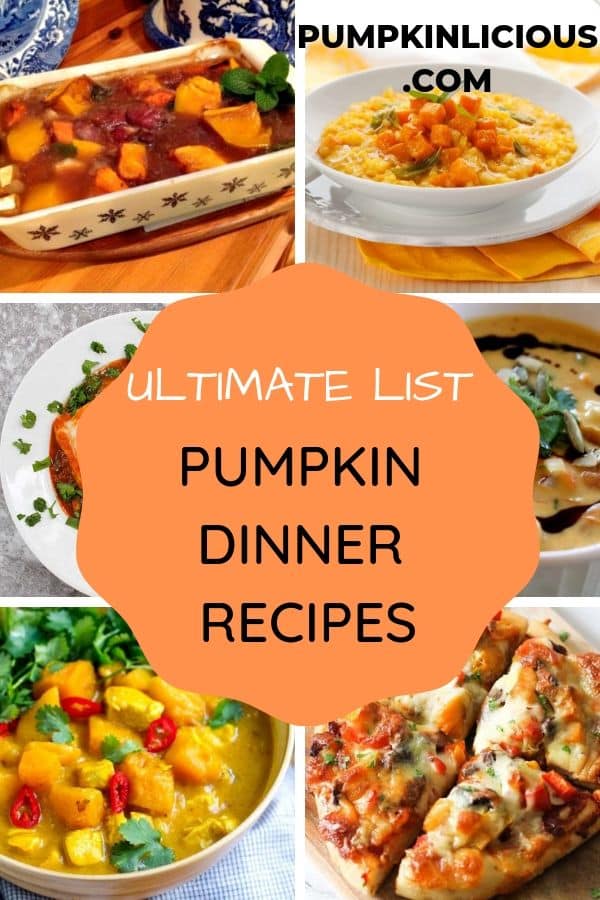 I have got together with my favorite foodies and come up with lots of easy pumpkin recipes for dinner! These are all so different that they will suit a range of palates!
There are vegan and meat options so that everyone can enjoy dinner recipes with pumpkin all over Fall and beyond, if you store your own pumpkin puree properly.
So many of my readers tell me they love Fall recipes but then they ask, 'what food goes with pumpkin'? You will be surprised at the range of foods that you can serve with pumpkin for dinner!
You can mix n match some of these recipes, for instance if you prefer pork or beef over turkey add that particular meat instead.
Pumpkin Dinner Recipes
These amazing pumpkin dinner recipes will be a real hit this Fall. There is so much variety; you will be pleasantly surprised at the number of different foods that go with pumpkin.

This lamb and pumpkin casserole is more like a thick, chunky stew, but is easy to make and quite hearty and delicious all the same. The lamb is so tender, it almost melts in your mouth!

I can really imagine enjoying this on a cold Fall evening.

Get the Recipe

If you want a meat risotto with pumpkin you really need to try this chicken version! Chicken is one of those foods that is versatile and works well with lots of different ingredients, especially pumpkin. This particular recipe is family friendly and quick to prepare, meaning it is ideal for those busy evenings post work and school.

Continue Reading

Everyone loves eating their dinner inside a pumpkin, especially my kids!! They see it as a real treat. I love this recipe featuring bacon and herbs!! It is extremely tasty and looks amazing too. I can guarantee your dinner guests will be impressed with this one!

Get the Recipe

Stuffed mince inside a pumpkin is like the ultimate comfort food!! Find out how to make it taste delicious.

Continue Reading

Everyone loves a Spanish Pumpkin meal and this one is a little bit different from all the pastas and meat dishes!! Spanish pumpkin tortilla is one of those must try Pumpkin dinner recipes!

Continue Reading

This pumpkin puree recipe is full of Fall goodness! The green sage leaves add a splash of color and taste! The brown butter is nutty and works fabulously well with the pumpkin in the sauce. If you want a new pasta dish for your Fall menu this is it!

Continue Reading

Quiche is my go to meal whenever I am short of time and have to have the kids out for swimming lessons after dinner. We all love a good pumpkin quiche in this house and this recipe is perfect during Fall. Normally we have ham in our quiche and this can also be added for extra meatiness.

Continue Reading

Fish lovers will go crazy for this poached cod with a tomato and pumpkin flavored sauce!! This is a fabulously healthy Fall dinner idea.

Sarah suggests serving this with rice or bread, but I would probably treat myself to some fries on the side.

Continue Reading

I have to say as I well as being a massive pumpkin fan I also adore shrimp. I fell in love with it while I was pregnant and ever since then I try and cook as many shrimp recipes as possible.

Coconut is another favorite of mine and this Thai inspired pumpkin seafood chowder is perfect for a dinner for 1 or a lunch for the entire family.

Continue Reading

Chicken curry is my favorite for treat night, which normally falls on a Saturday! During Autumn I always like to incorporate a Fall theme in my recipes, so this pumpkin chicken curry would work perfectly (plus it is a healthier than the normal one I get from my local take away). I can guarantee this will be one of those pumpkin dinner recipes you want to make again and again.

Continue Reading

Hands up who wants pizza? My kids and me for sure. I love roast pumpkin, it is one of my favorite ways to cook pumpkin. It might take a little longer than using the microwave but the difference in taste is well worth it.

This is definitely up there with one of the healthy pumpkin dinner recipes. Of course you can use whatever toppings you wish, but I like the selections used here. They compliment the pumpkin perfectly.

Continue Reading

If you are looking for a different idea for a Thanksgiving meal this slow cooker pumpkin turkey chili will go down a treat. My family love pumpkin, turkey and chili so I know this will be a crowdpleaser, and I will be known as the hostess with the mostest!

Continue Reading

Okay I am in love with the look of this pumpkin chicken recipe!! Not only that but you can have it prepped and on everyone's plate in 40 minutes!

My husband adores teriyaki beef so I might have to switch out the chicken for beef, just for him.

Continue Reading

This slow cooker paleo recipe is super duper healthy and tastes amazing. If you want extra calories you can add a wheaten bread (what I always do_ or keep it paleo with some cauliflower rice as this lady does when she makes it.

Continue Reading

Why stop at dinner recipes with pumpkin, when you can have some amazing pumpkin desserts too. Check out my list of pumpkin recipes to keep up to date with my latest creations!! I can guarantee you will not go hungry 🙂
Which of these Fall Pumpkin Dinner Recipes Will You Try?