Fall is full of yummy pumpkin goodies like these Reese pumpkin chocolate chip cookies, which taste as good as they look!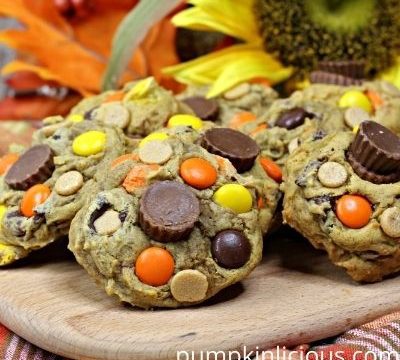 There is nothing better during cold October and November days than enjoying a divine pumpkin chocolate chip cookie with a hot cup of tea or even better pumpkin spice coffee.
You can buy pumpkin cookies in your local store or enjoy them in a nearby coffee shop, but nothing actually beats making your own!
Heads up here, why not freeze your own pumpkin so that you can make these out of season because they can be hard to get during the Spring months!!
When you use your own recipe you can add exactly what you like and make them taste even better than the ones you buy!
I have tried so many different pumpkin chocolate chip cookies but my absolute favorite are these one with Reese cups!
If you love Reese peanut butter cups then you will fall in love with these! Im addicted to anything with peanut butter in it so these are a must have for me!
Reese Pumpkin Chocolate Chip Cookies Recipe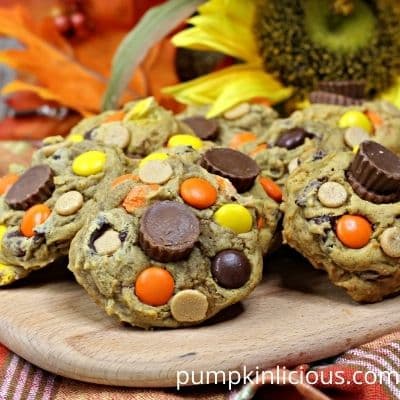 I absolutely love this Reese Pumpkin Chocolate Chip Cookies Recipe for Fall or anytime of the year!
Ingredients
½ C unsalted sweet cream butter, softened
½ C pumpkin puree (fresh or canned)
½ C sugar
¼ C light brown sugar, packed
1 tablespoon Molasses
1 ½ teaspoon pure vanilla extract
2 C flour
2 teaspoon pumpkin pie spice
½ teaspoon baking soda
¼ teaspoon kosher salt
3 C Reese's baking cups and pieces (you can add less or more depending on how much you like them)
Instructions
Preheat oven to 350 degrees and line two cookie sheets with parchment paper

Using a medium microwave safe bowl, melt the butter

Mix in the pumpkin puree, both sugars, molasses and vanilla extract into the melted butter until combined

In another bowl, whisk together the flour, pumpkin pie spice, baking soda, and salt

Gradually mix in your dry ingredients into the wet until combined

Mix 2 C of the Reese baking cups and pieces

Using a medium cookie scoop, scoop some dough onto your hands and roll into a ball

Place onto the cookie sheet and lightly press down with your fingers until a thick disk forms

Repeat steps with remaining dough until all is gone

Place some of the reese cups and pieces onto the cookie dough

Place into the oven and bake for 13-15 minutes or until center doesn't look gooey





I hope you enjoy making and eating them as much as I do! I am guessing one batch will not last long in your house!
If you love pumpkin cookies please check out my full list of Pumpkin cookie recipes including my Iced pumpkin cookies which are great for kids at Halloween and during Fall in general.
Do you like these Reese Pumpkin Chocolate Chip Cookies Recipe?