Who says popsicles are just for Summer? Not me, especially now I know how to make delicious Pumpkin Pie popsicles with chocolate!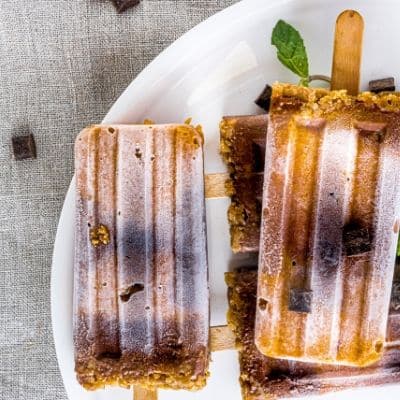 Fall is almost upon us and that can only mean one thing, yep, me stuck in the kitchen making tons of pumpkin recipes!
I love the smell of Pumpkin spice and I start to crave it around August time. I have lots of great recipes already but my latest one will be a massive hit for adults and kids. I am going to make popsicles!
My children eat at least one popsicle a day during Summer, and they still ask for them way into Autumn! The good news is that this year I will be able to offer them a Fall flavor one, with my Pumpkin Pie popsicle with dark chocolate.
What is even better than just the smell and taste of Pumpkin spice, is the addition of chocolate to these popsicles! I love my chocolate chip pumpkin recipes, and chocolate goes so well with these popsicles.
How to Make Pumpkin Pie Popsicles with Chocolate
You can make this pumpkin recipe using fresh pumpkin or canned pumpkin puree. I always love using fresh, and have tons of advice on how to cook pumpkin, including how to make your own puree if you wish to do so!
Yield: 6-8
Pumpkin Pie Popsicles with Chocolate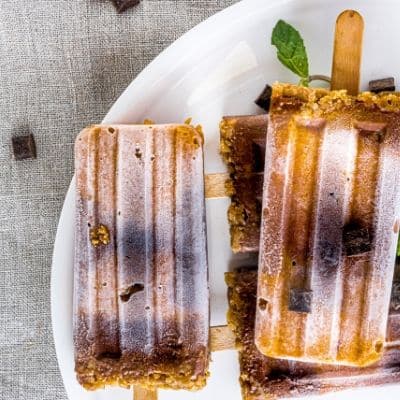 These easy pumpkin pie popsicles with chocolate are full of Full flavor and will be enjoyed by both adults and kids.
Ingredients
3 cups chopped fresh pumpkin (or 1 cup pumpkin purée)
1 ½ cups Greek yoghurt
6 tablespoon honey (divided)
1tsp pumpkin pie spice
1 teaspoon vanilla essence
4 tablespoon melted dark chocolate (about 45g)
6 gingersnap cookies
¼ cup chopped walnuts
2 tablespoon melted butter (25g)
1 cup water (if using fresh pumpkin)
Instructions
I have divided the instructions into different stages as I think it is much simpler. I start with how to make pumpkin puree, although you can skip this step if you already have some, and go straight to the Pumpkin Pie Spice base stage.

Pumpkin Purée

· Put 3 cups of chopped pumpkin and 1 cup water into a medium saucepan and bring to the boil, then reduce heat to simmer and cover the saucepan.

· Cook till pumpkin is soft and will be easy to mash. By then, most of the water would have dried up.

· Mash pumpkin with a potato masher to get the purée.

· Measure 1 cup of the pumpkin purée and set side. If you have extra you can leave it aside to cook more pumpkin recipes, or freeze it for later use.
Pumpkin Pie Spice base
· In a medium bowl mix 1 cup pumpkin purée, ½ cup yoghurt and 2 tablespoon honey (add more honey if you would like it sweeter). Mix well and set aside for later.
Chocolate base
· Melt the dark chocolate via short 15secs burst in the microwave, mixing after each burst (or over a pot of boiling water). Leave to cool for 10 minutes. Be careful here as I have overheated on some occasions and ended up with burnt chocolate!! This is why I prefer to heat over a pot of boiling water.

· In a medium bowl, mix melted dark chocolate, 1 cup yoghurt and 4 tablespoon honey (add more honey if you would like it sweeter). I always add more honey as I love sweetness!
Cookie Walnut mixture
· Put the cookies and chopped walnuts in a small zip lock bag, crush with a rolling pin

· In a small bowl, mix the crushed cookies-walnut mixture with the melted butter
Assemble
· Layer the popsicles molds with the pumpkin base and chocolate base until the molds are almost full. Then top with the cookie-walnut mixture.

· Add in the popsicle sticks and pop into the freezer.

· Freeze for at least 6 hours (preferably overnight)

· To serve, run warm water over the popsicle mold to make it easier to remove popsicles. Eat frozen.
Notes
1.     If using store bought pumpkin purée to make the pumpkin base, check the sweetness before adding honey to your liking

2.     When layering the popsicles, you can make 2 or more layers, depending on how you want the popsicles to look. I did 3 or 4 layers.

3.     If you would like the cheesecake mix to be more or less sweet, add or reduce the honey, 1 tablespoon at a time, to your liking.

4.     You can use graham crackers or digestive cookies instead of ginger snaps

5.     You can use pecans or cashews instead of walnuts, or leave out the nuts all together and just add 3 extra cookies. Any small nuts go to be honest.

6.     Use a teaspoon for layering the different mixtures into the popsicle molds to makes it less messy.

I will definitely make sure and freeze some of my pumpkin puree so I can make these for my kids whenever the warmer weather comes in at the start of next Summer.
Are you still craving Pumpkin Desserts after reading this?! Here you go:-
Pumpkin Chocolate Cake - a must for chocolate and Pumpkin lovers
Homemade Pumpkin Ice Cream - another cold treat this Fall
Will you be making these Pumpkin Pie Popsicles?