I love pumpkins! I love them in soups, pies, pancakes, smoothies, cakes, lattes and so much more! Once you learn how to cook pumpkin and make your own pumpkin puree, I promise you'll never want to go back to canned pumpkin. You know what they say fresh is best!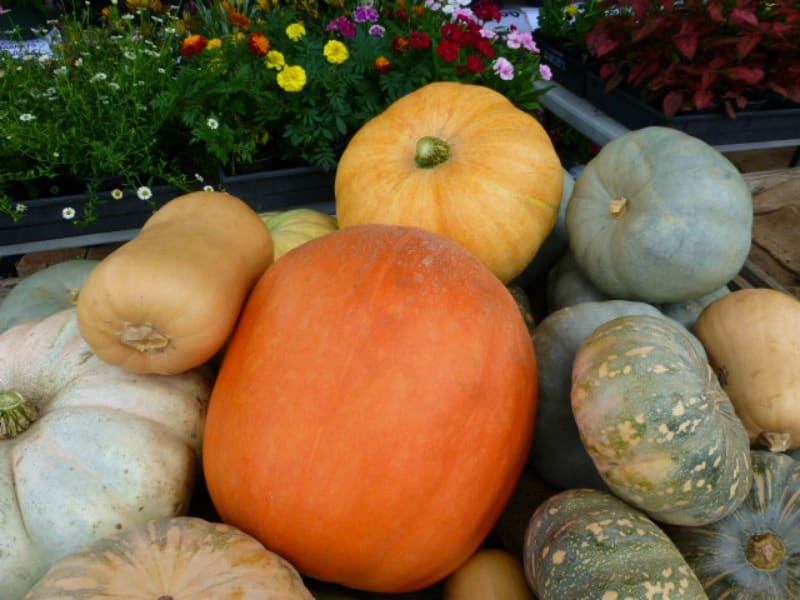 If you're using canned pumpkin for your pies and recipes, you're missing out on a lot of flavor (and a gorgeous color!). I used to use canned for convenience purposes but then I figured I should learn how to grow pumpkins! Yep once you grow your own you will never go back.
I always have an ample supply for cooking and decorating!! I even let the kids decorate some of my smaller ones; that way we are all happy! Not to mention it gives me more time to actually do some cooking! If I have any left I freeze it for later use.
Here are my tips for preparing fresh pumpkin for use in lots of easy pumpkin recipes. There are so many different ways to prepare and cook pumpkin. Please remember to follow the time instructions for how long to steam pumpkin etc.
How To Cook Pumpkin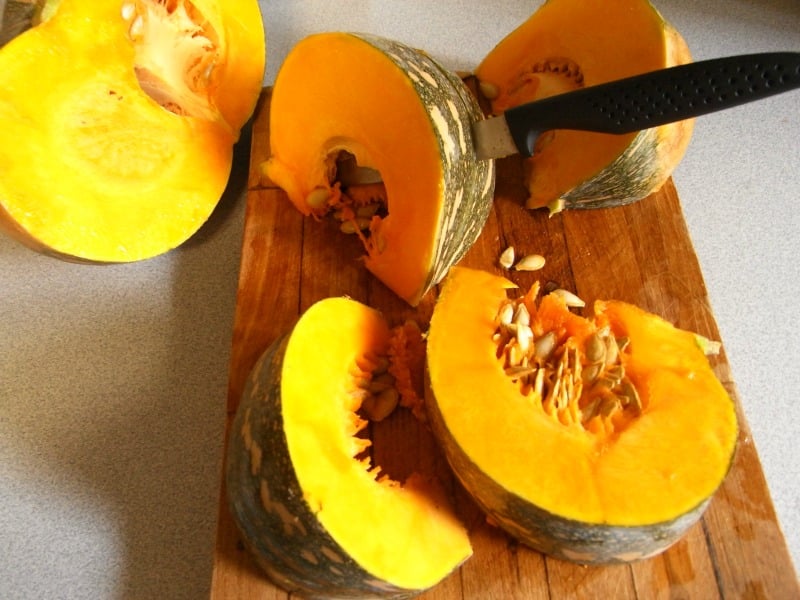 It doesn't take long to cook pumpkin, and you can freeze it for using later.
Before you cook your pumpkin, scrub any of the dirt off of it, rinse and dry it (to make sure it doesn't slip out of your hand when you try to slice it up).
Once cleaned, the pumpkin will be ready to cook. My favorite cooking method is baking, but you can also steam it, boil it or microwave it.
If baking is your thing you ought to try baked pumpkin with roast vegetables. The aroma along will make your stomach rumble and it is a delicious dish full of nutrients, not to mention the fact it looks amazing (see below).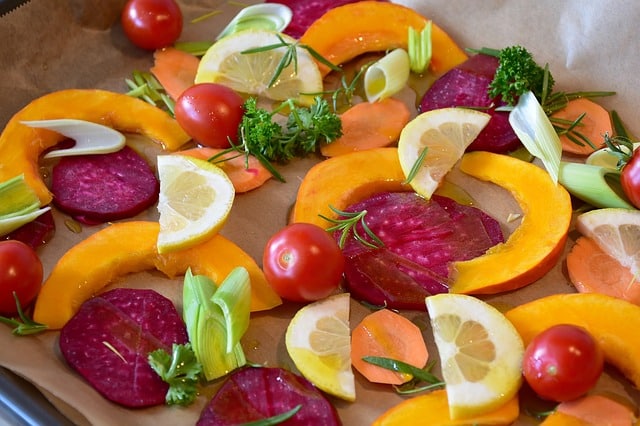 You can even grill pumpkin on the barbecue 😉 Grilled slices of pumpkin would work well on a mixed meat and veg kebab. My only problem here is the Fall nights can be rather cool although we could BBQ at lunch time and eat then or even better buy one of those cute outdoor fire pits and sit around it to eat 🙂
If you want to use it in a soup, you'll need to peel and cube it. Peeling pumpkins can be a tricky activity. but I got you covered 😉
Here's an easy way to peel pumpkins without cutting yourself.

How to bake pumpkin
The simplest way is to halve the pumpkin, scoop out the seeds and place in a hot oven (around 375°F or 200°C) for up to an hour depending on the size. It's done when it starts to collapse and is nice and soft.
Allow to cool before you scoop out the flesh (there is no point in getting a burn). Scrape the pulp from the shell, mash it or put it through a ricer or food processor to make the puree.
My kids love the sound of my food processor because they know some delicious pumpkin is on the way 🙂
I never waste the skin either. My dog loves it, and it's a good source of fiber and vitamins for her. Don't give the dog huge amounts though. The rest goes in the compost to help grow the next batch ;). You can tell I love recycling and not wasting anything!
How to steam pumpkin /How to boil Pumpkin (technically these are the same thing)

People are always curious to how to cook different fruits and vegetables., specifically how long to boil pumpkin. It is no different from other fruits and vegetables. One common question is can you boil pumpkin. The good news is you absolutely can and it is a reasonably quick way to cook it.
How Long to Boil Pumpkin for puree so it is not too hard or too soft
You need to boil or steam large chunks of pumpkin flesh until it is soft, especially if you want to turn it into puree. I know if you underdo it is too hard to eat and overdoing it is not a good thing either.
Pumpkin takes about 10 minutes to boil or steam depending on the size of your chunks. Try and keep the pieces more or less the same size so they cook evenly. Its done when you can just get a knife through it.
Cutting chunks in different sizes is the worst thing you can do as they will all be ready at different times.
Tip – if you want boiled pumpkin, don't overcook it, or it will be really watery. If this happens, leave it to stand for half an hour and drain off the excess water.
You could also put it in a muslin bag and leave to drain for longer if it is really watery. If I am going to boil pumpkin I make sure I will not get interrupted, i.e I do it when the kids are out! I hope this answers your query on how to boil pumpkin for best results!
Here's a quick video that shows how simple it is to steam pumpkin. Is boiled pumpkin nice? Yep you bet it is.
You can use this now to make all kinds of yummy pumpkin cakes!
How to cook pumpkin in the microwave
You may wonder if you can microwave pumpkin, and the answer is YES. We all love express cooking because life is busy so the microwave is a lifesaver.
Instead of putting in a pan or steamer, place the chunks in a microwavable bowl and add a bit of water at the bottom.
Cover with cling wrap, and pierce a couple of holes in it to let the steam out. Microwave on full power for a couple of minutes, then check to see how its going.
If your microwave doesn't have a moving turntable, then turn the bowl at this stage. You will probably need to check each minute after this, depending on how much pumpkin you are cooking.
Once you can easily put a knife through the pumpkin its done. Who knew microwave pumpkin would be so quick and efficient.
Drain well, and puree in a blender, with a masher or for a really professional finish why not use a ricer? You know pumpkin puree is brilliant for the first pumpkin baby food recipes! Might as well get them onto it as soon as possible!
You can freeze the cooked pumpkin for use in lots of recipes later on. I mean with so much it is a good idea to use every last bit.
Have you thought of pumpkin first thing in the morning? Try these easy pumpkin breakfast recipes.
Useful Kitchen Accessories for Cooking and Preparing Pumpkin
Instant Pot DUO60 6 Qt 7-in-1 Multi-Use Programmable Pressure Cooker, Slow Cooker, Rice Cooker, Steamer, Sauté
Tiger Corporation JBV-A10U-W 5.5-Cup Micom Rice Cooker with Food Steamer and Slow Cooker, White
How do you know if a pumpkin is cooked?
I have had a few of my loyal readers saying thanks for the guidelines and different ways to cook pumpkin, BUT they want to know how do you know if a pumpkin is cooked? This is a very good question, and one I used to ask myself about cooking every type of food. If you follow my guidelines for cooking times above you should have a perfectly cooked pumpkin. If you want to do it faster cut the pumpkin into smaller pieces.
What can you make from cooked Pumpkin?
You can basically make whatever you want from cooked Pumpkin, whether it be scones, cheesecake, pies, risotto, salads or casserole! Pumpkin works well with lots of different foods.
I thought I should share some of my favorite pumpkin recipes below to get your taste buds tingling! Off to the kitchen you go I say. Once you try it you will be totally hooked.
Pumpkin Salad With Feta - pumpkin, salad and cheese! Get in my tummy right now. Always a winner with my friends and I.
Easy Pumpkin Scones Recipe - these melt in your mouth; I can guarantee they will not last long after someone takes their first bite.
Pumpkin Pecan Pie - two of America's favorites together can only mean one thing, a divine dessert
Summary of How to Cook Pumpkin (Boil Pumpkin, Steam Pumpkin, Microwave Pumpkin, Oven Cook Pumpkin)
I really hope I have answered all your questions. You should now know how long to boil pumpkin and how to cook pumpkin in microwave.
Now you're ready to start cooking lots of yummy and easy recipes shown above 🙂 Please let me know what is your favorite way to cook this divine Fall fruit!