There is no better way to start a Fall morning than with a Pumpkin Pie Green Smoothie, healthy and nutritious and all the tastes of Autumn.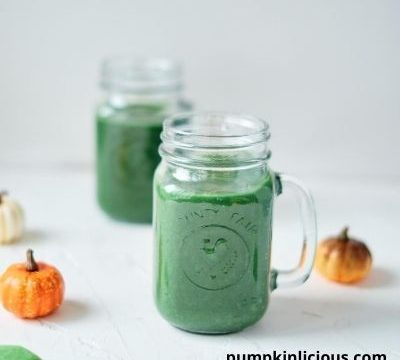 If you like your Pumpkin pie fix first thing in the morning now you can enjoy this healthy pumpkin pie smoothie healthy!
Many people do not like eating fruit and vegetables separately so a smoothie is an excellent idea.
They are filling and fight off junk food cravings. I like to make one when I am planning on going on a morning walk and I always take it with me!
Whatever the season I like to have a brisk walk on the beach and I love sipping my smoothie as I walk!
During Fall and Winter I get to enjoy this sweet pumpkin pie smoothie! Well I can hardly have traditional pumpkin pie for Breakfast so this is the next best thing!
How to make Green Pumpkin Pie Smoothie
Like most smoothie recipes this one is dead simple when you have all the ingredients.
It is so easy to make and like my other delightful pumpkin smoothie recipe, it contains banana.
Ingredients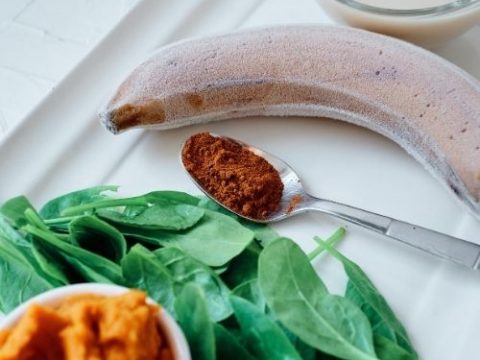 1 frozen banana
1 teaspoon pumpkin pie spice
⅛ cup of pureed pumpkin
½ cup of almond milk
Handful of spinach (approx. 1 cup)
1 teaspoon green algae powder
After your ingredients are to hand all you need to do is add it to a blender and blend on high for 30 seconds.
I recommend this budget smoothie blender for this Pumpkin Pie green smoothie and any others you would like to make.
I absolutely love eating spinach whether I have it alongside a nice tender beef steak or in a smoothie drink! Not only does it taste amazing but the benefits of eating it are incredible!
You can eat lots and lots of it because it is low in calories and high in fiber keeping your bowels regular, as well as keeping the hunger pangs away! This is why I love it in a smoothie because it helps me stay full for longer. It has also a high concentration of other essential Vitamins, namely A, C and K.
The health benefits of green algae were unknown to me before I tried it in this Pumpkin Pie Green Smoothie. It is beneficial to heart health, with positive effects on cholesterol, sugar and blood pressure.
It might not taste good on it's own but when it is combined with pumpkin spice the taste is hidden, but the health benefits are still there.
This is definitely one of my favorite pumpkin breakfast recipes and I hope it is one of yours too!
If you love this you need to check out some of my other great pumpkin drink recipes
Easy Pumpkin Cocktails for a Fall Party - you do not have to be a bartender to make these
Pumpkin Spice Coffee -all the brands reviewed, which is best?!
Pumpkin pie Popsicle with Chocolate -not a drink but something that will cool you down which is pumpkin flavored!
Will you enjoy this Pumpkin Pie Green Smoothie?