Hands up if you are throwing a Fall party and need some quick easy pumpkin cocktails for your guests? Check out my absolute favorites!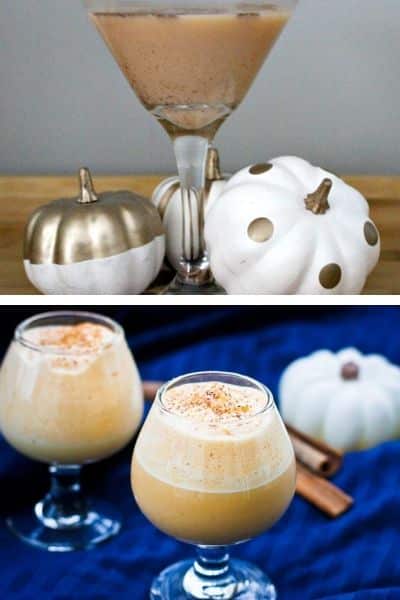 These are a great idea for a adults Halloween party or even post Thanksgiving dinner. To be honest I never need an excuse to consume drinks with pumpkin liqueur. They are just so yummy whether you want a Martini or a Bourbon.
As soon as it hits August 1st I am counting down the days until everything Pumpkin becomes available.
Well it took me long enough to get around to making my own pumpkin cocktail, but it is definitely worth the wait. It is made with caramel vodka, which is way more delicious than the plain vodka, and works so well with pumpkin! These are perfect in front of the fire as the ice instantly refreshes you.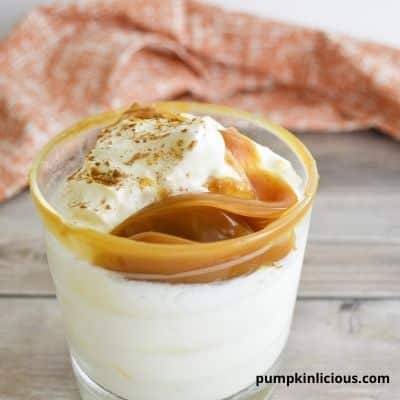 White Chocolate Pumpkin Martini
What's not to like about the combination of white chocolate with pumpkin in one of my favorite types of cocktails. Sam from the Culinary Compass will show you how to create this magical cocktail using only 5 ingredients!!
I cannot wait to try and make this for my friends this Halloween!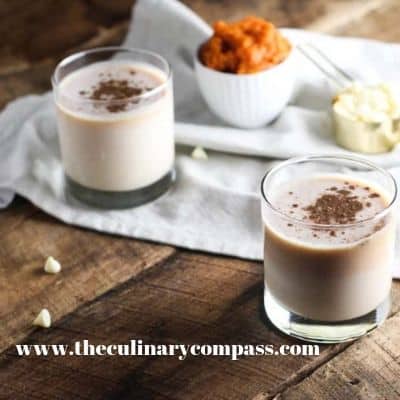 This is made from pumpkin puree and vanilla vodka and there is no pumpkin liqueur needed. The only change I would make is that I would serve these in a fancy cocktail glass especially if I was making these for a group of people at a party.
Pumpkin Spice White Russian
Pumpkin spice is an essential ingredient in most Fall dishes whether it's food or drink. I absolutely adore Pumpkin spice coffee so I know I would love this easy pumpkin cocktail based on the old favorite White Russian. It is super creamy and super yummy! Thanks to Tracey at The Kitchen is my Playground for this recipe.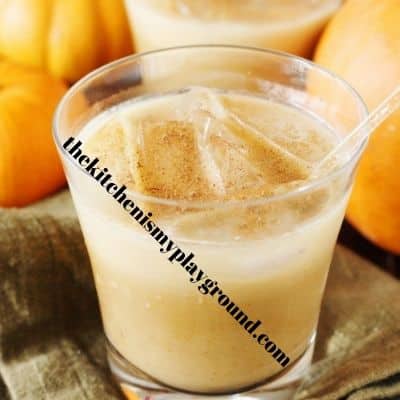 Pumpkin Pie Martini
How about a pumpkin pie flavoured drink? Fall would not be complete without it! A pumpkin pie martini is the closest thing you can get to pumpkin pie!!
It could even work as a substitute for the classic Thanksgiving dessert if you have none left.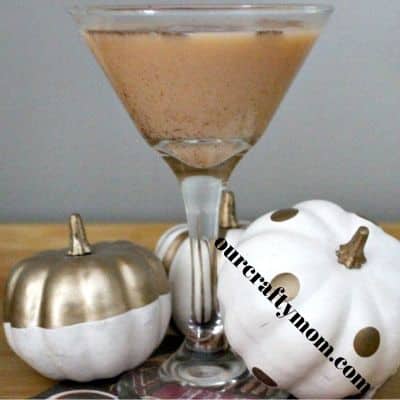 Our Crafty Mom recipe contains three different alcoholic drinks; Pumpkin Spice rum, vanilla vodka and Pumpkin liqueur. Just buy a bottle of each and you will have plenty to make lots of tasty pumpkin cocktails for your friends.
Why not combine this with some chips and my Pumpkin dip recipe for a savory snack.
Whiskey Pumpkin Cocktail Idea
Whiskey lovers this one is for you! Lauren from A Nerd Cooks put together this fine Bourbon Pumpkin Shrub Cocktail, which I know my husband would gulp down in one go.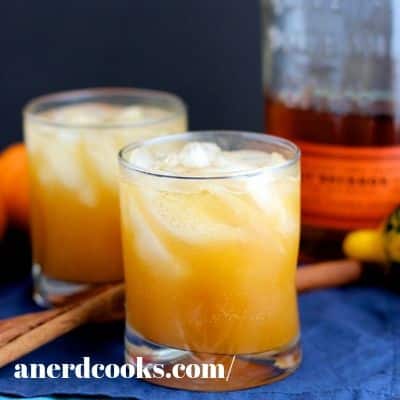 Lauren's shrub is made from pumpkin puree, sugar, ginger and vinegar. This is then added to the Bourbon.
Will this be one of the easy Pumpkin cocktails you will drink this October? The other question is will you be able to stop at one or will you need 2 or even 3!
How about Eggnog for Fall?
Of course Eggnog for Fall must contain pumpkin! This is seriously easy to whip together and chances are you have most of the ingredients needed in your cupboard already.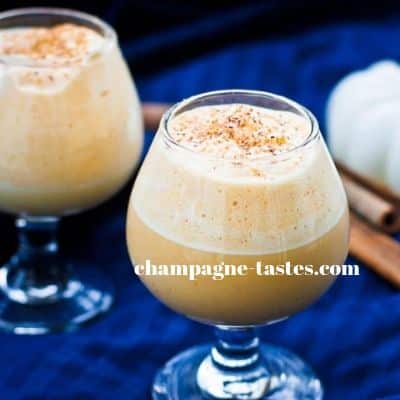 Sarah from Champagne Tastes will tell you how to make your pumpkin eggnog in around 10 minutes! Like most alcohol pumpkin drinks it contains around 400 calories!
Some Other Easy Pumpkin Cocktail Ideas
There are so many other things you can pair with pumpkin.
How about pumpkin with pineapple juice, rum and pumpkin spice? I guess you could mix apple juice with pumpkin liqueur too. We all know pumpkin apple recipes taste amazing. I am so tempted to try and make a pumpkin apple martini.
Cranberry pumpkin recipes are fabulous, so perhaps this is another juice to mix with some pumpkin puree and liqueur!
I absolutely adore Baileys and am so tempted to try and make a Pumpkin Baileys. I am sure it would taste delicious.
If you like caramel you will be surprised to know you can incorporate this into a pumpkin cocktail as well.
Why not make your own Pumpkin Drink with Liqueur or Puree
You can easily make your own pumpkin cocktail drink with some pumpkin liqueur or even puree! I love drinking prosecco and sometimes I add a little pumpkin spice to it!
I still have to think of a good name for this particular drink, but for now I call it the Fizzy Pumpkin! Suggestions are welcome whilst I do some brainstorming.
What would you add to your pumpkin cocktail? How about some gin, or do you prefer Vodka?
You can also use pumpkin slices to decorate cocktail glasses. Hopefully the ideas here have given you some inspiration!
If you do not want to make your own easy pumpkin cocktails you might be interested in knowing where to get some. Fortunately lots of bars and restaurants will serve these during Fall.
If you love Pumpkin Drinks but want some without alcohol you might like these:-
Banana Pumpkin Smoothie - these are brilliant first thing in the morning
Best Pumpkin Spice Coffee - everyone needs some pumpkin coffee daily
Which of these Easy Pumpkin Cocktails Will You Drink?