I am always interested in making my meals healthier so I thought it was about time I got around to telling you all about my favorite instant pot pumpkin recipes.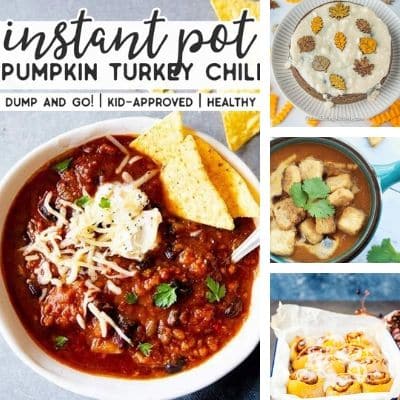 As we keep hearing there are so many benefits of cooking using an instant pot. It uses less energy versus oven cooking, cooks your food faster (a must for us busy Moms who never get a minute) and it is way healthier! Cooking pumpkin recipes this way helps maintain more nutrients and vitamins versus other cooking methods.
Here I plan to cover how to make my favorite pumpkin recipes involving bread, soup, pies and desserts. If it can be made using an instant pot it will be here!
Recommended Instant Pot Cookers for your Pumpkin Recipes
If you are reading this post chances are you might already have an instant pot, but if you are sitting on the fence not knowing which one to buy I can help.
It is a good idea to gather your equipment before you start your cooking.
Instant Pot Ultra 6 Qt 10-in-1 Multi- Use Programmable Pressure Cooker, Slow Cooker, Rice Cooker, Yogurt Maker, Cake Maker, Egg Cooker, Sauté, Steamer, Warmer

Instant Pot LUX80 8 Qt 6-in-1 Multi- Use Programmable Pressure Cooker, Slow Cooker, Rice Cooker, Sauté, Steamer, and Warmer (Renewed)

Instant Pot Pumpkin Recipes
Find my most favorite instant pot pumpkin recipes as shared by my fellow pumpkin lovers!

Choose from vegan soups to brownies to Pumpkin Spice cake 🙂

I always find my instant pot pumpkin recipes to work out cheaper than traditional cooking methods! If saving money on dinners is your thing you might like some cheap crockpot recipes.
Some more Pumpkin Dinner Ideas
Chicken Pumpkin Risotto - not slow cooker or instant pot but filled with lots of goodness
Perfect Pumpkin Curry Recipes - give your Fall evenings a kick with these hot curry recipes
Which of these Instant Pot Pumpkin Recipes if your Favorite?