I am always interested in making my meals healthier so I thought it was about time I got around to telling you all about my favorite instant pot pumpkin recipes.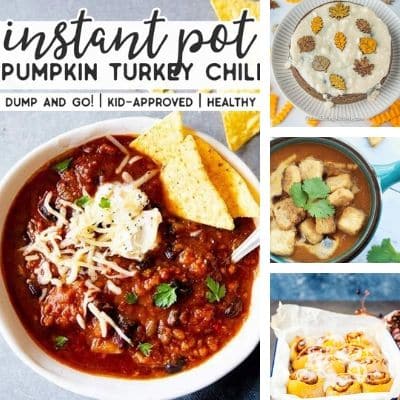 As we keep hearing there are so many benefits of cooking using an instant pot. It uses less energy versus oven cooking, cooks your food faster (a must for us busy Moms who never get a minute) and it is way healthier! Cooking pumpkin recipes this way helps maintain more nutrients and vitamins versus other cooking methods.
Here I plan to cover how to make my favorite pumpkin recipes involving bread, soup, pies and desserts. If it can be made using an instant pot it will be here!
Recommended Instant Pot Cookers for your Pumpkin Recipes
If you are reading this post chances are you might already have an instant pot, but if you are sitting on the fence not knowing which one to buy I can help.
It is a good idea to gather your equipment before you start your cooking.
Instant Pot Ultra 6 Qt 10-in-1 Multi- Use Programmable Pressure Cooker, Slow Cooker, Rice Cooker, Yogurt Maker, Cake Maker, Egg Cooker, Sauté, Steamer, Warmer

Instant Pot LUX80 8 Qt 6-in-1 Multi- Use Programmable Pressure Cooker, Slow Cooker, Rice Cooker, Sauté, Steamer, and Warmer (Renewed)

Instant Pot Pumpkin Recipes
Find my most favorite instant pot pumpkin recipes as shared by my fellow pumpkin lovers!

Choose from vegan soups to brownies to Pumpkin Spice cake 🙂

Instant pot pumpkin soup recipes are notoriously healthy and delightful. This particular one takes as little as 15 minutes to make making it perfect for busy evenings (which happen nearly every night in our house since the kids are back at nursery).

It has the benefit of being vegan and gluten free so will suit people on those diets. I absolutely adore pumpkin soup recipes and eat several different ones weekly during Fall!! I have to say that I shall be adding this one to my post.

Sonja has added croutons to her recipe, which is a good way to make soup into a more substantial meal. I do this often and have a list of foods to serve with pumpkin soup.

Continue Reading

This divine instant pot pumpkin spice cake recipe only takes 30 minutes!! It looks amazing, but you might need a few gos to perfect it. Thankfully Carrie provides all the guidance and advice you need to make this.

If you are anything like me nothing beats a smallish slice of pumpkin spice cake and a hot cup of coffee after dinner on a Fall evening!

Continue Reading

Pumpkin brownies anyone?! Yes me too please. I love brownies at any time of the year but the ones with added pumpkin are my favorite. I literally have a list of foods I want to eat as much as possible over Fall and these are on it.

These vegan brownies come with Weight Watchers points for those following this weight loss diet.

Continue Reading

Pumpkin roll recipes are as hot as pumpkin pie during Fall especially when they have cinnamon inside! These particular ones are chewy and ooze cinnamon as well as having a glaze.

I have previously made bread machine pumpkin cinnamon rolls but I have never tried them in an instant pot before.

This particular recipe uses an instant pot that has a yoghurt function so that the entire process can be done inside.

Continue Reading

Pumpkin apple recipes are top of my list over Fall. I mean there has to be a reason why we pick these two fruits together; yep you got it so we can cook them together. The aroma of these two together is divine!

This Instant Pot Pumpkin Applesauce will take as little as 30 minutes and will work well as a treat or dessert after dinner.

Continue Reading

Instant Pot Pumpkin recipes do not come better than this keto low carb pumpkin pie pudding! This would be perfect as a easy Thanksgiving dessert or generally anytime over Fall!! You cannot go through all of Autumn without having at least one portion of pumpkin pie!

Continue Reading

Pumpkin breakfast recipes do not come any healthier than this Instant Pot Pumpkin Pie Steel cut oats. I have to confess I had never heard of this type of oats before and I had to go reading to find out more (turns out they are healthier- more fiber, less calories).

Now everyone can have a warm delicious breakfast thanks to this recipe!

Continue Reading

During Thanksgiving season we are all thinking of the best pumpkin dinner recipes to make for our nearest and dearest. Well stop looking right now because this instant pot turkey pumpkin chili is the bizz.

Even better is the fact that you can prep lots of this and store it for 3 months in the freezer so that you can feed your pumpkin chili addiction in January.

Continue Reading

This is the pumpkin version of mac and cheese, with some sausage added in!! My kids absolutely adore all the ingredients here so I really ought to make this for them.

Comforting Fall food at it's best!

Continue Reading

I always find my instant pot pumpkin recipes to work out cheaper than traditional cooking methods! If saving money on dinners is your thing you might like some cheap crockpot recipes.
Some more Pumpkin Dinner Ideas
Chicken Pumpkin Risotto – not slow cooker or instant pot but filled with lots of goodness
Perfect Pumpkin Curry Recipes – give your Fall evenings a kick with these hot curry recipes
Which of these Instant Pot Pumpkin Recipes if your Favorite?