Making pumpkin cinnamon rolls using a bread machine is quite possibly the best way to make these! Remember you can use a bread machine for all types of breads from banana to fruit loaf! They really are a great investment for a lady who loves to cook delicious moist bread.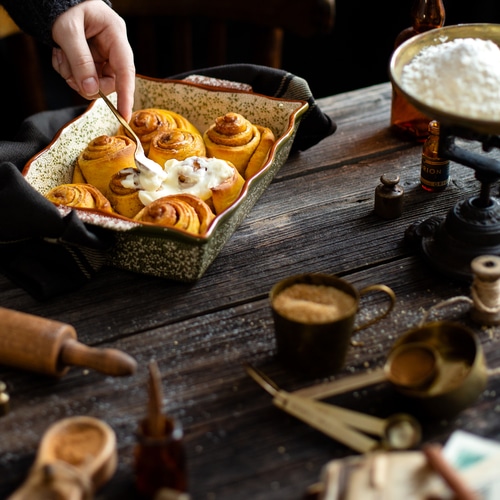 The aroma filling your kitchen will make you very hungry indeed and excited to taste the delicious bread machine pumpkin bread rolls. You can eat these mid morning or mid afternoon?! I prefer to bring out this for dessert especially when I have guests over! The only problem is one roll is never enough so I might have to make 2 batches 🙂
How To Make Bread Machine Pumpkin Cinnamon Rolls
Making Pumpkin Cinnamon rolls with a bread machine is very easy, BUT you actually only make the dough with the machine. You need to do the rolling and add the cinnamon as a topping afterwards. Basically you are following the same process I used in bread machine pumpkin bread.
Pumpkin Cinnamon Rolls Bread Machine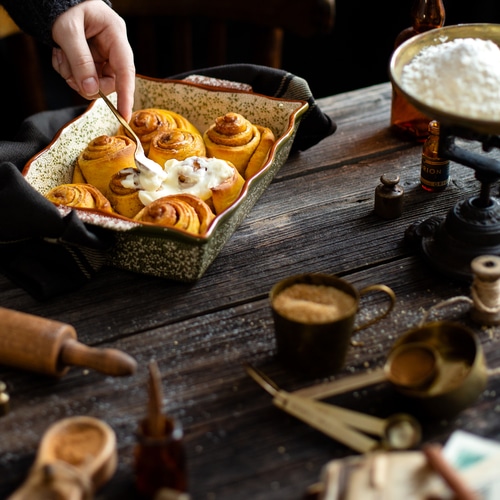 Delicious pumpkin cinnamon rolls made with bread machine
Ingredients
For the Pumpkin Bread :-
130 ml milk, slightly warm
250 g plain flour, half brown or whole wheat works as well
2 tablespoon olive oil
¾ tablespoon sugar
75 g pumpkin puree
2 tablespoon fresh herbs, chopped
1 teaspoon salt
1 teaspoon dry yeast
Afterwards for the cinnamon filling:-
¼ cup melted butter
¼ cup sugar
2 teaspoons cinnamon
½ teaspoon spice extract
½ cup pumpkin seeds or chopped nuts of your choice
Instructions
Add slightly heated milk to your bread machine
Mix Pumpkin puree, oil, sugar, flour, herbs and salt, then add them to the bread machine
Finally add the yeast.
Program your bread machine for the dough cycle
After the cycle has completed, place the dough onto a chopping board with flour. Then work with the dough for a minute and leave to rest for a further 15-20 minutes.
While the oven is heating to 375 F, roll the doll into a rectangle measuring 35cm by 25cm
Spread the slightly heated melted butter over the dough (so that the filling will stick). Leave 2cms around the edge of the rectangle as over filling is not a good idea.
Add the sugar, cinnamon, spice extract and seeds/nuts.
Roll the dough to form a long roll. Using a knife cut the roll evenly into slices
Put the rolls in the oven and leave until they are golden brown around 30-35 minutes.
Let these cool and add some vanilla icing or maple glaze
Notes
Follow individual instructions for your bread machine throughout
If you love Pumpkin Cinnamon Rolls Your Mouth Will Water At My Other Pumpkin Bread Recipes
Traditional Bread Machine Pumpkin Bread - Pumpkin bread with a hint of spice is an all time favorite.
Cranberry Pumpkin Bread - if you love red berries and pumpkin then this is for you.
Easy Pumpkin Pancake Recipe - Pancakes taste amazing with a hint of pumpkin in the mix
Pumpkin Donut Recipe - the ultimate sweet treat is the Pumpkin donut 🙂
Will you be making these pumpkin cinnamon rolls using a bread machine