This pumpkin cranberry bread recipe is wonderful for Thanksgiving and Christmas with its lovely festive red cranberries. It's very easy to make and super impressive as well as delicious.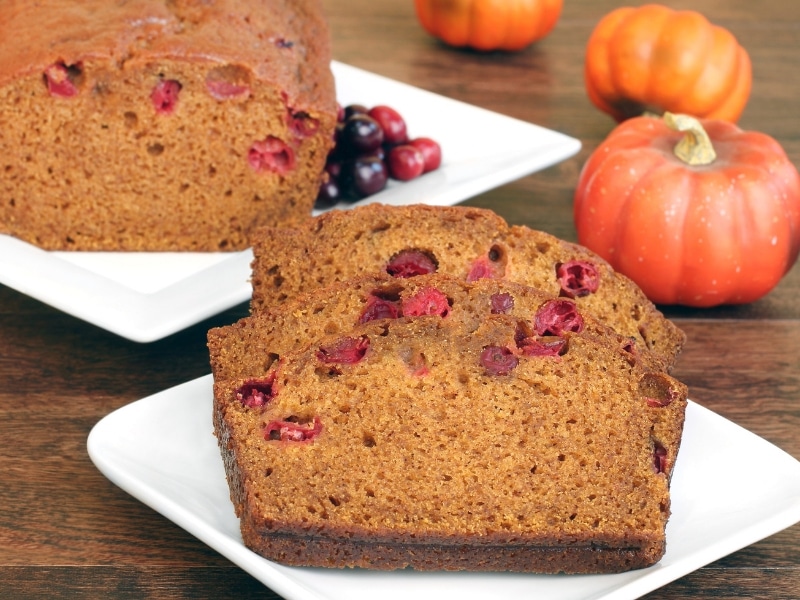 Fresh pumpkin is easy to use if it's in season.
Cook it in the microwave, boil it up in pan or roast it in the oven, then mash it with a fork, or puree it in the blender. If you boil it, don't overcook it or it will get watery, and make sure you drain it well. Learn more about cooking pumpkin here.
If you don't have fresh, canned pumpkin will do just as well. Just remember to check if your can already has spices in them, so you don't go overboard.
This recipe makes one nice sized loaf (this loaf pan works great). I like to double the quantities, if I'm expecting a lot of people, or to put one loaf in the freezer for another day 😉
What to pair up with pumpkin cranberry bread
This yummy pumpkin cranberry bread is perfect warm or cold with morning coffee or afternoon tea.
Or, treat it as dessert and enjoy it with yogurt or ice cream.
Add a sprinkle of cinnamon on the top, or use a homemade cream cheese icing to give it even more yummy-ness.
There are so many amazing ways to enjoy this cranberry and pumpkin bread, that you'll find yourself making it over and over again and never get tired of eating it!
Oh, and if you want to experiment, here's a secret: add some roasted pumpkin seeds to for some crunch in addition to the chewiness of the cranberries.
What time of day do you enjoy eating your muffins? Read on for my healthy cranberry pumpkin bread recipe.
Yield: 12
Pumpkin Cranberry Bread Recipe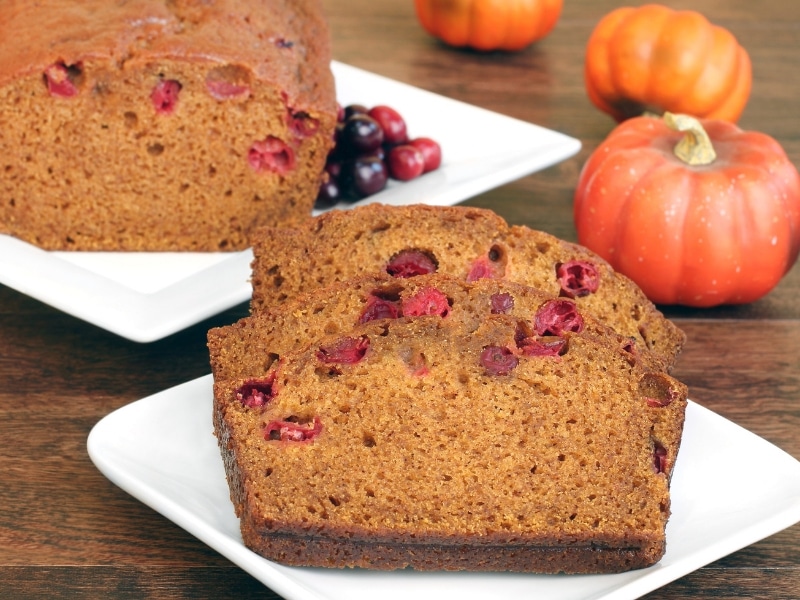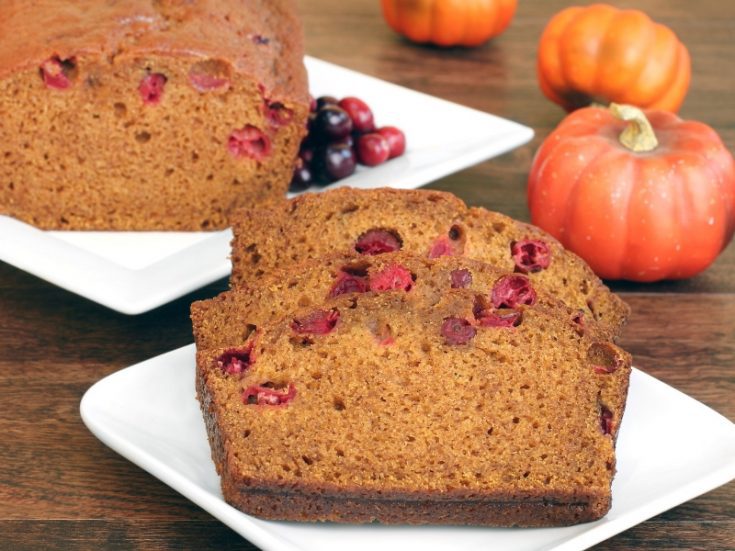 Delicious and festive, this cranberry pumpkin bread is perfect for holiday gatherings, or just for yourself on a cold chilly day.
Total Time
1 hour
10 minutes
Ingredients
1 cup fresh or frozen cranberries, coarsely chopped (if you have only got dried cranberries, soak them in hot water for half an hour before use)
1 ⅔ cups plain flour
½ teaspoon baking powder
1 teaspoon baking soda
½ teaspoon salt
½ teaspoon ground cinnamon
½ teaspoon ground ginger
¼ teaspoon ground cloves
½ cup unsalted butter, room temperature
1 cup granulated white sugar , (you can use brown sugar for a darker, richer bread if you like)
1 teaspoon pure vanilla extract
2 large eggs
1 cup fresh or canned pumpkin puree
¼ cup orange juice
1 tablespoon orange zest , (outer skin of an orange, optional)
Instructions
Pre-heat your oven to 180 C or 350F and grease your loaf pan.
Mix together all the dry ingredients in a large bowl, adding the orange zest if you like it.
Then in a mixer, cream together the butter and sugar. When well mixed, beat in the eggs one at a time, followed by the pumpkin, vanilla extract, and orange juice.
With the mixer on slow speed, mix in the dry ingredients.
Finally, fold in your deep red cranberries.
This loaf will be baked in about 60 minutes. Use a toothpick and see if it comes out clean to ascertain if it's done. It will be a lovely brown color on top.
Loaf pans for the perfect cranberry pumpkin bread
Be prepared with the right loaf for your flavored breads. I like to make some mini loafs that I can gift to family and friends during tough times, or to celebrate accomplishments. So I have a stash of regular sized pans and some mini ones too. You really ought to try and make it with a machine as bread machine pumpkin bread rocks!
Rachael Ray Oven Lovin' Non-Stick Bakeware 9
Nonstick Silicone Pan Set of 2, Easy baking mold for Homemade Cakes, Breads, Meatloaf and quiche
Baker's Secret 1114433 Essentials 8-Well Loaf Pan, Mini
If you like this cranberry pumpkin bread you will also love these
Best Pumpkin Bread Recipes - a collection of my favorite pumpkin breads altogether!
Banana Pumpkin Bread - you can add lots of different fruits to bread and banana already works great with bread and with pumpkin too.
Or how about some pumpkin cranberry cookies!! I know you could bake this along with the bread!!