Pumpkin Cranberry Bread Recipe
This pumpkin cranberry bread recipe is wonderful for Thanksgiving or even Christmas with it's lovely festive red cranberries. It's very easy to make and super impressive as well as delicious.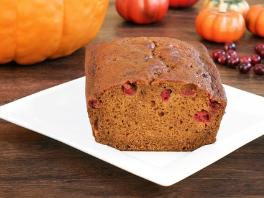 Fresh pumpkin is easy to use if it's in season. Cook it in the microwave, boil it up in pan or roast it in the oven, then mash it with a fork, or puree it in the blender. If you boil it, don't overcook it or it will get watery, and make sure you drain it well. If you haven't got fresh, canned will do just as well. But don't add the spices if your can already has them in.
This one makes one loaf in a 9 inch tin. Why not double the quantities if you're expecting a lot of people, or put one loaf in the freezer for another day.

Pre-heat your oven to 180 C or 350F and grease your loaf pan.

Gather together the following ingredients:

1 cup fresh or frozen cranberries, coarsely chopped

(if you have only got dried cranberries, soak them in hot water for half an hour before use).

1 2/3 cups plain flour
1/2 teaspoon baking powder
1 teaspoon baking soda
1/2 teaspoon salt
1/2 teaspoon ground cinnamon
1/2 teaspoon ground ginger
1/4 teaspoon ground cloves
1/2 cup unsalted butter, room temperature
1 cup granulated white sugar (you can use brown sugar for a darker, richer bread if you like)
1 teaspoon pure vanilla extract
2 large eggs
1 cup fresh or canned pumpkin puree
1/4 cup orange juice
1 tablespoon orange zest (outer skin of orange) (optional)

How to make your Pumpkin Cranberry Bread Recipe:

Mix together all the dry ingredients in a large bowl, adding the orange zest if you like it.

Then in a mixer, cream together the butter and sugar. When well mixed, beat in the eggs one at a time, followed by the pumpkin, vanilla extract and orange juice.

With the mixer on slow speed, mix in the dry ingredients.

Finally, fold in your deep red cranberries.

This loaf will be baked in about 60 minutes. Use a toothpick and see if it comes out clean to ascertain if it's done. It will be a lovely brown colour on top.

Enjoy warm or cold with morning coffee or afternoon tea. Or even as a dessert with yoghurt or icecream.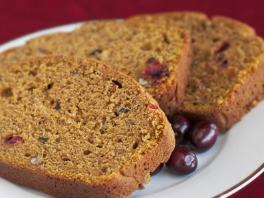 Return from Pumpkin Cranberry Bread Recipe to Pumpkin Bread Recipes
---