How to make bread machine pumpkin bread
Bread machine pumpkin bread is one of the easiest and tastiest things to make in the kitchen! Once you get into the way of making it you will be hooked.
Luckily for you I have a pumpkin bread machine recipe for you to try!
If you own a bread machine, making this moist, fluffy pumpkin bread is super simple and easy. It's almost no different than making regular bread.
Be prepared to make a bit of a mess and use up most, if not all of your counter space, but the aroma of fresh bread, pumpkin, and herbs will make your home smell heavenly. Definitely worth the mess!
If you want a smoother taste, you can omit the herbs altogether. Go with your favorites, or feel free to explore! I personally used thyme and sage, but basil, oregano, and marjoram would also be a good idea.
See my pumpkin bread recipe for bread machine.
Bread Machine Pumpkin Bread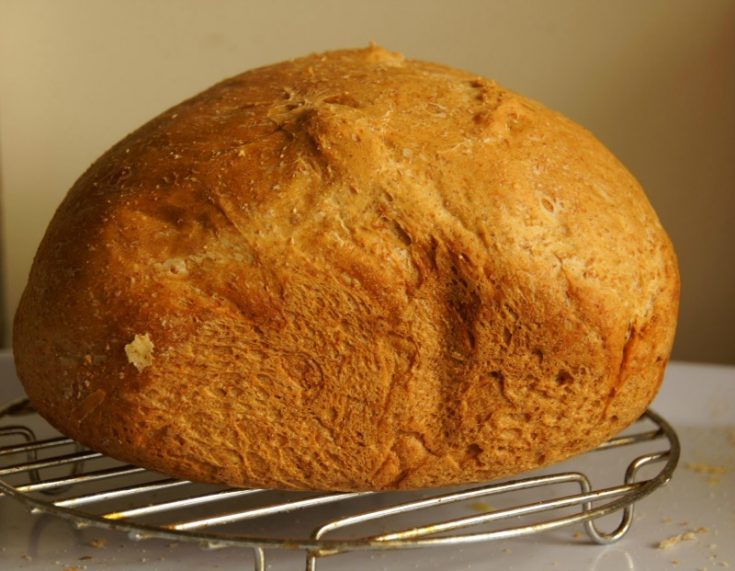 Let your bread machine do the work in making this yummy homemade bread!
Ingredients
130 ml milk, slightly warm
250 g plain flour, half brown or whole wheat works as well
2 tablespoon vegetable oil, olive oil works as well
¾ tablespoon sugar
75 g pumpkin puree
2 tablespoon fresh herbs, chopped
1 teaspoon salt
1 teaspoon dry yeast
Instructions
In general, follow the instructions for your bread machine.
Pour the milk in first.
Mix the dry ingredients with the pumpkin and oil separately, then pour them into the machine.
Finally, add the yeast.
Start the standard cycle for your bread machine.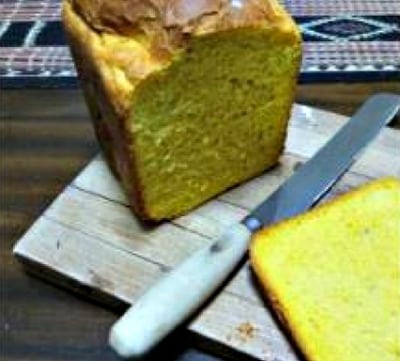 This is what my pumpkin bread in bread machine looks like after it is made .
It was fluffy, moist, and really tasty: one of the easiest things I've done in the kitchen.
It works really well with cream cheese, or on the side with a hot bowl of pumpkin soup on a cold fall day.
You can experiment with different sandwich fillings, such as stuffed with salad and hummus for a nutritious, delicious, and easy lunch.
For something this easy to make, it never fails to impress any friends you may have over.
If you're in a rush in the mornings, you can start it in the evening and have it waiting for you to spread some butter and jam on it first thing in the morning before you head out for work.
I am so tempted to take some of it to my kid's school Fall fair and let everyone see how amazing it is.
Best bread machines to make pumpkin breads
Bread machines are awesome!
Did you know making bread with a bread machine will save you as much as 75% of the price of bread you buy at the store? And this bread will be so much healthier for your family!
You'll actually be able to pronounce all ingredients 😉
I always have tons of pumpkins at home so it makes sense to use it in as many pumpkin recipes as possible.
Here are some of the best bread machines for your pumpkin bread (and other breads too). Once you buy one of these you will never go back! You can use my breadmaker pumpkin bread recipe for an of these machines.
Zojirushi BB-CEC20 Home Bakery Supreme 2-Pound-Loaf Breadmaker, Black
Sunbeam Programmable Bread Maker, 2 Pound, White (005891-000-000)
Hamilton Beach (29885) Bread Maker, 2 Lbs. Capacity, Stainless Steel
Different varieties of pumpkin bread
You can add lots of other flavors to pumpkin bread to give it a different taste. I have made several other types of bread machine pumpkin bread and they all taste equally good.
The sky is the limit here, just pick what you like and I can guarantee you will not be disappointed.
Best Gluten Free Pumpkin Bread With Almond Meal and Orange Zest
Pumpkin Bread Recipes - a collection of all my favorite pumpkin breads together
Best Bread Machine For Pumpkin Bread Recipes - my top rated bread makers
10+ Gluten Free Bread Recipes - if you are on a gluten free diet you can still enjoy lots of different pumpkin breads
Do you like this Delicious Bread Machine Pumpkin Bread?