Bread Machine Pumpkin Bread

Bread machine pumpkin bread must be one of the easiest recipes ever.

I decided to borrow my Mum's bread machine for this one, and it was a triumph. Only trouble is it takes up a lot of space on the bench, and she wants it back! But if you have a bread machine, this must be the easiest way to make a moist pumpkin bread for your family. You can omit the herbs if you want a plainer bread.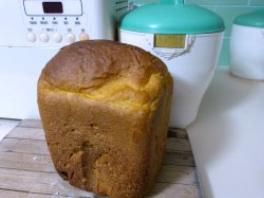 These are the ingredients:

130 ml milk
250g strong plain flour - you can use half brown or wholewheat if you like
2 tablespoons of vegetable oil (or olive oil)
¾ tablespoon of sugar
75g mashed or pureed pumpkin
2 tablespoons of chopped fresh herbs – choose from your favourites – for example – basil, sage, thyme, oregano or marjoram. I used thyme and sage.
1 level teaspoon salt
1 level teaspoon dried yeast

Follow the instructions for your bread machine. The main thing to remember is that the milk should be tepid – just warm or it won't activate the yeast.

Put the milk in first. Mix the dry ingredients with the pumpkin and oil and add them, adding the yeast at the end.

Then use the standard programme for your bread machine.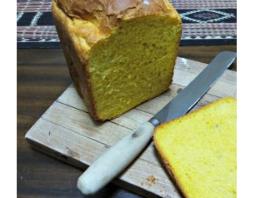 This is how it turned out when I made it. It was really yummy and one of the easiest things I've ever done. It's great with cream cheese, or on the side with soup. Why not try it stuffed with salad and hummus for a delicious lunch. It can't fail to impress friends if you've got people round for lunch. The great thing is you can put it on before you go to bed, and there it is in the morning ready to go.
All you've got to do when the guests arrive or the family come home starving hungry is warm up some soup or put out some cheese, and nibblies, and there you are. Perfect.

For lots more recipes: 

Return from Bread Machine Pumpkin Bread to Pumpkin Bread Recipes
---