Gluten free pumpkin bread recipes are surprisingly easy to make and taste as good as they look! Please check out some of my favorites for Fall!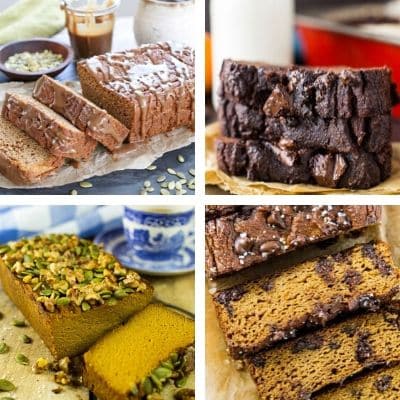 You will be pleased at some of these are very simple to make and will appeal to guests who are coeliac and need gluten free recipes!
Bread can be eaten at any time of the day, with a dash of butter and a hot cup of coffee on the side. It works very well alongside a bowl of soup or with a salad to bulk up carbohydrates.
Some of the sweet pumpkin bread recipes can be enjoyed for dessert, like my Pumpkin cranberry bread.
I am pleased that some of my fellow foodies have shared their fabulous gluten free pumpkin bread recipes with me; you can find them below.
Note many of these are paleo breads and for those unsure, those are free of gluten. Grab your almond and/or coconut flour and get baking!
Gluten Free Pumpkin Bread Recipes
These gluten free pumpkin bread recipes are sure to have your mouth watering!
My own delicious gluten free pumpkin bread with a hint of orange!! The only thing I would change here is maybe the addition of some chocolate chips but then my recipe would be less healthy!
Continue Reading
This sweet pumpkin bread recipe will appeal to those on gluten free diets everywhere! Not only does it look and sound amazing, it tastes delicious too!
You can make it with canned or fresh pumpkin puree, whatever is easiest for you!
The caramel glaze is a winner for me because it is one of my favorite tastes, all year long!
Continue Reading
If you like banana bread you will adore this gluten free pumpkin banana bread recipe which suits a variety of diets!
This is very tasty, of course the pumpkin spice and cinnamon makes it sweet and easy on the palate.
I love the chocolate, as you know I have my own chocolate chip pumpkin bread, so this is a welcome addition.
Continue Reading
If you prefer some muffins instead of a slice of bread you are in luck as these gluten free snickerdoodle muffins are divine!
These are made with almond flour and a hint of cinnamon! I start to crave cinnamon around the start of October right through until Christmas, so I know that these would be a winner in my house!
The other great thing about muffins is that my kids see them as a treat whereas they see a slice of bread as standard Breakfast so I know I can bribe them to tidy their room in exchange for one of these!
Continue Reading
A healthy gluten free pumpkin bread recipe full of spices, which can be made in less than an hour!
This bread is also topped with pumpkin seeds and walnuts for some added taste and Vitamins!
A must try Fall recipe!
Continue Reading
If you are looking for something very indulgent then this double chocolate gluten free pumpkin bread recipe is for you!!
You could serve this as dessert during Fall or even have it as a sweet treat mid afternoon!
Continue Reading
This delicious gluten free pumpkin bread recipe is one of my favorites, because it contains maple syrup! Maple syrup is extremely popular during Fall, but I have to confess I eat it all year long!
This recipe says you can add lots of nuts of your choice, I would probably go for pecans because they taste alongside maple syrup.
Continue Reading
If you frequently make gluten free pumpkin bread then you are likely to have a stock of almond flour in your cupboard!
Why not use it to make these delicious almond flour pumpkin muffins so that everyone can enjoy the taste of Fall!
Cut them in half and spread some butter and savor the pumpkin spice flavor!
If you do struggle to eat the entire batch, the good news is that these can frozen for later use!
Continue Reading
I have tons of Pumpkin breakfast recipes but if muffins is on your agenda, these are perfect!
Do not worry about your waistline as these are healthy and full of fiber to keep you regular!
They are not all about pumpkin as they also contain raisins and nuts, pretty much what I love about muffins!
Do not forget to heat then slightly before eating, so that you can experience that melt in your mouth feeling.
Continue Reading
Anything with chocolate chips goes on to my wish list! My friends who follow gluten free diets always complain they can never find pumpkin bread recipes with chocolate chip, but now I can tell them I have found one!!
Continue Reading
Which of these Gluten Free Pumpkin Bread recipes will you try?