This easy chocolate chip pumpkin bread just has to be the best pumpkin bread recipe I know. Who wouldn't want chocolate in just about everything!? It is perfect for a chocolate lover like me!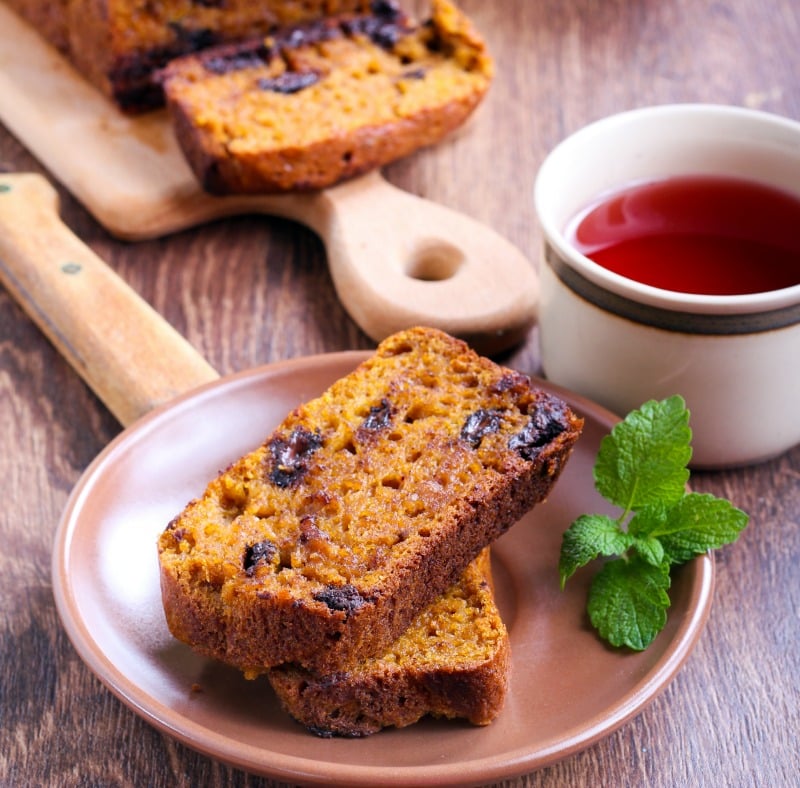 Making the mixture for this recipe takes no time at all, and including baking time, you'll have fluffy chocolatey goodness in an hour and a half or less.
The pumpkin provides healthy vitamins and fiber and is a great way of sneaking in some chocolate into your diet.
Skipping the brownies was never so easy!
Enjoy it for breakfast with a glass of milk or as a dessert, or save it in the freezer for a treat down the line!
Here are more pumpkin dessert recipes you can try.
Make Chocolate Chip Pumpkin Bread Recipe
I can only imagine your mouth is watering now at the sound of this delicious pumpkin bread! Without further ado check out my easy recipe; the sooner you make it the sooner you can eat it 🙂
Yield: 12
Easy Chocolate Chip Pumpkin Bread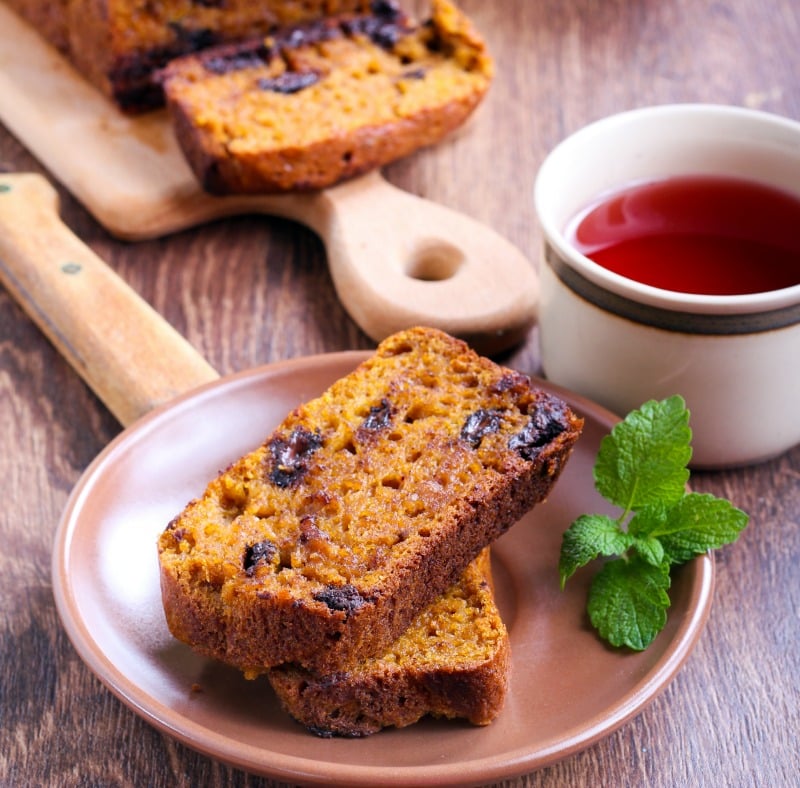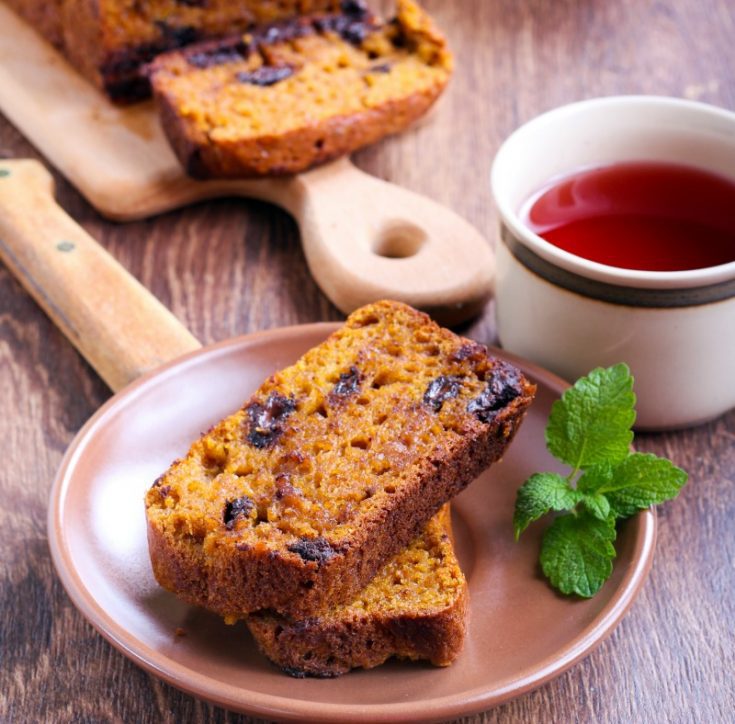 This great oven-baked chocolatey bread is simple to make and is a fantastic, healthy brownie alternative. It yields 2 large loaves, each serving 12. 

Prep Time 10 minutes

Cook Time 1 hour 10 minutes

Total Time 1 hour 20 minutes
Ingredients
15 oz pumpkin puree, one standard can
4 medium eggs
3 ⅓ cups plain flour
⅔ cup water
3 cups sugar, granulated
2 teaspoon baking soda
½ teaspoon baking powder
4 teaspoon pumpkin pie spice
⅔ cup canola oil
2 cups semisweet chocolate chips, about 12 oz.
1 cup almond slices, toasted
1 teaspoon salt
Instructions
Combine all dry ingredients in a large mixing bowl.
In another bowl, whisk the pumpkin, eggs, oil, and water together.
Moisten the dry ingredients by slowly pouring the dry ingredient mix into the wet ingredients, stirring slowly.
Mix in the almonds and chocolate chips.
Grease two nine inch by five inch loaf pans and pour equal amounts of bread mix into each pan.
Bake at 350°F for about 70 minutes. You can use the toothpick test to determine when it is ready.
After taking the breads from the oven, wait about ten minutes for the breads to cool before attempting to remove them from the pans.
Wasn't that easy?!
You can store the loaves by wrapping them in cling wrap and leaving them in the freezer for up to three months without losing moisture or flavor.
When you're ready to enjoy them again, just leave them out to thaw on the counter for a few hours, remove the cellophane wrap, and maybe pop the slices in the microwave for a bit to get them nice and warm.
These usually don't last long enough to see the freezer in my household though! Perhaps I should start and make two loaves at one time! I might just do that the next time I get the kids over to their Grandparents.
Ingredients for chocolate chip pumpkin bread recipe
Don't have all the ingredients to make this recipe? Here are some not everyone keeps in their pantry. Make sure and check the ingredients needed and buy them in advance.
Simply Organic Pumpkin Spice Organic, 1.94 Ounce
Farmer's Market Organic Pumpkin Puree, 16 Ounce (Pack of 12)
Food To Live ® ALMONDS (Sliced, Blanched) (1 Pound)
If you love sweet pumpkin recipes you will love these:-
Pumpkin Cinnamon Rolls Bread Machine - one of my latest pumpkin bread recipes that is loved
Banana Pumpkin Bread - banana and pumpkin together is so healthy and TASTY
Pumpkin Bread Recipes - a collection of my favorites
One of my latest chocolate chip cookie recipes with pumpkin and Reese pieces!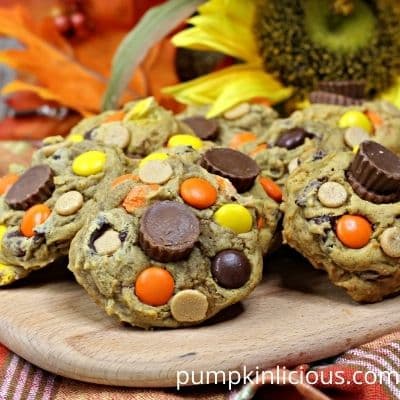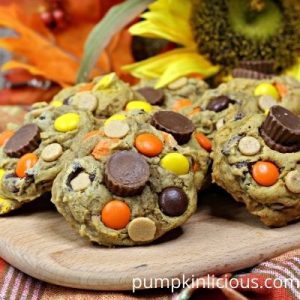 Is chocolate chip pumpkin bread your favorite bread recipe?