Pumpkin Soup Recipes

With a burning desire to create more pumpkin soup recipes, I picked two nice pumpkins from my garden one warm and sunny day and carried them into my kitchen, looking forward to an afternoon spent with my imagination and my two wonderful, home-grown pumpkins.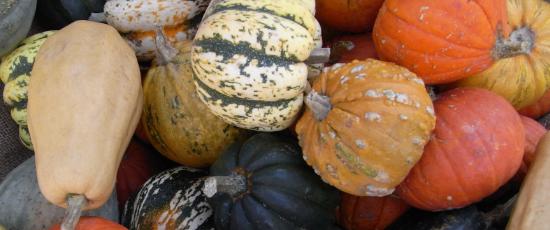 By experimenting with different-sized pumpkins, I have found that the ones that make the best-tasting soups are the smaller sized varieties that some people call "Baby Bear" or "sugar" pumpkins because they provide more flesh than seeds and are not as stringy as some larger pumpkins. I caused a bit of a sensation when I served pumpkin soup at a dinner party in soup bowls made from these Baby Bear pumpkins.

The mellow flavour of pumpkins goes with all kinds of things to make delicious and healthy soup recipes.

Here are a few basic pumpkin soup recipes and a few more adventurous variations for you to try. If you've got a favourite one, why not share it with us below?


Try our readers recipes too, they appear at the bottom of the page! 

Variations you can make to the recipes above:

Pumpkin Ginger Soup
Add a teaspoon of ginger to the classic pumpkin soup recipe.
Apple Pumpkin Soup
Apples are a great combination with pumpkin soup, giving it a tangy applesauce lift. Try it with a little cinnamon too. Just chop one apple into the soup while it's cooking.

Sausage Pumpkin Soup
One day, craving something a bit meaty, I decided to put some sausage in the pumpkin soup cooking on the stove. It turned out to be absolutely delicious.

Chilli Chocolate Pumpkin Soup
OK, so maybe I have lost my head on this one, but why not? I've heard of chilli chocolate. And chocolate goes great in pumpkin cake and pumpkin cookies, I decided to experiment with adding chilli and chocolate to pumpkin soup. I mixed in half a teaspoon of chilli powder and instead of melting chocolate in the soup, I thought it might be safer if I used chocolate shavings as a sort of garnish. Then if it tasted weird I could sort of scrape it off the top of the soup. Since I always have dark chocolate in the house (one of my worst weaknesses), I used my grater to shave several thin, curly pieces chocolate off the chocolate bar. I dropped three or four pieces of these shavings on top of a bowl of basic pumpkin soup. The blend of sweet dark chocolate and chilli was out of this world.

Pumpkin-Maple Syrup Soup for breakfast?
Have you ever tried adding maple syrup to pumpkin soup? You'll find yourself wanting a bowl of pumpkin-maple syrup soup for breakfast, along with a hot cup of pumpkin spice coffee and maybe some scrambled eggs and toast. What a wonderful way to start the day!

Other exotic pumpkin soup recipes are fun to create by adding different spices and unusual ingredients like corn, crab meat or prawns.

Pieces of freshly cooked bacon also enhance pumpkin soups – as they enhance pretty much anything.

I have also heard about certain daring people adding peanut butter to their pumpkin soups but haven't tried it yet. Anybody want to try this first and let me know how it turns out?
Do you have the best pumpkin recipe ever?
Have you got a super pumpkin soup recipe that we will all love? Why not share it with us here, and we can all try it too? Then your friends will be able to visit your own pumpkin recipe page and comment on it. Maybe they will join in the fun too and add one of theirs. You can add a photo of your creation too if you like. It doesn't have to be an amazing shot, just take one with your phone!
Gorgeous Pumpkin Soup Recipes from Our Readers
Click below to see yummy recipes from other visitors to this page...

Pumpkin Soup with Leeks

My son is having a light trouble of digestion (constipation). The doctor said that he has to eat more vegetables especially green veggies, high fiber nutrition …
Pumpkin Soup in a Pumpkin! Not rated yet
This nifty Soup in a Pumpkin recipe is from one of my favorite books, Barbara Kingsolver's Animal, Vegetable, Miracle . It's as fun to make and serve …
Zesty Pumpkin Soup Not rated yet
My family loves this soup any time of year but it's especially delicious during cooler weather. The children eat it too, with a little more sour cream …
Return from Pumpkin Soup Recipes to Pumpkinlicious Home Page
---