Creamy Pumpkin Soup with Apple and Sage

Lovely rich creamy pumpkin soup with apple and sage. This soup has the taste and aroma of autumn. Sage is one of my favourite herbs and it goes just so well with pumpkin.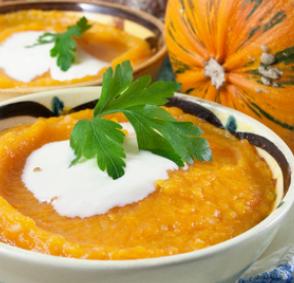 It tastes wonderful if you have some roasted pumpkin that you have done in the oven to use. If not, just use fresh chopped pumpkin but increase the cooking time until the pumpkin is soft.
Pumpkins are so soft that you don't always need to use a blender to create soup. I often just use a masher. But if you like a very smooth consistency, then the easiest way is to use a stick blender.
Here's what you need:

2 cups of roasted fresh pumpkin chopped roughly
2 peeled and diced carrots
2 tablespoons of butter
1 diced, medium-sized onion
1 diced apple, peeled
1 tablespoon of sage leaves
3 cups of chicken stock
1 cup of cream

Ground pepper/salt to taste

Over medium heat, place onions, apples, sage, butter, carrots and pumpkin in large pot and cook until tender, around ten minutes. Using a blender or food processor, puree these ingredients and then put them back into the pot (or if you're lazy like me, just give them a mash with the hand masher while still in the pot). Pour in chicken stock and simmer for about 15 minutes. Add cream and continue simmering for an additional five minutes. Do not let the soup boil.
Add salt and pepper and another dollop of cream on top and serve. This should be enough for four people. Make sure you have a lovely crusty bread to go with it. Or why not try one of my pumpkin breads?

For more fabulous fall soup ideas click on on the following link:

Return from Creamy Pumpkin Soup to Pumpkin Soup Recipes
---