My family loves this soup any time of year but this zesty pumpkin soup it's especially delicious during cooler weather.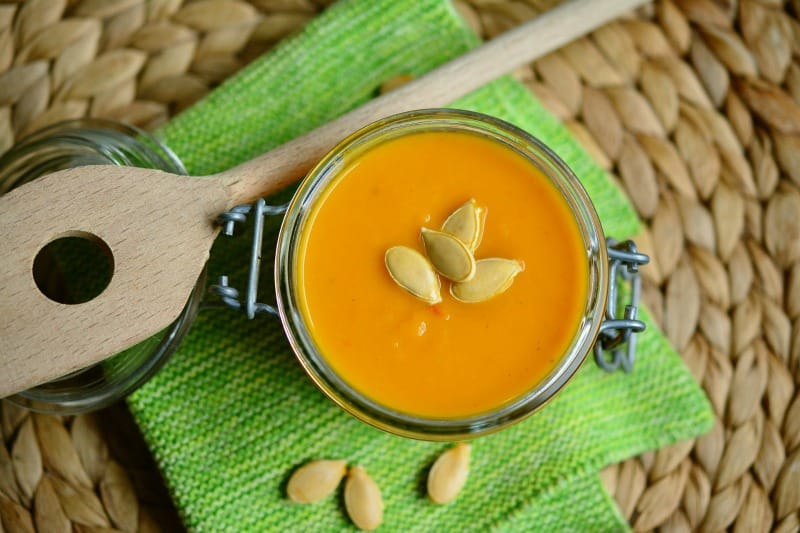 Today's recipe was sent in by one of our readers frOm Canada (thank you Shirley), and it's one of those quick to make soups using canned pumpkin.
It's delicious as it is, but if you have a pumpkin you can roast, it'll take the taste up several notches 😉
If you have children, you might want to tone down the heat a bit. Or, you can give them lots of cream or yogurt to cool off their little tongues. I'm not really serious when I say that.
I actually split our soup in two separate containers and left out the spicy ingredients so the kids can enjoy it without any trouble.
Zesty Pumpkin Soup Recipe
Ingredients
2 Tbsp unsalted butter
1 medium onion, chopped
1 tsp garlic, minced
1/2 tsp salt
1/4 tsp ground coriander
1 tsp medium curry powder
dash crushed rep pepper flakes (up to 1/8 tsp if you like it real spicy)
1 large can 100% pumpkin
2 1/2 cups chicken or vegetable broth
1 cup milk
1/4 cup brown sugar
1/4 cup cream (heavy or half & half)
sour cream
Directions:
In large saucepan, melt butter over medium-high heat. Add onions and garlic; cook a few minutes until softened, stirring often.
Add spices and continue to stir another minute.
Stir in pumpkin and chicken/vegetable broth. Bring to a boil, reduce heat and simmer for 15 minutes.
Using an immersible hand-held blender, puree the soup in the pot until desired smoothness is achieved. Keep soup on low simmer.
Stir in brown sugar. Then slowly add milk and continue to stir.
Add cream.
Ladle into bowls.
Garnish with a spoonful of sour cream (or plain yogurt to make it less spicy).
Yield: 4 servings.
Must have pumpkin ingredients
If you love cooking with pumpkin, here are some ingredients you must have on hand at all times.
Raw Shelled Pumpkin Seeds-Pepitas, 3 lb
Simply Organic Pumpkin Spice Organic, 1.94 Ounce
More pumpkin soups you might enjoy
Do you want to try my Zesty Pumpkin Soup?