Pumpkin Split Pea Soup
This pumpkin split pea soup is a lovely deep yellowy orange and the split peas add a depth of flavour and a texture you don't get with pumpkin alone. It is also very easy to do.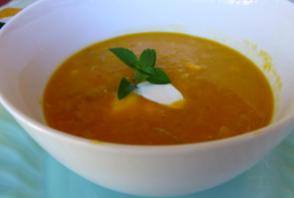 It's best, though not absolutely essential to soak the yellow split peas overnight. It reduces the cooking time, and removes some of the starch. Pick them over. Cover with water and soak for at least 4 hours. Then give them a good rinse before cooking.
Preparation time is 10 minutes, cook time is around two hours.

The ingredients are:

1 pound (500g) of yellow split peas
6 cups of chicken stock (or vegetable stock)
1 medium, diced onion
Olive oil for cooking the onion
1 pound (500g) of peeled, diced and seeded pumpkin

Cover the soaked split peas with stock and cook for about an hour. Then add the pumpkin and chopped onion and cook for another half an hour or until the peas and pumpkin are soft. (I had some pumpkin already cooked and mashed so I just put that in).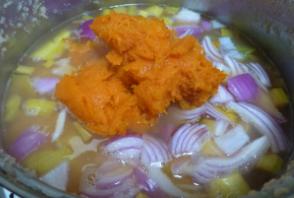 When it's all cooked and soft, drizzle a tablespoon or two of olive oil on top and mix through. Use a stick blender to puree the soup or just use a masher if you like a thick texture. Add salt and pepper to taste and maybe sprinkle some nutmeg on top of the soup for added zest.

If you like you can add some bacon or ham to give the soup that smoky pea and ham flavour.

For an Indian twist, add a teaspoon of curry powder or cumin and serve with naan bread or chapattis.
For more ideas and variations have a look at the recipes on the following pages.

Return from Pumpkin Split Pea Soup to Pumpkin Soup Recipes

Pumpkinlicious Home

---