The best thing about this pumpkin beetroot soup is the thyme. So if you haven't got any growing in your garden, then raid the neighbors or search in your local green grocer or plant nursery. Because it is fabulous. The aroma of thyme floating through the house while this is cooking is wonderful, and it absolutely makes the flavor of this soup.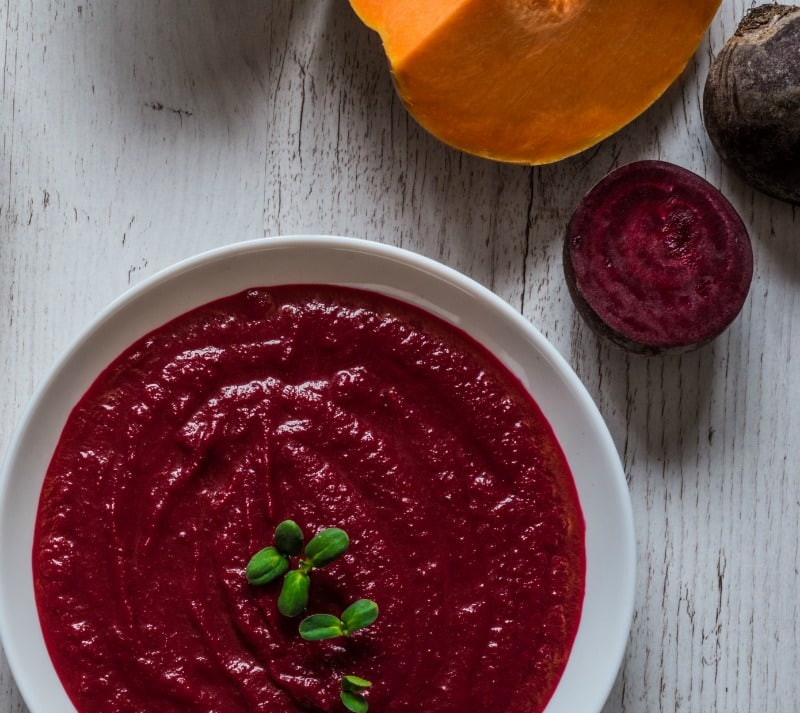 Beetroot Pumpkin Soup Tips
If you want to take this beet and pumpkin soup to the next level, roast your vegetables first. Roast half a pumpkin cut in half again and 2 medium or 3 small beetroots.
You can roast the beetroots with their skins on: just give them a scrub. It's easy to peel them when they've just cooled.
Since the beetroot takes a bit longer than the pumpkin, either cut it into smaller pieces than the pumpkin, or roast it for 10 minutes before you add the pumpkin.
Pumpkins need to roast about ½ hour to 40 minutes. And it's not the end of the world if some beet bits are not quite cooked, as they will finish cooking in the soup).
Of course, if you don't have time to roast your veggies first, just follow the steps below and you'll still end up with delicious soup 😉
Tools you need to make creamy soup
Creamy soups are easy to make, but you'll need a few tools to get the best results.
Yield: 4
Pumpkin Beetroot Soup With Thyme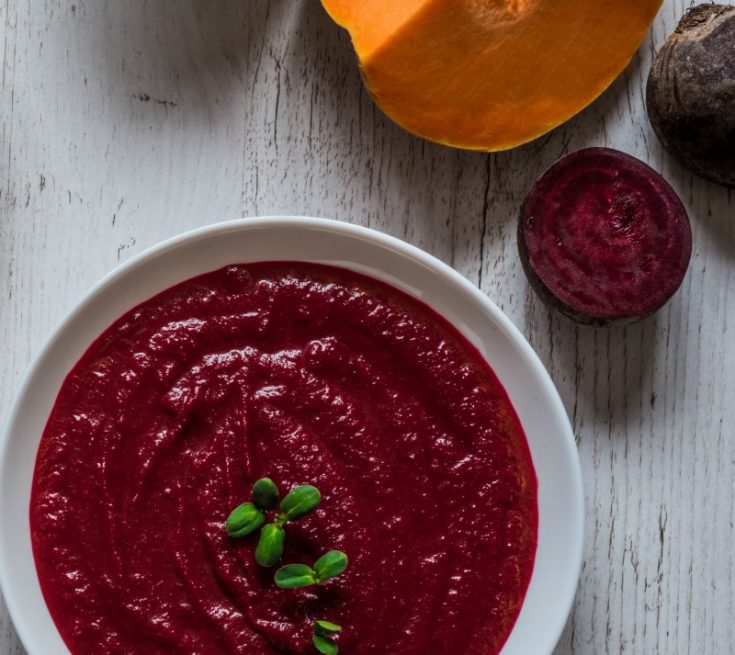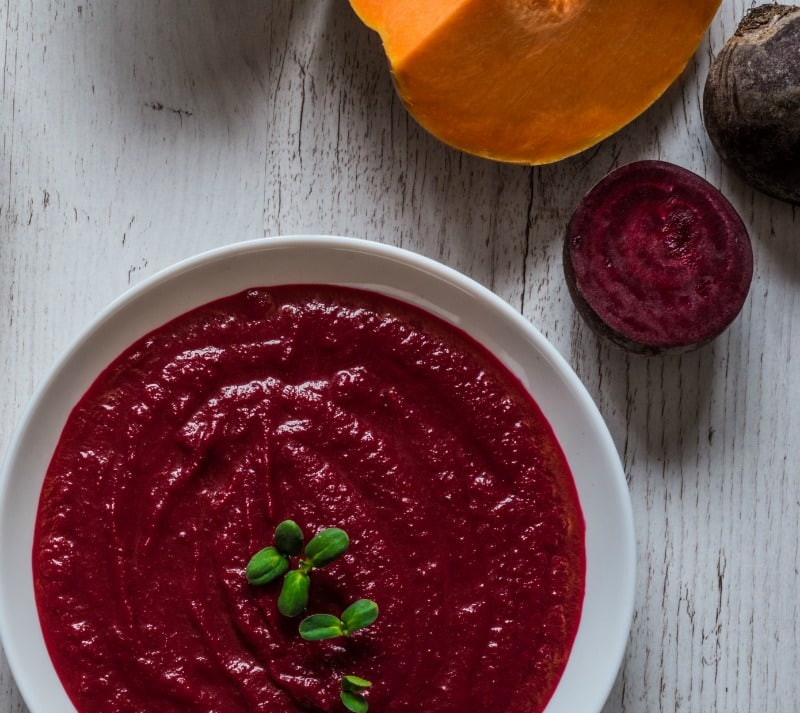 The thyme and the balsamic vinegar give this beet root and pumpkin soup a depth of flavor I couldn't have imagined.

Prep Time 10 minutes

Cook Time 45 minutes

Total Time 55 minutes
Ingredients
1/2 medium pumpkin, (cubed)
2 medium beetroots, (cubed)
2 tbsp olive oil
1 onion , (or leek)
1 clove garlic
1/2 cup thyme
1 tsp balsamic vinegar
1 cube vegetable stock
sourcream or yogurt , (optional)
Instructions
Fry the onion (or a leek – I prefer leek, but then I'm a bit fussy!) and a clove of chopped garlic in some olive oil.
When the garlic and onion are nice and soft, add a handful of thyme leaves.
Add the cubed pumpkin and beetroot. Since beets take longer to cook, cut the beets in smaller cubes
Add a vegetable stock cube. (Yes, I was really lazy when I made this, and didn't use proper stock – slapped wrists!)
Cover with water, bring to a boil and simmer for about 45 minutes.
Add a teaspoon of balsamic vinegar and stir through.
Allow to cool a little, then blend with a hand mixer til smooth.
Serve with a dollop of yogurt and some more thyme leaves.
This creamy pumpkin beetroot soup is far, far better than I expected. The thyme and the balsamic vinegar give the soup a depth of flavor I couldn't have imagined. This is dinner party standard stuff.
Absolutely delicious.
Enjoy.
Want more? Here are lots more pumpkin soup recipes. I am guessing you will want to taste more of these after enjoying the delightful flavour of this one.