Classic Pumpkin Soup

Classic Pumpkin Soup is healthy, easy and very satisfying.

This soup is so easy to make, and is probably the most popular winter soup in Australia, if not the world. It's fantastic in this basic classic pumpkin soup recipe, but then you can make all sorts of variations on the theme once you've got the basic soup done. It is gluten free and vegetarian if you choose vegetable stock instead of chicken stock.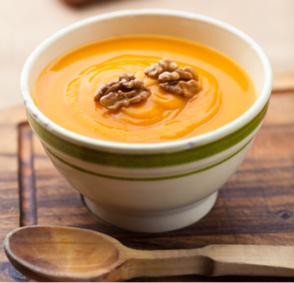 You can use Jap, Queensland Blue, Butternut, any of the small varieties of pumpkin, whatever you have available really so long as it's a nice orange sweet fleshed one. You could even use canned pumpkin if you like.  You can buy organic cheaply if you buy it in bulk, there's a link in the column to your right! 

Ingredients

About a kilo of pumpkin - quantities are not very important in this recipe.
Vegetable or chicken stock - about 2 or 3 cups
1 onion or 1 leek
1 or 2 cloves of garlic
Olive oil
Salt and Pepper

Peel and chop the pumpkin into chunks. The smaller the chunks the quicker it will cook.

Chop the onion or leek and garlic and fry in the oil for a few minutes on a gentle heat.

Add the pumpkin and the stock and bring to the boil. Simmer until the pumpkin is soft.

Mash with a masher, or puree with a stick blender. I usually just use the masher. But I don't mind a fairly thick consistency.

Adjust the soup with water, milk or stock to the consistency you like best. Add salt and pepper to taste.

This is lovely with a handful of grated cheddar cheese on top or a sprinkling of parmesan, and a good crusty bread. Or you can float on a dollop of sour cream or yoghurt.

I also love to put a few leaves of spinach in the top to soften at the very end of the cooking time.

Health in a bowl.

For more variations on this classic pumpkin soup return to "Pumpkin Soup Recipes"
---