Pumpkin Soup in a Pumpkin!
by Carolyn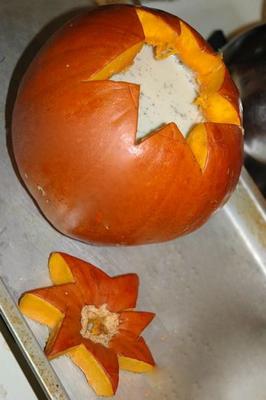 Soup in a pumpkin!
This nifty Soup in a Pumpkin recipe is from one of my favorite books, Barbara Kingsolver's Animal, Vegetable, Miracle. It's as fun to make and serve as it is to eat.

Pumpkin Soup in a Pumpkin
Adapted from "Pumpkin Soup in Its Own Shell", Animal, Vegetable, Miracle

1.5 lb pumpkin (adjust liquid if larger/smaller)
1 head of roasted garlic
1 quart organic chicken or vegetable broth
1 quart almond milk (or other non dairy beverage or milk)
1/2 cup fresh sage (less if using dried sage)
2 teaspoons of salt
Pepper to taste
Dash of red pepper (optional)

Preheat oven to 375 F.

Cut a lid off the top of the pumpkin - a zigzag cut looks nice. Scoop out the seeds and all stringy parts. Rub the inside of the flesh with salt and a bit of sage. Set pumpkin on a large roasting pan.

Squeeze roasted garlic cloves into a large pot and add milk, broth and seasonings. Gently mash the cloves into the liquid to combine. Slowly heat just to warm through and begin to marry flavors; do not simmer or burn milk.

Place baking sheet with pumpkin on oven rack and carefully fill with warmed (not hot!) liquid mixture. Place a small piece of foil atop opening and replace "pumpkin lid" to keep the lid from caving in while cooking.

Occasionally, stir liquid while cooking, gently scraping some inside flesh into the liquid.
Bake 1-2 hours depending on the size/thickness of pumpkin.

*Should your pumpkin overcook and/or a mishap like puncturing it or pumpkin collapse occur -- return liquid to pot, add flesh and blend with an immersion blender.

Enjoy!
Join in and write your own page! It's easy to do. How? Simply click here to return to Your Pumpkin Soup Recipes.
---