Best Ever Pumpkin Donut Recipe
Having an extremely sweet tooth and being a pumpkinaholic means I adore my pumpkin donut recipe! These work so well for kids and adults alike. Have them after dinner or as a sweet treat with tea or coffee mid afternoon.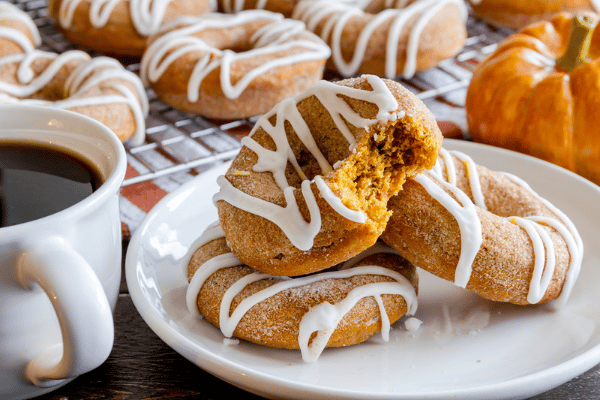 I have always loved donuts since I was little, not the pumpkin ones just basic ones with bread. Every time we went to the fair I begged my Mum to buy me some. Then of course they went for sale at Krispy Kreme! Who can resist their Pumpkin Spiced donuts?! Krispy Kreme pumpkin donuts anyone?! They have to be the best dessert ever made.
The only thing I would swap for one of these is one of my Pumpkin Deep Fried Oreos!
Donut Pumpkin Recipe
The thing I love about my donut pumpkin recipe is that you can prepare lots in bulk and then add different toppings to them. You can literally add anything to them, from maple glaze to chocolate sauce!
My favorite is cream cheese frosting! I have a thing about (an addiction to) keto pumpkin recipes with cream cheese. You can also add pumpkin seeds (if you want to be really healthy), chopped nuts or colored sprinkles (a real hit with my kiddies). How about sticking some berries on top of the glaze to make them extra healthy!
Yield: 18
Pumpkin Donut Recipe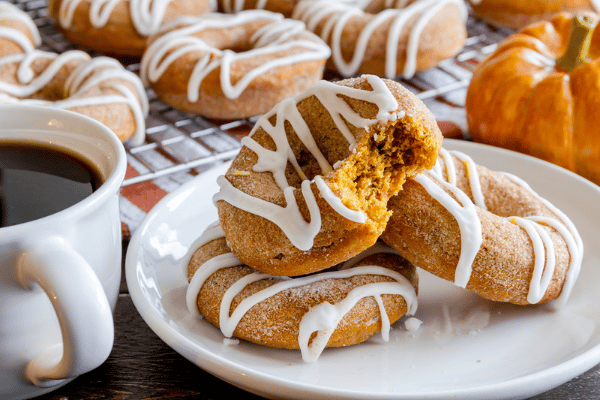 A delicious baked pumpkin donut recipe for the entire family

Prep Time 20 minutes

Cook Time 10 minutes

Additional Time 5 minutes

Total Time 35 minutes
Ingredients
1 cup of coconut oil/vegetable oil
2 cups of pumpkin puree (you can use canned but I prefer fresh)- If you only want a hint of pumpkin taste, cut this down to 1.5 cups.
1 teaspoon salt
2 teaspoons baking powder
3 large eggs
3 cups all purpose flour
1.5 cup of coconut sugar/brown sugar
½ cup of slightly melted butter (rock hard from the fridge is no good)
1.5 teaspoons pumpkin pie spice
Instructions
Preheat your oven to 350 F
While your oven is heating, grease your 3 donut pans. These will each hold 6 donuts.
In your mixing bowl, mix oil, eggs, butter, sugar, fresh pumpkin, pumpkin pie spice, salt, and baking powder. Finally add all purpose flour and stir well. You can use a hand mixer to do this until mixture is smooth like a batter.
Use a serving spoon to fill your donut pans. Be careful to not overfill as mixture will expand when heated.
Heat in the oven for around 10 minutes.
Notes
Additional time can be used to add a glaze, sauce and sprinkles of your choice

I thought I would share this fabulous video on how to make the cream cheese frosting I add to my pumpkin donuts.
Healthy Baked Pumpkin Donuts -How many calories can I expect?!
If you are worried about high carbs and calories then you should try making one of the healthy baked pumpkin donuts. I always go for a baked version and they taste just as good after adding your favorite glaze or sauce!
Go easy on those though as they will bump up your sugar intake! We are all allowed a treat now and again though!
I had a look around and the calorie content of pumpkin donuts varies from 250 to over 400 depending on topping! The Krispy Kreme Pumpkin Spice Cake Doughnut is said to content 340 calories.
You can make healthy pumpkin donuts in one of the pans below!!
3-Pack Donut Baking Pan of 100% Nonstick Silicone. BPA Free Mold Sheet Tray. Makes Perfect 3 Inch Donuts. Tray Measures 10x7 Inches. Easy Clean, Dishwasher Microwave Safe
Best Pumpkin Donut Recipe Toppings
While I love my pumpkin donut recipe with cream cheese frosting I had to feature these other ideas as they sound awesome. They all come with a different glaze. You can decide which is your favorite?! I have to be honest I find it hard to pick.
Dedra at Queenslee Appetit made her pumpkin donuts with salted caramel cream cheese frosting for National Donut Day! I heart salted caramel and it works really, really well with cream cheese. If you are watching your carb intake it may be a little too indulgent however.
Danielle uses traditional maple glaze with cinnamon for her delicious pumpkin donut recipe topping!
Can I tempt you with some of my other Sweet Pumpkin Recipes?
Pumpkin Spice Cake Recipe - sugar and spice and everything Pumpkin, means these are on your too taste list
Pumpkin Spice Brownies - everyone loves a good brownie, and these Pumpkin spice ones are a necessity on a bright Fall Day
Pumpkin Pecan Pie - This is a MUST for Thanksgiving dessert
Delightful Pumpkin Muffins - if you love donuts then I am sure you are a muffin lover also! If you have leftover ingredients then why not try baking these delights!
Pumpkin Chocolate Cake - if like me you adore chocolate and pumpkin, this will be right up your street
Easy Pumpkin Pancake Recipe - my pancakes taste good hot or cold
Which topping would you add to your Pumpkin Donut Recipe