These best pumpkin muffins 2o22 will make you forget that blueberry or any other type even exist. One bite and you're ready for everything Fall!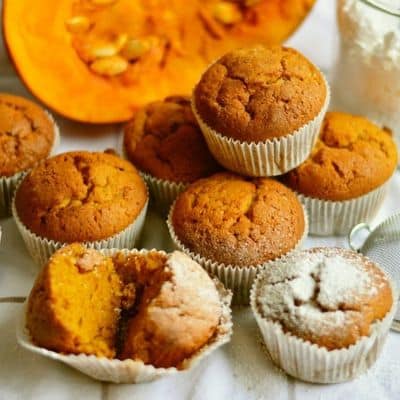 Life is so hectic these days with looking after kids, working, running a house and making time for your better half, never mind seeing your friends. My New Year's resolution this year was to spend more time with the mates I have known 90% of my life before they forget what I look like!
I aim to have some of my best mates over for coffee in the morning or early afternoon at least once a month, while the kids are at school (It felt as if I never seen anyone when I had a toddler and baby, thank goodness for school).
We had a great time at our last get together – nostalgia set in, interspersed with some silly jokes – you would have thought that I had laced the coffee with some form of alcohol, there was so much giggling! One of my friends who has young children told a joke that they had brought home from school, so I am about to share this dreadful one with you…
'There were 2 cakes talking to each other. One turned to the other and said 'What's up cake? The other turned and said 'Muffin much'. Get it?
Sorry about that! I couldn't resist!
Yield: 15 Medium/30 Small
Pumpkin Muffins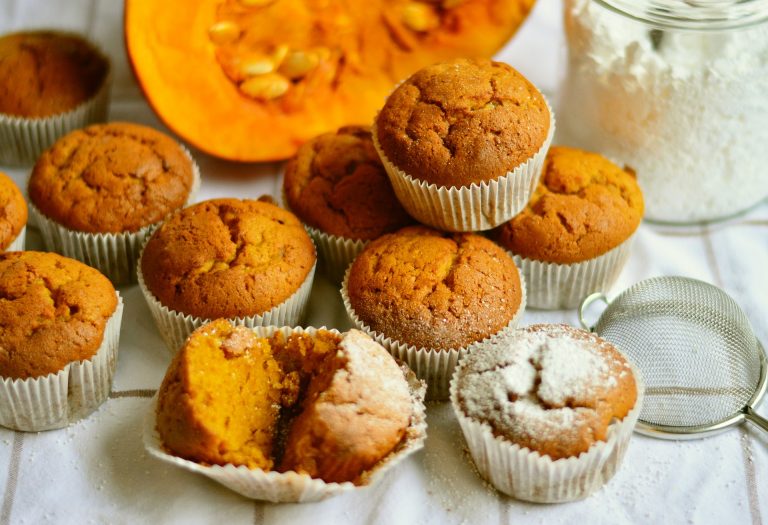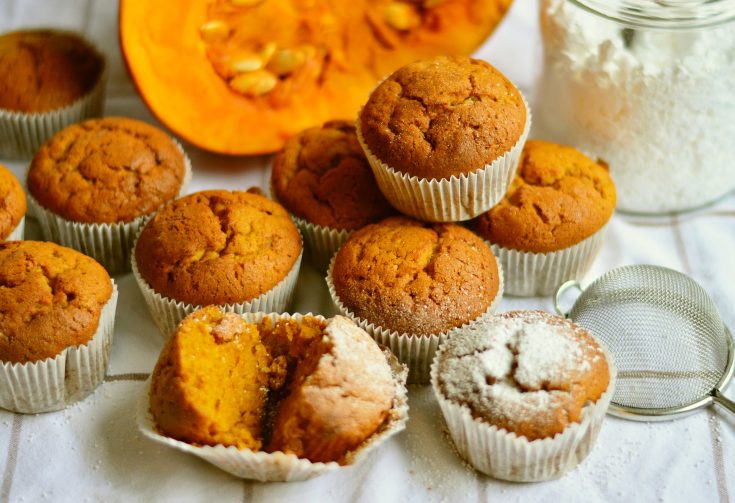 These pumpkin muffins will make you forget that blueberry or any other type even exist. One bite and you're ready for everything Fall!

Prep Time 10 minutes

Cook Time 25 minutes 20 seconds

Total Time 35 minutes 20 seconds
Ingredients
3 cups all-purpose flour
1 ½ tablespoon pumpkin pie spice
2 teaspoon baking soda
1 can pure pumpkin (or use fresh pureed)
1 teaspoon salt
3cups sugar (granulated)
4 large eggs
½ cup vegetable oil
Instructions
Heat oven to 350°F

Grease or line 2 muffin tins (do try the tulip cases, they give a real professional touch. You can see them below from Amazon).

Mix the flour, pumpkin pie spice, salt and baking soda together. In a separate bowl, combine the sugar, pumpkin, eggs, oil, and juice together.

Beat until completely blended, then add the flour mixture and stir until mixed. Add some poppy seeds at this stage if you like. Fill the muffin cases to about ¾ full.

Bake for 25 minutes or until a wooden skewer inserted into the center of a muffin comes out clean. Cool for 5 minutes in the tin and then place on a wire baking tray to cool completely.


Tip: You might want to add some colored icing for the kids! I know my kids loved the icing on my iced pumpkin cookies so they would be looking for this again on my muffins! Who would you like to invite over to enjoy these pumpkin muffins with?
Want something a little sweeter, then you ought to try my Pumpkin Apple Muffins!
Are these the Best Pumpkin Muffins Recipes for 2022?