Are you looking for some Easy Pumpkin Carvings Ideas for your Jack O Lantern this year? You will be impressed how amazing and how quickly you can carve these!
If your house is anything like mine you will be scrambling to get some Jack O Lantern's together before Halloween night! No matter how prepared I am something always crops up to halt my pumpkin carving.
It is for this reason I have a list of easy pumpkin carving stencils to hand so that I can create an amazing looking Jack O Lantern. These are my go to when I have a busy schedule and let us face it what Momma doesn't!
Some of these are super duper quick and can be carved onto a pumpkin in less than 20 minutes.
A must before you start is some of my recommended pumpkin carving tools. Honestly these will make your life so much easier and help speed things along too.
Before you start making your carvings why not find out more about Jack O Lantern history
Without further ado please see some of my simple pumpkin faces below.
My Pumpkin Cat Face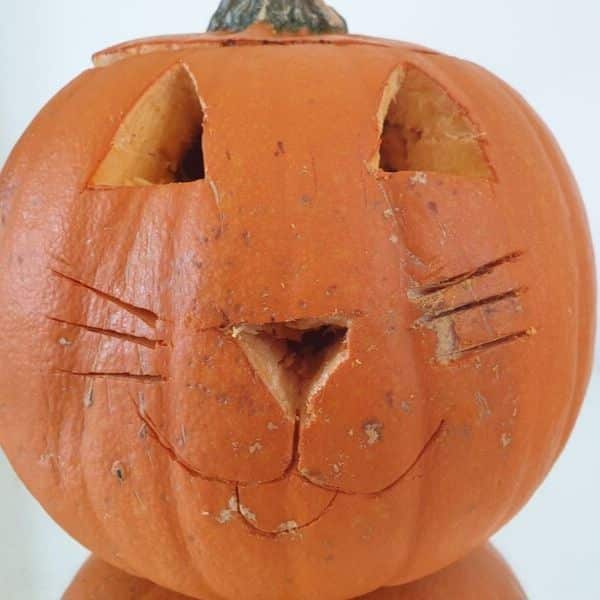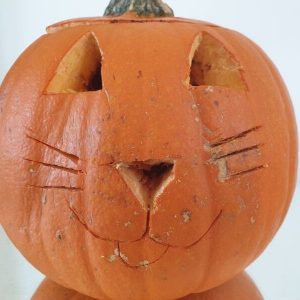 All my friends with cats, insist of pumpkin carvings of cats but to be honest I think my pumpkin cat face is super duper cute and super quick to do. It took me less than 20 minutes the first time I did this and now I reckon I could do it a little quicker. Pumpkin faces easy peasy with this design for sure!
You do need a sharp knife to cut out the nose and mouth. The other markings are literally just lines on the pumpkin.
It might not look impressive when it is not lit up but it looks great at night with a tea light inside.
Easy Jack O Lantern faces like this one will appeal to kids of all ages!
Scary Pumpkin Faces
I have a list of scary pumpkin face carvings and you would not believe how easy some of them are to create! It is super duper easy to make a grumpy looking Jack O Lantern like Jack Skellington.
The Scary Jack O Lantern face below might look difficult but it is not. The easiest way to carve this pumpkin with tools is to initially draw the outline of the eyes and mouth before using a knife to cut them out.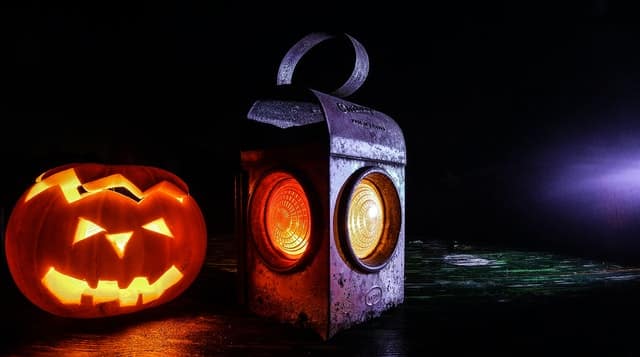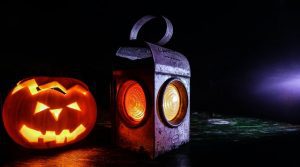 My Ghost Pumpkin Carving
I just got my hubby to help me with my easy Ghost pumpkin carving and I think you will agree he looks really impressive. He reminds me of Casper the friendly ghost so my kids love him. This is one of my favorite easy pumpkin carving ideas for small pumpkins. My kids prefer the mini pumpkins rather than the monster varieties (they can carry them but not the bigger ones).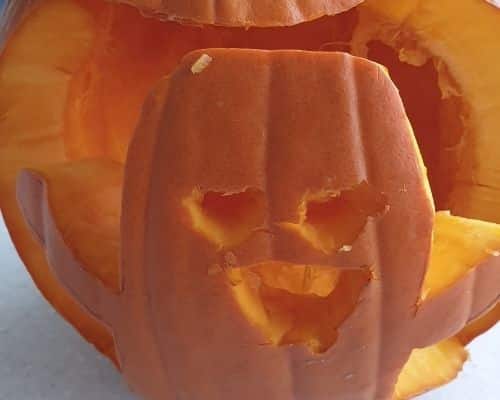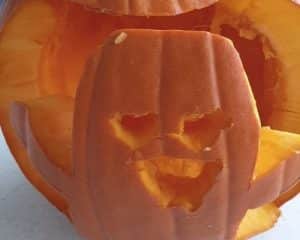 Here again we drew the outline onto the pumpkin using some ideas from the internet and my hubby used a steak knife to cut it out.
I love ghost pumpkin designs and might buy some more pumpkins so that I can paint some white ghosts onto them.
This is definitely one of my easy pumpkin faces to carve in a short space of time!
More Easy Pumpkin Carvings Pattern Ideas
I have lots more easy pumpkin faces to carve that I have come across online. I will share them with you below. I do plan to do more of my own but this takes time and I am short of it right now with looking after my 2 little kids.
How about carving some stars on a pumpkin? You could even paint the pumpkin black afterwards and say it represented the sky at night. Go with a night theme and carve out a moon shape alongside your stars. This will make a real sparkling display when it is lit up.
I am a real fan of painting pumpkins and then carving afterwards! I think it looks spectactular.
If you want to skip the carving altogether then you need to try some of my awesome painted pumpkin ideas. Like my easy pumpkin carving ideas above some of these can be done super quickly and kids will enjoy helping you out.
When you have mastered these why not take a look at some of my free advanced pumpkin carving patterns and you will see how much work goes into them!
Have you anymore ideas for Easy Pumpkin Carvings?