If you do not want the hassle of pumpkin carving this Halloween but still want a Jack O Lantern, you ought to check out some of my cool painted pumpkin ideas! These really represent a unique way to decorate a pumpkin!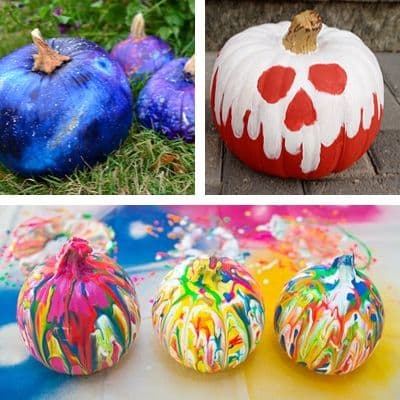 I have little kids in the house who want to get involved in everything I do. They especially like sharp professional pumpkin carving tools and I know they would be 'playing' with them as soon as my back was turned, hence I am opting out of carving this year. Instead I shall be painting pumpkins or decorating them with glitter and sequins because it is safer and way more for my kids!
I reached out to my crafty friends and they have provided me with lots of creative pumpkin decorating ideas which involve paints!
Cool Painted Pumpkin Ideas
I just love this range of cool painted pumpkin ideas, and hopefully I can add some of my own unique ideas as soon as I have more than 5 minutes to spare!

These bloggers have all provided step by step tutorials which should make it easy to recreate their painted pumpkins.

If you have a Fortnite fan in the house (big chance if you have tween kids) they will love you forever if you help them recreate this Tomatohead pumpkin.

I love no carve pumpkin decorating where the entire family can get involved.

Continue Reading

This project uses nail polish to color pumpkins. My little girl always uses nail polish and lipstick to paint so I know she would love this.

These do look seriously good and would make some great Pumpkin home decor specifically for a table centrepiece. I would probably use bright orange nail polish if I wanted to create these.

Yet another fun Pumpkin decorating activity which will keep the kids entertained. Just supervise them closely as we do not want them putting the nail polish into their mouths.

Continue Reading

This looks so awesome and I know my preschool kids are the perfect age for it! It means they can experience the fun of decorating pumpkins without needing carving tools!

I think I will have to have a pumpkin painting party with Amelia and her friends. I would be the coolest Mom in town if I did that!

Continue Reading

If you have a Harry Potter fan in the house and want to decorate a pumpkin in his honor lookno further! How great does this no carve painted pumpkin look?!

Continue Reading

A Disney Princess pumpkin with a twist! I love the fact that this one is not all glitz and glamor, which is what we expect with Princesses!

As the author says it does look a tad spooky and looks super simple to create. I might actually do this on one of the cheap real pumpkins I picked up from the store, simply because you do not need many materials to copy this one!

Continue Reading

The Teal Pumpkin Project is close to my heart as it supports kids with allergies who are unable to avail of all the sweet treats given out while trick or treating!

This cool painted pumpkin idea involves painting a white faux pumpkin teal and turning it into a pretty nice piece of decor!

Continue Reading

There seems to be a theme developing here and it involves turning dollar tree faux pumpkins into some cool painted pumpkins!! That's fine for 2 reasons; they look amazing and they are inexpensive.

This particular painting craft makes farmhouse pumpkins with neutral shades.

Continue Reading

Some more fabulous looking painted pumpkins here that have an outer space theme!!

You can use real or faux pumpkins for this! Even the little ones can join in!

Continue Reading

As you can see from the fabulous cool painted pumpkin ideas above it is much easier than you think to create something amazing and use it as home décor.
There really is no limit to what you can paint onto a pumpkin, whether it is a splash of color, your favorite cartoon character or even the weather (my next project with my mini faux pumpkins)! I even painted pumpkin rocks this year!
If you still want some new pumpkin carving ideas for 2019 please stop by below:-
Pumpkin Cat Face for Jack O Lantern
Free Advanced Pumpkin Carving Stencils
Will you be attempting any of these cool painted pumpkin ideas?