If you do not want the hassle of pumpkin carving this Halloween but still want a Jack O Lantern, you ought to check out some of my cool painted pumpkins! These really represent a unique way to decorate a pumpkin! Find some of my favorite pumpkin painting ideas for 2022 below!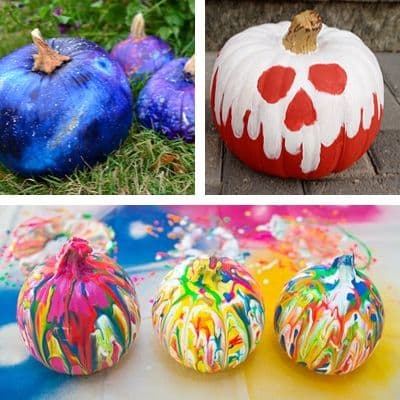 I have little kids in the house who want to get involved in everything I do. They especially like sharp professional pumpkin carving tools and I know they would be 'playing' with them as soon as my back was turned, hence I am opting out of carving this year.
Instead I shall be painting pumpkins or decorating them with glitter and sequins because it is safer and way more for my kids! Another great idea is to decorate pumpkins with markers and sharpies!
I actually drew some cool faces on pumpkins this year and my kids decided they did not like them! So what did they do?
They painted my pumpkins black and sprinkled sequins and sparkly stars over them to hide my pumpkin faces!
It actually turned into a really fun (and extremely messy might I add) activity with them throwing all sorts at the freshly painted pumpkin. You can see what they did below! By the way they are age 3 and 5! Great pumpkin painting ideas for preschool!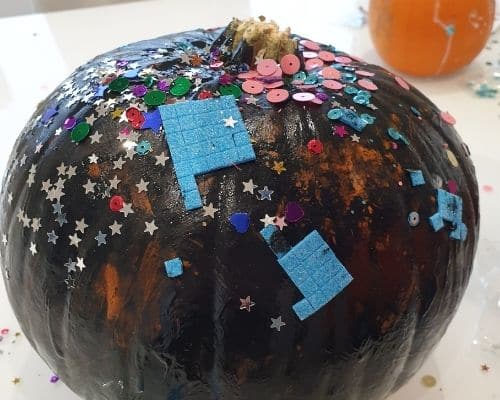 I reached out to my crafty friends and they have provided me with lots of creative pumpkin decorating ideas which involve paints!
I really hope these help you decide what you want to paint on your pumpkin. I have everything from Disney to Star Wars, Unicorns and lots more! These definitely represent some of the cool pumpkin painting ideas.
I just had to feature these cool Star Wars Painted Pumpkins by DIY Candy. They help you turn some plain pumpkins into R2D2 and C3P0. Which one is your favorite? Why not make both of them.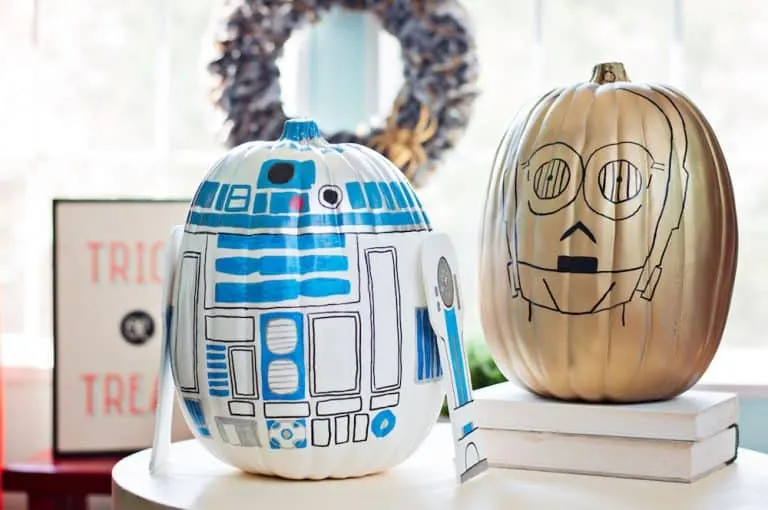 How about making a scary pumpkin face using some paints?! This Jack Skellington pumpkin by Fun Money Mom shows you how to take and faux pumpkin and paint it white and black to look just like Jack Skellington. There is even a video to show you how to do it step by step.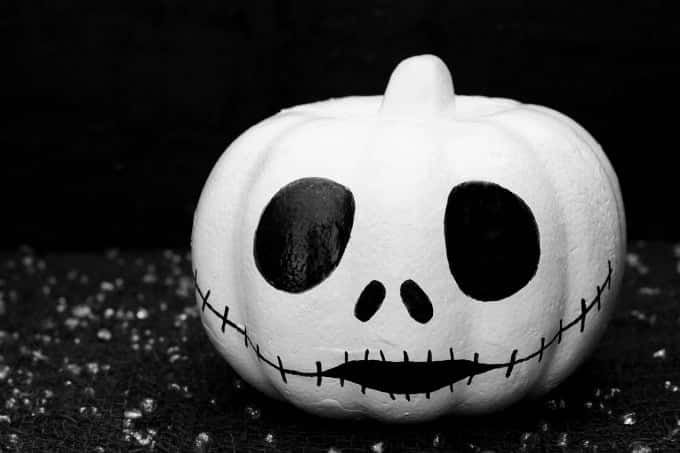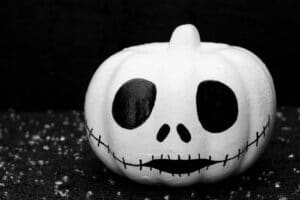 Cool Painted Pumpkin Ideas
I just love this range of cool painted pumpkin ideas, and hopefully I can add some of my own unique ideas as soon as I have more than 5 minutes to spare!

These bloggers have all provided step by step tutorials which should make it easy to recreate their painted pumpkins.

As you can see from the fabulous cool painted pumpkin ideas above it is much easier than you think to create something amazing and use it as home décor.
I plan to make some rainbow pumpkins this year in tribute to the health service as well as a painted spider pumpkin, which I will decorate with pipe cleaners and googly eyes.
There really is no limit to what you can paint onto a pumpkin, whether it is a splash of color, your favorite cartoon character or even the weather (my next project with my mini faux pumpkins)! I even painted pumpkin rocks this year!
If you still want some new pumpkin carving ideas for 2022 please stop by below:-
Pumpkin Cat Face for Jack O Lantern
Free Advanced Pumpkin Carving Stencils
Will you be attempting any of these cool painted pumpkin ideas?