October 31st is almost upon us and I have the best painted pumpkin idea for little girls, this Unicorn Bunny Pumpkin!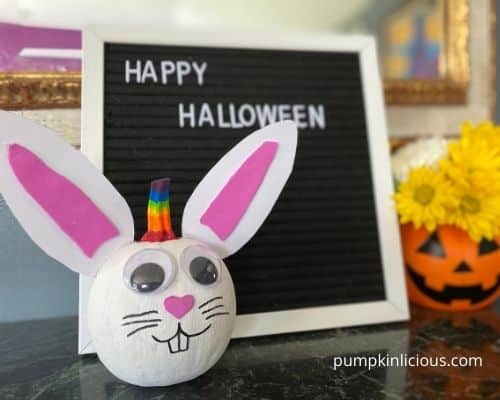 Little kids sometimes prefer painted pumpkins over Jack O Lanterns. In our house we do both, but my little girl just loves getting her paintbrush out and decorating a pumpkin!
We have a stack of acrylic paint as well as other craft supplies to hand so it was so quick to make this.
This gives me peace of mind as I do not have to worry about sharp carving tools needed to craft a Jack O Lantern.
Generally I let her do her own thing but this year she specifically asked me for a unicorn pumpkin!
She also loves bunny rabbits so we decided to make a unicorn bunny pumpkin, which is a combination of the 2!
Amelia was so excited to help me pick out the perfect pumpkin for her; in the end we went with a baby pumpkin from our local store.
She decided hers would be a baby unicorn bunny and she would call it Twinkle!
It looks amazing I am sure you will agree, and best of all it is really easy to do if you follow my step by step instructions.
Yield: 1
Unicorn Bunny Pumpkin Painting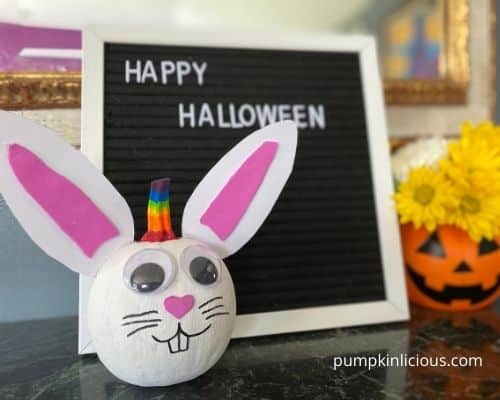 This painted unicorn bunny pumpkin is so easy to do and will look fabulous on your porch or your daughter's bedroom this Halloween.
Materials
Small pumpkin
Cheap acrylic craft paints in assorted colors
2 large googly eyes
A sharpie marker (I recommend the "sharpie pro")
White and pink fun foam or card stock
Tools
Medium sized paint brush
Small paint brush
Hot glue gun
Instructions
Step 1

Paint the entire pumpkin white including the stem (to give it a base for later painting the stem). It will need 2-3 coats to cover completely. Allow it to fully dry.

Step 2

Paint the stem as your unicorn horn with rainbow stripes.

Step 3

Cut 2 white ears from cardstock or fun foam and pink insides for the ears. Glue the pinks to the whites, then glue onto the top of the pumpkin.

Step 4

Cut a small heart for the nose. Hot glue on the eyes and nose. Draw the mouth, teeth, and whiskers with a sharpie marker.

This adorable unicorn pumpkin idea will look fabulous on your front porch or your daughter's bedroom! I know my little girl wants to keep hers in her room. Unicorn pumpkin painting are everywhere. I actually think I should ask my favorite bloggers for pictures of some of theres!
I might have to make another one to put it in the porch for everyone to see! I love great outdoor pumpkin decorations; they are perfect right through until the end of November, when we take them away and put Christmas decor in their place.
You might want to check out some of my other cool painted pumpkin ideas for more things to make this Halloween if you are going down the no carve route.
Hopefully I will get around to doing a unicorn pumpkin carving this Halloween. Any stencils I have come across so far have looked rather tricky! A bunny pumpkin carving is another thing on my to-do list. I have made other animal Jack O Lanterns before so want to add this to my collection also.
If you want to carve then please check out my adorable pumpkin cat carvings and dog face on a pumpkin. Chances are your animal loving kids will want you to help them make these too!
Do you like this Unicorn Bunny Pumpkin Painting?