Fall is all about decorating pumpkins and one of my favorite ideas is this Disney Winnie the Pooh pumpkin painting ideas! It is sure to please young and old alike.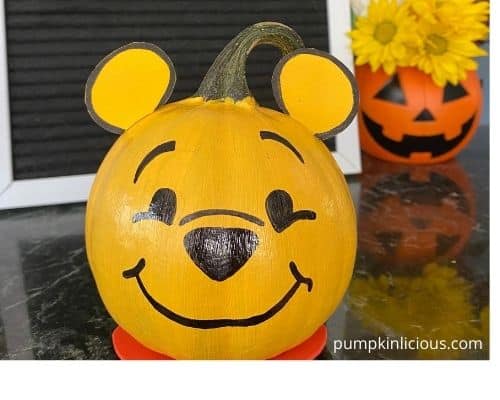 Here in our house we literally spend everyday in October and some of November doing some pumpkin decorating. We alternate between carving and painting.
Recently we painted a unicorn bunny pumpkin and this pleased my 4 year old daughter no end but my little boy was upset we did not do one for him, that is until now! Winnie the Pooh is loved by both girls and boys so I knew I was onto a winner!
My kids love everything Disney especially Winnie the Pooh, so they were delighted when I said we could do a Winnie the Pooh pumpkin painting!
If this is your thing please check out my list of cool painted pumpkin ideas
Yield: 1
Winnie the Pooh Pumpkin Painting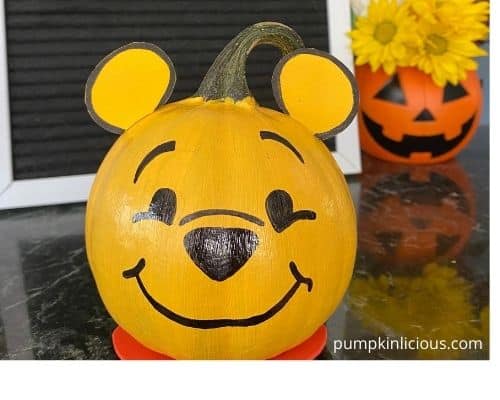 A easy Winnie the Pooh pumpkin painting idea for Halloween! One of my favorite Disney pumpkin decorating ideas!
Materials
Small pumpkin
Cheap acrylic craft paint in yellow orange
Medium sized paint brush
Small paint brush
A sharpie marker (I recommend the "sharpie pro")
Yellow and red fun foam or card stock
Tools
Medium sized paint brush
Small paint brush
Hot glue gun
Instructions
Step 1

Paint the entire pumpkin yellow orange, leaving the stem brown. It will need 2-3 coats to cover completely. Allow it to fully dry.

Step 2

Also paint the top of your piece of fun foam with your yellow orange paint so it will match the pumpkin exactly and allow to dry completely.

Step 3

Cut 2 ears from the fun foam, and trace a line around the edges with your sharpie marker.

Step 4

Hot glue the ears onto the top of the pumpkin.

Step 5

Cut a red circle out of fun foam and glue it to the bottom of the pumpkin to give the impression on his shirt.

Step 6

Draw on his face with a sharpie marker.

They did want me to carve him and make Jack O Lantern too but for now they are happy with the actual painted pumpkin. My Disney pumpkin carving patterns will help those who are looking for some great free templates to try!
Who might I make next?! Who knows it could be the lovable Tigger or Eeyore, but for now I am going to sit back and admire my Winnie the Pooh pumpkin painting.
Would you be interested in some more Disney Pumpkin painting ideas? Minnie or Mickey?
Are you on the countdown to Halloween too? Find out what day Halloween is on 2022 to see how many more day left!
Do you like this Winnie the Pooh Pumpkin Painting?