I always search high and low for the best Fall craft ideas now that Summer is coming to an end and my latest is pumpkin rock painting!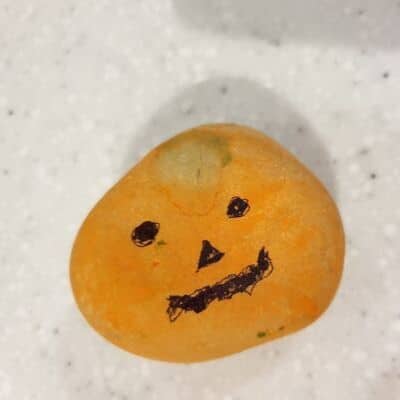 I live near the seaside and painting rocks is such a huge hit here! We paint them in all the nearby seaside towns and hide them for people to find. There are Facebook groups dedicated to each town. Whenever someone finds a rock they upload a picture to the appropriate FB group.
Whilst browsing these groups it occurred to me that I should start some Halloween rock painting! I would maybe even set up my own group.
It is more simple than you think to start rock painting pumpkins!
How to get started with Pumpkin rock painting
Well first things first you need some rocks. Nothing too big, because they would be too heavy. You can actually buy rocks, but half the fun of this for me is getting the kids out to pick their own from the beach.
Not to mention this is a good bit cheaper than actually forking out cash for some. It is brilliant for kids to have screen free time and outdoor pursuits like this are so beneficial both to mental and physical health.
You need to give the rocks a good scrub in hot soapy water to remove any sand and crude from the sea. You can use a scrubber to remove tough dirt. It is much easier to paint a smooth rock than one that is soiled.

Before painting you will need to make sure your rock is completely dry (we do not want the paint to run off). I have heard some people drying their rocks off in an oven. If you do decide to do this please bear in mind that they will be extremely hot when they are removed.
Choosing Paint and Brushes for your Pumpkin Rock Painting
You can do rock painting at any age but for me this is one of the best Pumpkin Activities for Preschool this Fall. You need decent brushes as well as acrylic paint which will not wear off a rock. I have some suggestions for these below based on customer reviews.
Acrylic paint set 24 colors for Artists. Brush set. Paint kit for Canvas, Rocks

Paint Brush Set, 20 pcs Nylon Hair Brushes for Acrylic Oil Watercolor Painting Artist

Folk Art Multi-Surface Paint Set (2 Ounce), PROMO830 No.1 (12-color-Pack)

If you cannot find decent paint you can also use nail polish, although do not let the kids use it!!
Finding the Best Design and Template for your Pumpkin Rock
Naturally you will want your pumpkin rock to look great! If you are not an artist fear not as there are some easy ways to decorate your rock and keep it looking like a Pumpkin!
Keep it simple and paint your entire rock bright orange and use black paint or pen to draw some eyes, nose and mouth. This is what I did. As you can see above I initially made a pumpkin with a smiley face!! Others have drawn sad faces, worried faces etc. You could always draw a different emotion on the reverse of the rock 🙂
I Love Painted Rocks has some super pictures of painted pumpkin rocks on her page. These are a little harder to do than the basic ones, but why not give it a try.
Adventure in a Box has painted Jack O Lanterns on rocks and added eyes, a nose and mouth.
You can use any pumpkin picture or stencil online for your inspiration.
I think painting pictures of pumpkins on rocks for Halloween is amazing fun
There are lots of things you can do with your finished artwork. You can hide it somewhere for others to find. You can find even hide your rocks in a Pumpkin sensory bin ; toddlers and pre-schoolers would love this.
You can display it proudly in your house. I know this would make some great pumpkin home décor.
You can even give it as gift to someone you care about.
I think Halloween rock painting is a great Fall pastime especially for those that live near the beach.
Will you be doing some Pumpkin rock painting this Fall?