Where to find best Pumpkin Patch Las Vegas 2022
When most people think of Las Vegas, they think of the Strip. However, there is so much more to this city than just casinos and nightclubs. Las Vegas is also home to some of the best pumpkin patches in the country. Find a great Las Vegas Pumpkin Patch 2022 with my list of recommendations below.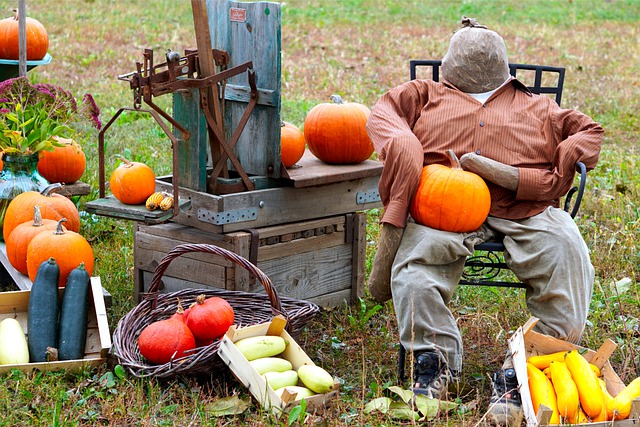 With Halloween just around the corner, it's time to discover the best pumpkin patches around town! Looking for a fun place to take the kids this fall? Check out our list of the best pumpkin patch to visit in Las Vegas to find the perfect pumpkin for your jack-o-lantern.
When does the pumpkin patch open?
The individual opening times and dates will vary between each location so best to check out each one before visiting.
The cost of each varies too depending on what is on offer.
6 Best Pumpkin Patch Las Vegas 2022
From pumpkin painting and hayrides to corn mazes and petting zoos, there's something for everyone at these family-friendly attractions.
#1. Gilcrease Orchard - Las Vegas Pumpkin Patch
Address: 7800 N Tenaya Way, Las Vegas, NV 89131
Costs: Free Entry
Timing: Tuesdays, Thursdays, Saturdays, and Sundays from 7AM - 2PM starting on Sept. 25
View on Map: Click Here
Gilcrease Orchard pumpkin patch is home to some of the best-looking pumpkins in Las Vegas! This U-Pick orchard is full of fruitful farmlands, preserved for over 100 years by the Gilcrease Family.
They offer the best selection of fresh produce. Plus, they have unbeatable prices on all products - so there's never any reason not to come and visit!
Besides their nice-looking pumpkins, they also offer apple cider and donuts to visitors. You can even pick tomatoes, cucumbers, summer squash, peaches, and apples. So, you should visit to experience the best of fall at Gilcrease Orchard - one of the best pumpkin patches in Las Vegas.
If you are planning ahead if your visit make sure and choose your pumpkin patch outfit wisely depending on weather.
#2. Halloween Town Las Vegas Pumpkin Patch
Addresses:
Boca Park: 510 South Rampart Blvd, Las Vegas, NV 89145
Silverado Ranch: 71 E. Silverado Ranch Blvd, Las Vegas, NV 89183
Southwest: 7220 S Rainbow Blvd, Las Vegas, NV 89118
Costs: $20 per person
Website: https://lvpumpkinpatch.com
View on Map: Click Here
This popular pumpkin patch in Las Vegas is celebrating Halloween for more than 20 years with a variety of activities, including rides, games, and fun family attractions.
The event is held at three different locations - Boca Park (for children 2-10 years old), Silverado Ranch, and Southwest Las Vegas. The original location is Boca Park. The other two locations also offer full-size rides, carnival games, food, and attractions.
So whether you're a kid at heart or looking to get into the spirit of things, this Pumpkin Patch in Las Vegas has something for you!
This is definitely one of the best Pumpkin Patches Las Vegas if not the whole United States.
If you have any pictures of Halloweentown Las Vegas I would love to see them. I keep checking the opening times and there is still no information. I do think this particular pumpkin patch will open at the beginning of October.
#3. The Las Vegas Farm
The Las Vegas Farm celebrates its annual fall harvest festival! You will enjoy a day of fun-filled activities including cow train rides for toddlers, a maize maze, concession stands with food and drinks, and more.
Their large selection of specialty pumpkins and squash will have you picking the perfect one to celebrate Halloween with. Visitors can also purchase cheesecakes & pies, artisanal bread, jams/jellies, and more. In addition to all of this deliciousness, you can also get local honey and fresh eggs from the farm. Don't miss out on this family-friendly event!
#4. Seasonal Adventures Pumpkin Patch
This seasonal Pumpkin Patch in Las Vegas is a fun place to take your family this fall. With thousands of pumpkins of all shapes and sizes, half bales of hay, corn stalks surrounding the patch, and scarecrows to keep you entertained.
This free entry pumpkin patch offers a variety of attractions that will have you laughing, smiling, and maybe even a little bit scared. You'll enjoy mechanical rides, a petting zoo, an inflatable jump house, games, inflatable slides, and huge inflatable obstacle courses. So come on down and let the fun begin!
#5. Magical Forest – Opportunity Village
Address: 6300 West Oakey Blvd, Las Vegas, NV 89146
Cost: Starting from $15 per person
Timings: 25-27, Dec. 1-4, Dec. 8-11, Dec. 15-31, 2022 (5:30 p.m. – 9:00 p.m.)
Come to Opportunity Village for a winter wonderland that will brighten your day! This unique all-ages theme park has everything you could ever want, including exciting rides, midway carnival games, trick-or-treat stations, hay bales, great food, and millions of sparkling lights.
You'll be greeted by witches and ghosts at their cemetery surrounded by decorated trees and jack-o-lanterns. Take your children on a spooky adventure while you enjoy some fall eats or shop unique items at their holiday market.
They also have picnic tables for dining. This Pumpkin Patch in Las Vegas is the perfect place to spend Halloween.
Do not fret if you live in other areas of the United States as I am compiling a list of pumpkin patches in other states also. Find the best Pumpkin patches Houston if you are in Texas.
#6. McKee Ranch
Address: 8982 Dean Martin Dr., Las Vegas, Nevada 89139
Cost: $20 per family
Timings: 1-31, Monday – Friday from 12-6 pm, Saturday/Sunday from 11 am-6 pm
View on Map: Click Here
At this petting zoo Pumpkin Patch in Las Vegas, you can enjoy all the wonderful amenities of a real farm, including:
Petting zoo with animals like horses, goats, sheep, rabbits, and chickens
Hay pyramid where you and your children can climb up to collect hay for the cows
Hayrides that take you around the property and through the fields
Pony rides that let you experience the freedom of riding on horseback
Face painting for the kiddos (and adults)
Games like swings and a teepee that encourage exercise and fun at the same time
Visit McKee Ranch pumpkin patch in Las Vegas and enjoy the hands-on farm experience with your loved ones. Perfect day out for kids that love pumpkins and farm animals too.
If you live in Las Vegas and are asking what are the best pumpkin patches near me I hope I have answered your question.
Please let me know if you have visited a Pumpkin Patch in Las Vegas