Fall is not complete without at least one visit to the pumpkin patch! This is a great photo opportunity and you definitely want to have some cute pumpkin patch outfits.
My kids count down the days until they get to go and do pumpkin picking every year. Find out what to wear to a pumpkin patch when it's hot or raining!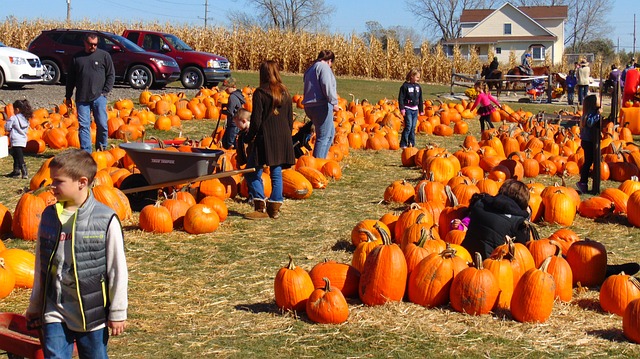 Choosing what to wear to the pumpkin patch is not easy but you want something that looks great, is comfortable and matches what the rest of the family are wearing. Sometimes I get these photos framed I want everyone looking their best.
I have to confess it has been a while since I last visited a pumpkin patch but I loved my time there and the all the kids seemed to be having a ball.
It is not just about carving either as sometimes there are corn maizes to visit also and also scarecrow spotting. Your pumpkin picking outfit is one of the most important parts of getting ready for your visit.
How to Decide What to Wear to the Pumpkin Patch
The biggest decider on what to wear to the pumpkin patch is the weather. You will choose a different pumpkin picking outfit depending on whether it is hot or cold. Of course wet weather will also dictate whether you need a rain jacket and waterproofs or not.
You might also have to dress for changing weather especially if you are spending an entire day there. It might start cool and wet in the morning and be hot and sunny in the afternoon!!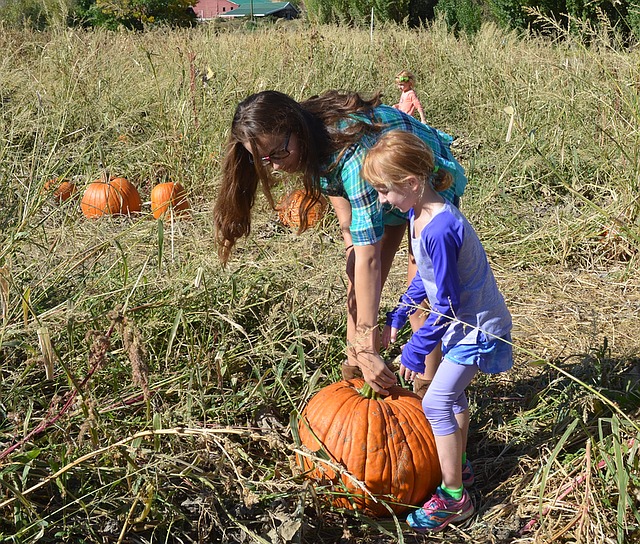 Hats and sunglasses are a must for sunny days! There is nothing worse than getting sunburnt while you are picking pumpkins!
You always have to consider what shoes to wear to a pumpkin patch. Generally anything goes as long as you can handle walking on uneven surfaces. The good news is you can still look stylish with boots.
When I have a day out one of the pumpkin farms near me I always end up with lots of extra clothing and baggage. Fortunately I still take my stroller with underneath storage with me so I can pack extra unneeded layers away if they are not needed.
When my kids are older I will probably end up taking a large holdall and asking my husband to carry a backpack too.
Find the best pumpkin patches in Las Vegas
Cute Pumpkin Patch Outfits for the Whole Family
I decided to showcase some outfits for the pumpkin patch for men, women, boys and girls individually below. There are so many options and it is impossible to make a bad choice provided you dress appropriately for the weather. I never dress exclusively in orange either as I want some contrast between me and the pumpkins in my photographs. Find out what to wear to a pumpkin patch regardless of the weather.
Women Outfit Ideas for The Pumpkin Patch
Generally here I would say to stick to things you normally wear as those are what you will feel most comfortable in. I always want to look stylish too and fortunately I have lots of go to outfits for different weather.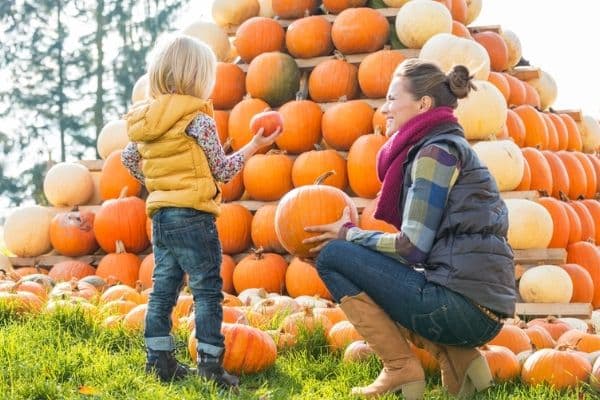 Plaid and denim are always on my mind when it comes to picking pumpkins and the choices I showcase below reflect this. There are so many color options when you select plaid that you can basically choose your favorite color combinations.
You can also wear your shirt tight or a bit looser if you want it to double up as a jacket over a skinny tee. If you wear your shirt tighter you can always add a gilet on cooler days.
I would pair a plaid shirt with skinny denim jeans and boots! On a sunny day I'd opt for a wide brimmed hat! In my opinion this is one of the cute pumpkin patch outfits for women!
JJ Perfection Womens Long Sleeve Collared Button Down Plaid

Levi's Women's 535 Super Skinny Jean, Mid Roast

GLOBALWIN Women's 1821 Brown Fashion Boots

Allegra K Women's Lightweight Gilet Quilted Dark Blue

If you want to really dress up wear a short dress, tights and boots. If the temperature is generous you might want to wear a long floaty dress and pair it with a blazer or cardigan.
What should Men wear to the pumpkin patch - great Pumpkin Patch Attire
Men should aim to match their wives outfits in my opinion, only joking. Like women, men will suit plaid shirts and jackets alongside denims. I found a really cool outdoor jacket for men, that I just had to show you as well as some of my favorite shirts.
I might just have to treat my hubby to some new gear just before we visit the pumpkin patch.
Legendary Whitetails Buck Camp Flannels Cedarwood Plaid

Legendary Whitetails Men's Shotgun Western Flannel Liberty

Calvin Klein Men's Denim Trucker Jacket, Light Wash

Cute Pumpkin Patch Outfit Ideas for Kids
Like adults I think kids look best in plaids and denim for the pumpkin patch. Little boys will copy Dad while girl's might want to be their Mum's mini-me. You can mix n match but I like plaid shirts for boys and denim dresses or plaid gilets for girls.
Here are some cute Fall pumpkin patch outfits for girls and boys. I decided to showcase some fashion items that you might want to dress your kids in. Just think autumnal colors and you will be onto a winner.
Babies pumpkin patch outfits can be very basic and you can wear a themed babygro. Fall colors will also work well such as orange/brown leggings and matching stripey tops. I found some adorable pumpkin patch tees that I had to share with you all.
These come in various colors and would suit baby boys and girls! These would be great for pictures. Wear them with denim bottoms or simple joggers.
If you really wanted to get into the Halloween spirit and have planned a visit to the pumpkin patch near the end of October you might want to wear one of the cute pumpkin costumes.
I hope you got some good ideas here on what to wear to pumpkin patch in 2022. Generally fashion trends do not change too much from year to year.
Remember to charge your camera as you will get some great photo opportunities. You might want to bring your video camera also to capture the excitement on the kids faces.
If you live in Illinois why not visit best Chicago Pumpkin patch 2022
Did you find some Cute Pumpkin Patch Outfits Ideas here?