It's always fun to dress up in cute pumpkin costumes for Halloween, or even for Thanksgiving! If you have a market stall or a party store, these are also brilliant outfits to wear to get some attention.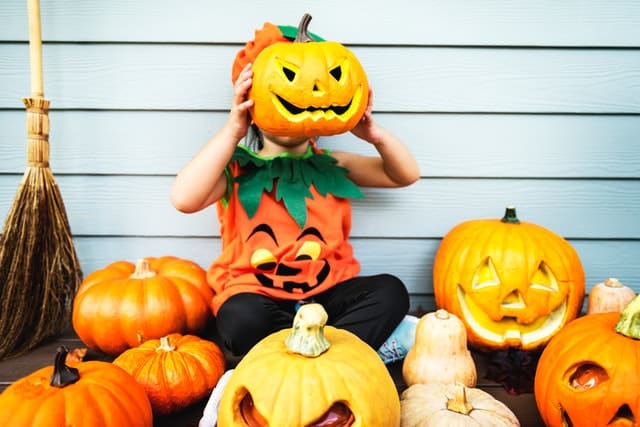 If you're really clever at sewing, of course you can make your own, but at the amazing prices they are charging for professional Halloween costumes, it's probably just as economical, in time and in money to just buy one. Plus you can wear it to fancy dress parties all year long.
Find out how to dress up as a pumpkin for Halloween below.
Cute Pumpkin Costumes for Women
I rarely use dress up costumes but a few years ago at Halloween before I had any kids I wore a pumpkin dress to a Halloween ball. I still have it with matching headband!! My kids keep bringing it out of the wardrobe and beg me to wear it. I might just do that this year again or else buy one of the ones below!
Womens Pumpkin Costume
Pumpkin spice is the scent and taste of Fall and now women can dress up in a fabulous Pumpkin spice costume!!
Rubie's Pumpkin Spice, Orange, One Size Costume

Cute and sexy, a funny little dress, kinky boots and wig. A nod to the 1960s mini, you can dance all night in this one.
I love the fact that the wig actually looks like a pumpkin and it matches the dress perfectly.
The dress itself would be brilliant if you were heading out to a disco or even just a house party.
This is a brilliant price for a women pumpkin costume.
I have included some other alternative pumpkin dress womens below.
FENSACE Womens Casual A-Line Halloween Pumpkin Dress

Women's Vintage Polka Dot Halter Dress 1950s

Leg Avenue Women's Costume, Orange, Med/LGE

If you like the idea of women's pumpkin Halloween costumes but find a dress impractical you might like some yoga pants or leggings. These would suit the fitness conscious lady about town! I can imagine I'd be the coolest Mom at school if I picked my kids up in these this October! These are suitable for all day wear.
Gejoy Women's High Waist Leggings Halloween Pants Stretchy Tights for Party

Sister Amy Women's Halloween Pumpkin Skulls Printed Ankle Elastic Tights Legging

I am super excited because I have bought my first costume accessory for Fall, yep some pumpkin earrings. I cannot wait to wear them with one of these dresses.
Adult Pumpkin Costumes For Men
Why should the guys have to miss out on pumpkin dress up this Halloween? Sure they might not want to wear a mini dress like us girls but now they can join us in all the Halloween fun with outfit!! There are a few different variations and colors, maybe they might one to buy two of these!!
Forum Novelties Men's Pumpkin Suit and Tie Costume

Suitmeister Halloween Costumes for Men – Pumpkin Leaves

Pumpkin Suit With Jacket Trousers & Tie- looks smart

Dare your hubby or boyfriend to wear this one and you'll be the talk of the town. Match it with the cutesy mini dress and you'll be one stylish couple!
Cute Pumpkin Halloween Costumes For Girls
Little girls love cute pumpkin outfits especially at Halloween!! My kids talk about carving Jack O Lanterns from July time so they are so excited by the time Halloween comes.
Pumpkin Cutie Pie Vest Costume - Toddler Small

Fun World Girls' Toddler Pumpkin Cutie Pie, Multi Colored, OneSize

My 4 year old actually had a bright orange and green mini pumpkin dress last year! I have searched high and low for something similar but no luck so far! I would loved to have kept it for her to wear again this year but it was oh so short by Thanksgiving time.
I am always wondering what my little girl should wear for pumpkin picking and these would be totally cute pumpkin patch outfits.
If you wanted something similar I guess you could buy your little one an orange and green dress and sew a pumpkin onto it!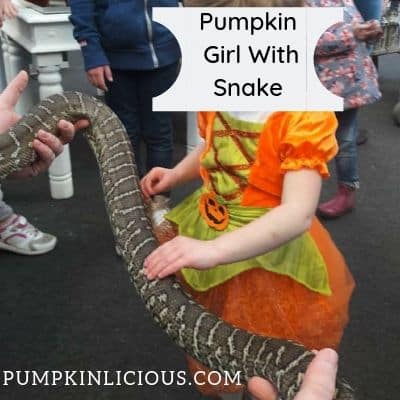 Another great idea for girls of all ages in the pumpkin witch costume which is perfect for October 31st!
Pumpkin Halloween Costume for Boys
Boys can dress up in the same costumes shown for girls above as these are unisex but sometimes I think boys like to be a bit more scary and standout at Halloween.
The Pumpkin Ghoul costume lets them do just that!! As does the even more scary pumpkin head costume which suits older boys.
After they have frightened everyone all day long they can get to sleep in the cute pumpkin pajamas below!
Pumpkin Ghoul Kids Costume

Pumpkin Creature Boys Costume

Pajamas Boys Pumpkin Halloween

Inflatable Pumpkin Outfits for Adults and Kids Alike
One thing everyone loves is an inflatable pumpkin costume! It's amazing! Bounce around in this all night and have a ball.Batteries not included, so stock up to avoid disappointment.
Rubie's Costume Co Inflatable Pumpkin Costume

Inflatable Pumpkin Costume Adult Halloween Costume Cosplay

Funny Pumpkin Halloween Costume Idea
Of course you could use a really funny pumpkin costume and carve a Jack O Lantern and put it over your head. This would be uncomfortable but could work for a short period of time!! The cartoon below illustrates my thoughts perfectly!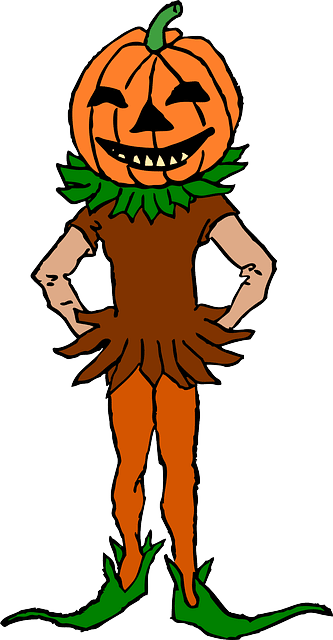 If you were doing it for a child you could use one of the smaller pumpkins so that it would not look massive in proportion to their body.
Make sure and mark the Halloween day of the week in your diary so that you do not forget to dress up and also make sure and have your costume ready! No one wants to miss out on any of the fun activities this year!!
Please share your own DIY pumpkin costumes if you make any below!!
Do you like this collection of cute pumpkin costumes for adults and kids?