Halloween is on it's way and that can only mean one thing, it is time for me to buy some new pumpkin earrings!! In my opinion these are the best costume accessory at Halloween!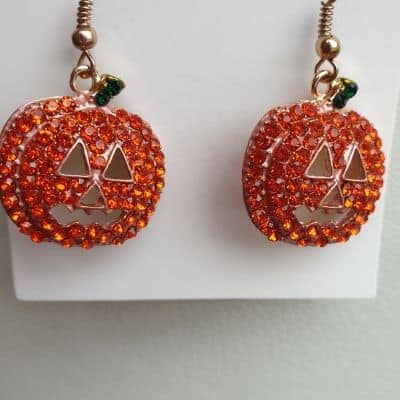 I have always worn Halloween pumpkin earrings the entire month of October and even well into November for as long as I can remember. I guess I started when I worked in retail. We were always encouraged to get into the holiday spirit and the best way to do this was pair your work uniform with a snazzy pair of Halloween earrings featuring pumpkins! Not to mention they are a finishing touch to cute pumpkin costumes.
These are so cheap and look great on nights out whether you are hitting the bar, a fancy dress party or out for dinner. There are so many different styles from studs to drop styles and pumpkin pie options.


Pumpkin Stud Earrings
I think stud earrings look classy especially if you have short hair or like to wear your hair up. I also love them because my toddler finds them harder to grab and yank out!!! There are a few different options here.
I really like the pumpkin mouse studs below. They cost around $5 and are super quality (4.⅗ on Amazon so the high rating says it all). I can bet you will get lots of compliments if you wear these earrings. They are a good size measuring 0.8 x 0.6 inches. The backs are said to be sturdy and do not come loose. Pumpkin Gifts like this would definitely be appreciated by me!
Zhenhui Halloween Pumpkin Earrings Studs Funny Pumpkin Mouse Jack O Lantern

If you like some bling in your life then you might like the sparkly pumpkin earrings below. They feature orange rhinestones instead of a pumpkin face. These are slightly smaller than the ones above. These would be a brilliant affordable gift for a friend. I have also featured a sterling silver pumpkin earrings option which is suitable for both teens and kids alike.
Cute Happy Halloween Thanksgiving Stud Earrings

Best Wing Jewelry .925 Sterling Silver Halloween

Pumpkin Pie Earrings
If you adore pumpkin pie as much as I do then you ought to have a pair of these Halloween earrings!! Like you would expect they are orange in the shape of a slice of pie.
The one directly below are dangle drop earrings and they look very flattering. I love these but never wear anything like this unless I am out for a night out away from my toddler. He loves pulling my earrings!
SAE99 Pumpkin Pie Big Dangle Earrings

Fortunately these also come in a stud option so I can wear them all day long without having my ears tugged at lol!
If all this talk of food has made you hungry I encourage you to try my deliciously divine pumpkin pie pudding recipe.
Halloween Pumpkin Dangle Earrings
I was stunned to see how many different options I had when I was searching for a new pair of cute Halloween earrings. I could pick 4 or 5 pairs I would wear over and over again. I had to include my favorite dangle drop options here. These are fabulous on a night out and really stand out.


After browsing all these pumpkin earrings I decided to treat myself to a brand new pair for Halloween. I absolutely love the way these catch the light and sparkle. The orange color is super vibrant and I cannot wait to wear these every single day in October.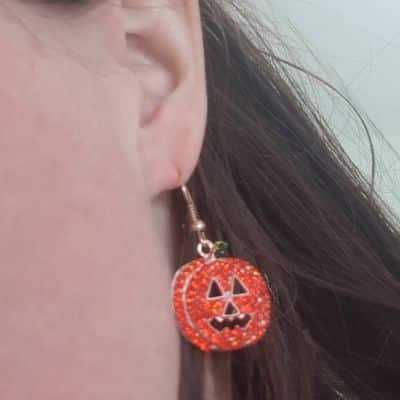 Halloween Tatted Earrings
One of the latest trends in ear wear is the Halloween tatted earrings featuring pumpkin. There are dozens of different designs for sale on Etsy if they are your thing. They even have tatting pumpkin patterns for sale if you want to try and make your own!
I really think pumpkin earrings are the must have fashion accessory for Fall!! I can wear them with my woolly knits or little black dress, they are so versatile. The only other question is which ones will you pick.
Did you see your favorite Pumpkin Earrings here?