There is no better time than Halloween for a Pumpkin witch costume! When I think of October 31st I always think of pumpkins and witches so what better idea than to combine the two to make a fabulous Halloween costume.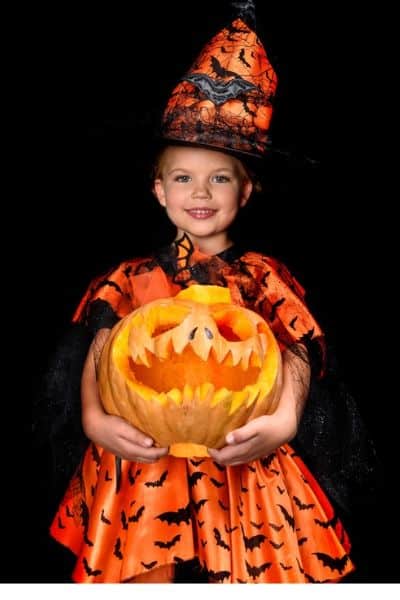 It is so easy to find a pretty pumpkin witch costume or you can put together your own! You just need something orange and a pointy black hat!! You could also carry a pumpkin pail or a witches broom!! The more accessories the better. Whether you want to be scary, pretty or cute I have something that will suit you!
Scary Pumpkin Witch Costume
Cute pumpkin costumes for toddlers like this pumpkin witch will be worn over and over again! It is probably the scariest of the costumes I have featured in this post. You could add some black face paint to make your witch look more evil and spooky!
This comes with the beautiful black, orange and green pumpkin dress along with the pointy hat. The bottom of the dress is floaty and disguises your socks and footwear. If your little girl was wearing this on a cold Fall evening I'd probably pair it
Cute Halloween Pumpkin Witch Dress Costume Set with FREE Witch Hat for Girls age 3-12

Pretty Pumpkin Girls Witch Costume
My little girl loves dressing up in pretty outfits and she loves witches. I have told her this year she can dress up as a pumpkin princess or witch. I know she will love the costume below. I might let her carry a wand alongside it instead of a broom, so like she is a cross between a pumpkin witch and princess.
I love the fact that this particular dress up is sparkly and purple in color as well as orange and black.
Rubie's Costume Child's Pumpkin Witch Costume, Small, Multicolor

Cute Pumpkin Witch Costume for Toddler
I love costumes that double up as everyday outfits and the one below does just that. It is a cute pinafore with a long sleeved top in below. You could pair this with a witches hat and some orange and black striped tights.
This Infant Pumpkin Halloween costume could be worn to a fancy dress party or even to the pumpkin patch. Your little one would look adorable in this. Hint hint get your camera out.
Treafor Baby Girl Halloween Outfit Pumpkin Witch Suspender Skirt + Long Sleeve Polka Top T-Shirt (18-24 M, White)

Will you be dressing your little girl in a Pumpkin Witch Costume this Halloween?