When we think of Halloween we think of all sorts of yucky creatures like bats and spiders! These spider pumpkin decorating ideas are bang on for October 31st.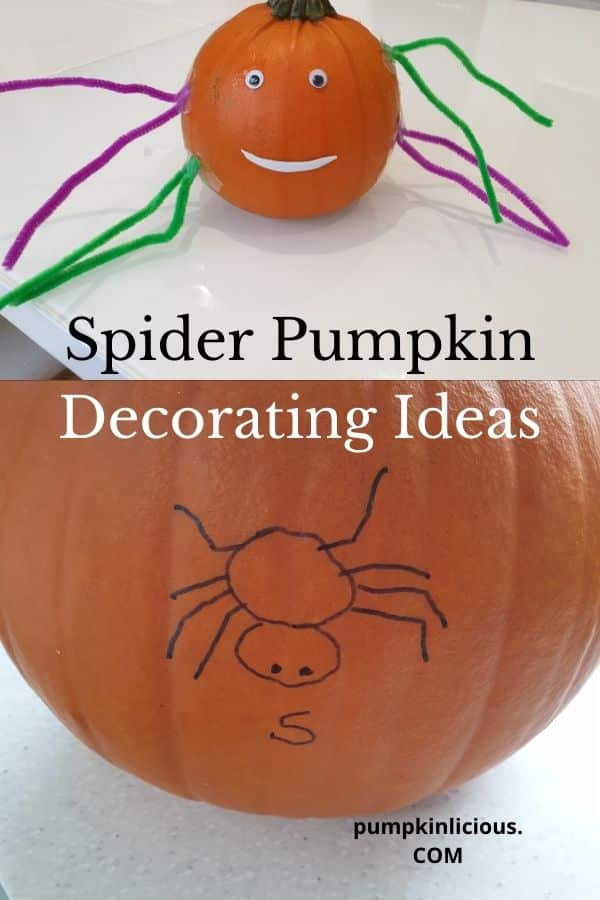 I normally hate spiders as they can sneak up on you so fast and give you a fright!
In my opinion the best type of spiders can be found drawn or inscribed onto a pumpkin. I have made some of my own pumpkin spider and found some of the best ideas on the internet too!
Young kids will love painting spiders and webs on pumpkins and turning mini pumpkins into spiders. Older kids will want to carve a black widow on their Jack O Lantern.
I decided to split this post into no carve pumpkin decorating and then listed some places where you can get some great spider pumpkin carving templates for free!
No Carve Spider Pumpkin Decorating Ideas
One of the simplest ways to make a pumpkin spider this Halloween is add 8 pipe cleaner legs, some googly eyes and a smiley mouth! This looks like a rainbow spider, not a scary black widow but my preschool children loved putting this together.
Of course you can make the pipe cleaner legs black and draw on eyes and a mouth but we just worked with what we had in front of us.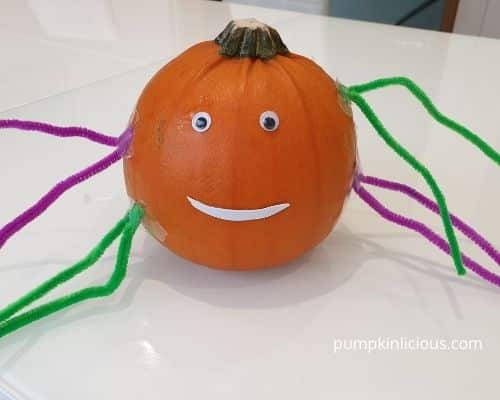 You can also easily draw a spider web on a pumpkin! It is so easy to do. Excuse my attempt below but at least my kids knew what it was! You can use paint too! Do you like my spider pumpkin painting?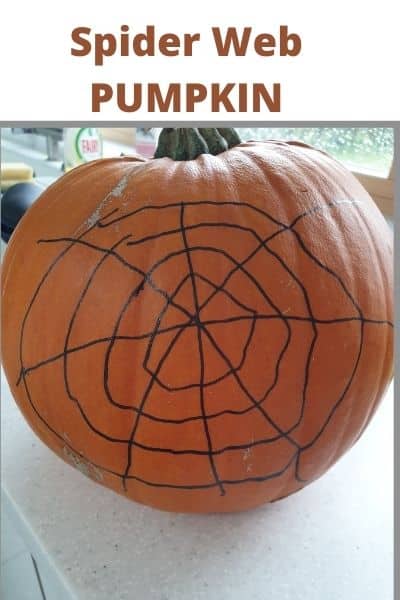 How about drawing a small spider like my version of a black widow below. I added the letter S because my 5 year old is learning phonics and has been focusing on the letter S this week.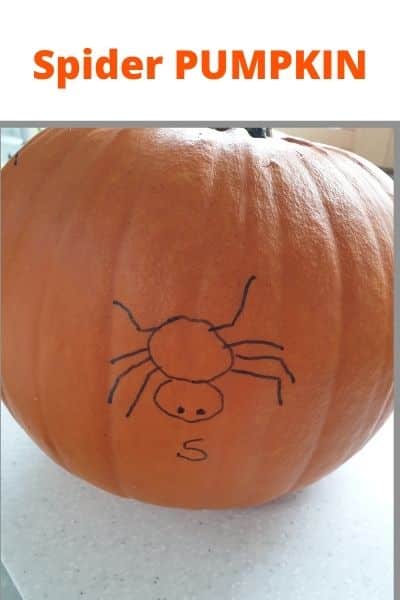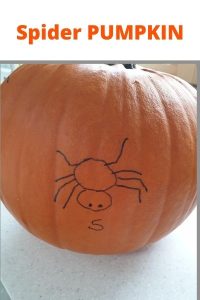 Put a spider on one side and a web like I showed you above on the other!
You can also paint your pumpkin black and add 8 pipe cleaner legs at the side, some googly eyes and a white mouth. I have not done this yet because basically as soon as I finished with the black paint my kids started sprinkling sequins and glitter all over my pumpkin!
More Spider Pumpkin Painting Ideas
I decided to have a look for some more spider painted pumpkin ideas online! I found brilliant ideas on Pinterest.
If you want some more ideas here are some cool painted pumpkins
Spider Pumpkin Carving Templates
Some people like to carve and create a fabulous Jack O Lantern to put on their porch. There are so many great ones on the internet, some are simple and some are more intricate.
Real Simple has this easy pumpkin carving idea for a Black Widow
Another easy Spider pumpkin Jack O Lantern can be seen on the Better Homes and Garden website.
The Spider Man pumpkin template from Becentsable is amazing. It will take a bit of time to replicate this onto an actual pumpkin. You could always go one step further after you do the carving and add some red and blue paint to finish it off.
Personally I love the spider web pumpkin carving with a spider in the middle shown in the video below:-

Hopefully you can recreate some of these on your own Jack O Lantern.
Personally my favorite is the Spider Man Pumpkin
Can you think of anymore spider pumpkin ideas?
More Useful Information on Pumpkin Carving and Decorating
Free Advanced Pumpkin Carving Stencils
Best Professional Pumpkin Carving Tools
Do you like these Spider Pumpkin Decorating Ideas?