Every gardener is very cautious as to what can ruin their produce! If you are growing fruits for Fall you might want to know what animals eat pumpkins!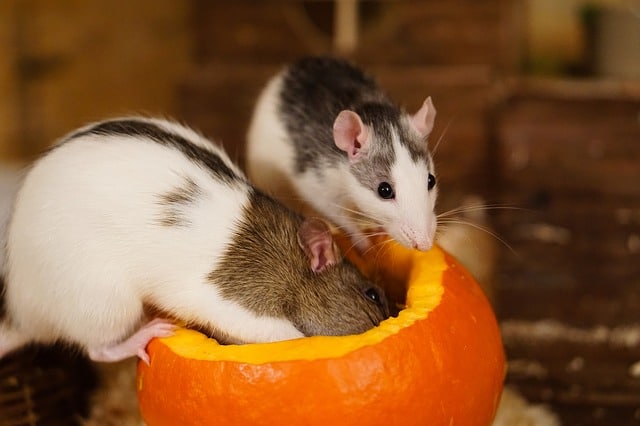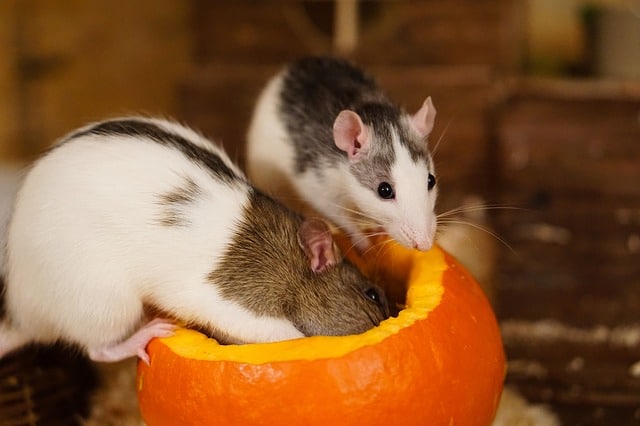 Pumpkins are extremely popular with a large range of animals and other insects who love to have a munch or graze at your lovely pumpkin patch.
Humans love eating pumpkin so much, so you can hardly blame those animals who are intelligent enough to sneak some of the fruit while we aren't looking!
If you are in the know about what pests and animals can attack or eat your pumpkins you can find ways to fend them off and protect your produce (and your dinner!).
What Animals Eat Pumpkins - Your Pet Rabbits Might!
We know how kids love their adorable bunny rabbits but sometimes they might not close their pen properly. This is bad news if your pet rabbit gets out of it's pen and finds your pumpkins.
We already know one of their other favorite foods is bright orange, carrots! Make sure they do not get a chance to add pumpkins to their list!
They tend to prefer vines and pumpkins when they are smaller so they will destroy your patch before it gets a chance to get established and it will be too late to plant anymore seeds.
Find out what part of pumpkin can rabbits eat
Other Small Animals Eat Pumpkins Too
Do not be fooled into thinking mice only eat cheese! In fact they love fruits like pumpkins. Mice will love to nibble on carved pumpkins.
When you are checking your produce for any signs of pests make sure you look inside as mice are small enough to fit!
Squirrels Eat Pumpkins
Yep squirrels are one of those animals that eat pumpkins, whether they are still growing in your pumpkin patch or whether they are freshly carved at your back door. How long carved pumpkins last may be a very short period of time if these animals get anywhere near your Jack O Lantern.
They will keep going until they reach the seeds, as we all know they love these! They always have a knack for turning up whenever your back is turned and having a quick munch or nibble.
Fortunately I have found a list of things to help you keep squirrels away from pumpkins!
It is important to note that these techniques will not cause the squirrels any long term harm, well apart from startling them and leaving them a little hungry!
However if your pumpkin is fermented it will leave the squirrel a tad tipsy!! Yes squirrels can get drunk too!
Other Wildfire That Eat Pumpkins
Do deer eat pumpkins? It does not matter how giant your pumpkins are they will still eat them!! I have watched videos of deer happily eating pumpkins.
Foxes and Badgers - foxes are always running wild in the fields beside me chasing sheep and chickens. As well as being partial to some meat they love a fruity snack like pumpkin!
Do raccoons eat pumpkins is a question people always ask me. I personally have never seen them do so but if you find some raccoon droppings near your half eaten fruits there is a good chance they are another animal that eats pumpkins.
Farm Animals Eat Pumpkins Too
I live near a farm so I have to keep a close eye on the livestock nearby!! We have lots of cows in the field beside us and we have had to put up a high wire fence.
When we had a lower fence the cows were able to get their heads over and bend down and nibble the top of our pumpkins and the vines, not good at all!!
If you live near any wildlife or farm animals I would suggest you take steps to protect your pumpkin patch as soon as possible before any damage is done.
Recap of what animals and pets like pumpkins
Pets - rabbits and mice
Wild Life - squirrels, deer,
Farm Animals
Of course there are insects and other pests that can also harm your growing pumpkins!
What animals can't eat pumpkin
We know what animals can eat pumpkin so how about the ones that do not eat pumpkin! Carnivores, that is animals that only eat meat do not eat pumpkin! I am thinking about frogs, polar bears and sharks!
What Animals Eat Pumpkins - can you think of anymore?