If you want a delicious Fall ice cream look no further than this Pumpkin Ginger ice cream made with ginger snap cookies!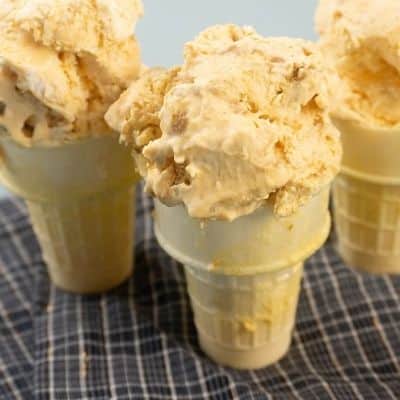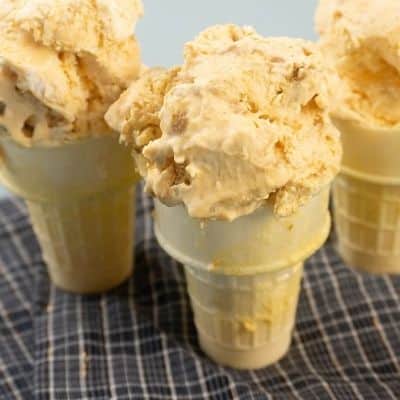 We all want great-tasting desserts at any time of the year, but ones with pumpkin are a necessity during Fall.
My kids and I traditionally have ice cream for dessert after Sunday lunch. We have tasted lots of homemade pumpkin ice cream in the past but this one with ginger beats the rest hands down for yumminess.
Pumpkin and ginger work extremely well together, and the cookie pieces give it some crunchiness. If you were feeling really indulgent you could also add some chocolate sprinkles or chocolate sauce.
This is a great idea for Thanksgiving dessert as both adults and kids alike can enjoy it. Plus it is not too filling after a large turkey dinner.
Below you will find my easy recipe for Pumpkin ice cream with ginger snap cookies
Yield: 10
Pumpkin Ginger Ice Cream with Ginger Snap Cookies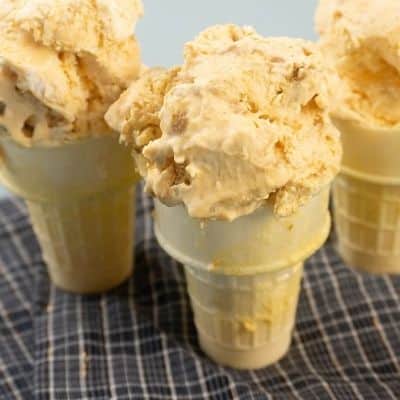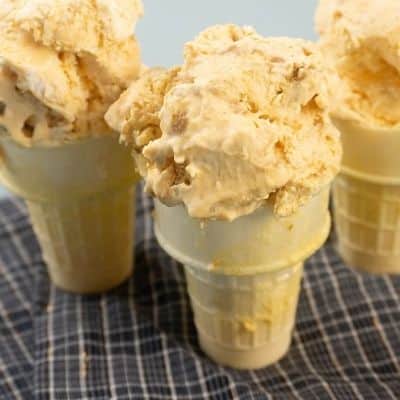 This Pumpkin Ginger ice cream with ginger snap cookies is the perfect Fall dessert for adults and kids alike.

Prep Time 20 minutes

Total Time 20 minutes
Ingredients
32 oz heavy whipping cream
15 oz pumpkin puree
14 oz can sweetened condensed milk
8 ginger snap cookies; crumbled in chunks
Instructions
Collect all ingredients
Place heavy whipping cream in a stand mixer with the whisk attachment. This can also be done with a hand blender with a whisk attachment but will take much longer.
Blend for 4 minutes on low speed and adjust speed going up to 6 as it thickens. Once it resembles whipped topping then it's ready.
Pour in the sweetened condensed milk. Pour in the pumpkin puree.
Crumble the ginger snap cookies. Pour one layer of the ice cream mixer into a 9x9 pan. Add in ginger snap cookies. Add another layer of ice cream and then add ginger snap cookies.
Freeze in the pan overnight. Serve in ice cream cones or waffle cones. You can also serve it in a small bowl
Nutrition Information:
Yield:
10
Serving Size:
1
Amount Per Serving: Calories: 534Total Fat: 40gSaturated Fat: 25gTrans Fat: 1gUnsaturated Fat: 12gCholesterol: 126mgSodium: 124mgCarbohydrates: 39gFiber: 1gSugar: 34gProtein: 8g

What would you add to this delicious pumpkin ice cream recipe? Perhaps you would add some toppings like fruit or nuts?
If you enjoy this why not try some more of my tasty pumpkin desserts including my Pumpkin Butterscotch Bundt cake and my Pumpkin Mocha cupcakes
Will you be making this Pumpkin Ginger Ice Cream with Ginger Snap Cookies