It is almost Fall and that can only mean one thing, time to enjoy my range of healthy pumpkin dessert recipes! Nothing beats a sweet treat on a Fall evening, and the only thing that is better is knowing that it will not make the scales jump!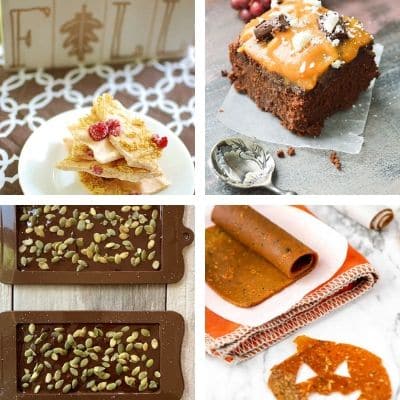 I love all my pumpkin dessert recipes but sometimes I need to be careful of the calorie and sugar content! I say the healthier the better. Fortunately I know lots of food bloggers who have concocted a large range of healthy pumpkin desserts for everyone to enjoy.
Here you can find low sugar, vegan and gluten free pumpkin dishes. I plan on just listing these below. You can find chocolates, muffins, pumpkin pie, smoothies, milkshakes and lots more.
Healthy Pumpkin Dessert Recipes Featuring Pumpkin Pie
Hands up if you eat several portions of pumpkin pie over Fall?! If this is the case you will be interested in some paleo and low sugar options. There are so many of these!
I adore my diabetic pumpkin pie recipe, which tastes just as good as the non diabetic version. I make it for my grandparents who have borderline diabetes.
Enough of my history and onto some more delicious easy Thanksgiving dessert recipes.
Skinny Pumpkin Pie Recipe
Did I ever tell you I love cinnamon? I mean I used to add it to everything, strangely I always associate it with Christmas rather than Fall. When I was a little girl my favorite sweets were called chewy cinnamon.
You can guess I was very excited when I came across Where is My Spoon's skinny pumpkin cinnamon pie.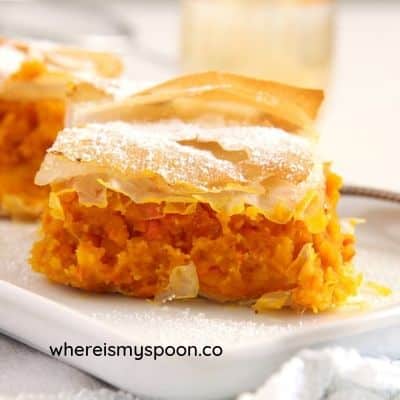 Sweet Pumpkin Hummus
How about some sweet tasting hummus? All my vegan friends love it and I always considered it savory until I seen Craving Something Healthy Pumpkin Pie Dessert Hummus! I absolutely love healthy pumpkin dessert recipes with less than 100 calories and this one easily fits the bill; it has 74!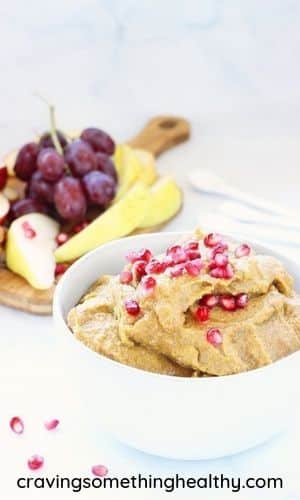 This particular recipe uses canned pumpkin so it is handy for those that cannot get fresh pumpkins easily. Anne recommends serving this with fruit and cookies if need be.
Sugar Free Pumpkin Cheesecake
This delicious pumpkin cheesecake is also gluten free as it is made with a almond crust! It is a perfect Halloween dessert idea for the kids! Homemade Food Junkie has created the perfect post dinner treat for diabetics!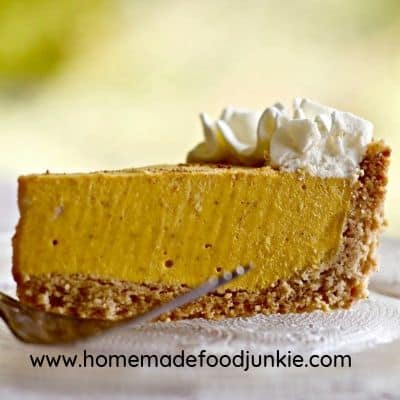 Even better is the fact that you can make this a few days before you need it!! We all love to plan ahead and make things a few days in advance to save time when guest arrive.
Healthy Pumpkin Muffin and Brownie Recipes
I could eat pumpkin muffins all day long, but they are normally not too good for the waistline unless you choose some of the healthier options listed here.
I prefer to make my muffins with other fruits included, making them suitable for the kiddies. My 4 year old absolutely adores my pumpkin apple muffins and asks for these after dinner all the time!
Check out my insanely delicious collection of pumpkin muffin recipes for Halloween and Thanksgiving
My Dainty Soul Curry has made some divine low carb vegan brownies, which will be enjoyed over and over again, plus you only need 5 ingredients. As soon as I see a picture of these I instantly wanted one!
The best part is they only contain 62 calories!! Guess who is planning on making these and maybe even eating 2 at a time, yes me 🙂 These are perfect for those on keto diet!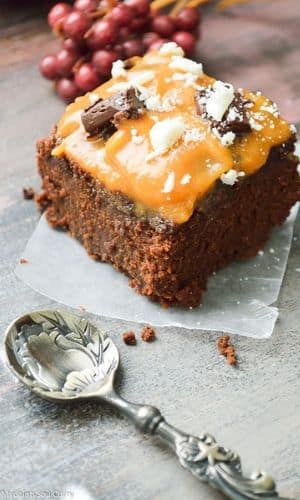 Healthy Pumpkin Dessert Recipes - Pumpkin Pudding
Pumpkin bread pudding is a delightful dessert after dinner during Fall BUT it can be notoriously high in carbs and really not good for the scales!!
Fortunately some of my favorite foodies have come up with ways to make this a satisfying dessert choice which is healthier than you think.
Whole New Mom has made a fabulous low carb, vegan paleo pumpkin chia pudding, which looks immense.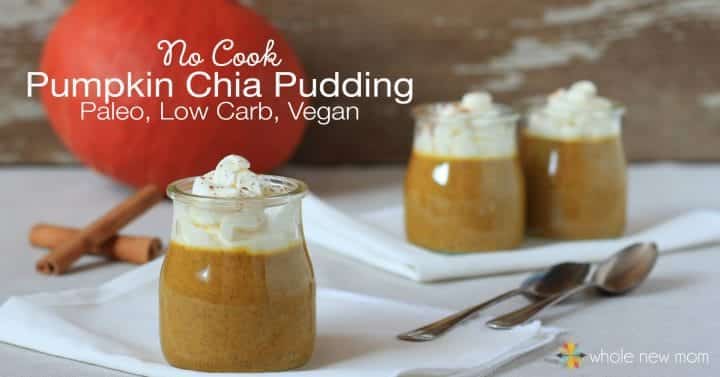 Healthy Pumpkin Drinks
A nice refreshing pumpkin drink can be as welcome a dessert as a piece of cake! You can enjoy a nice pumpkin spice coffee, a milkshake or a smoothie.
Pumpkin Oatmeal Breakfast Smoothie by Katie at Good Life Eats is the best way to start the day in a hectic household. It is packed full of goodness and is an excellent way to ensure kids get plenty of vitamins before the start of the school day, not to mention it has lots of oats to keep them full for longer.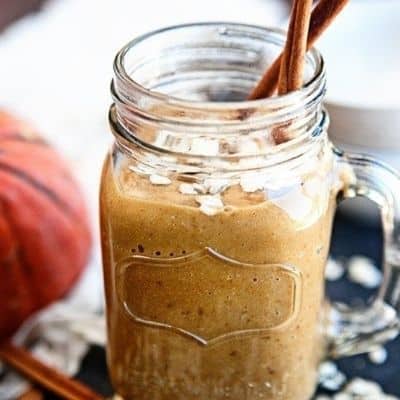 If all this talk of cold drinks has got you thirsty you will love these paleo vegan Pumpkin Spice Popsicles by The Roasted Root.
If you are a smoothie lover you are sure to love my pumpkin banana smoothie recipe, which tastes amazing after dinner or for breakfast.
Other Healthy Pumpkin Dessert Recipes
I could list over 100 healthy pumpkin desserts but it would take forever so I will list the best of the rest here.
Pumpkin Greek Yoghurt Bark
Desserts featuring yoghurts are intensely popular. Snacking in Sneakers has came up with this 4 ingredient pumpkin greek yoghurt bark! I absolutely love recipes with only a few ingredients as they are less hassle to put together and normally easier on the bank balance too.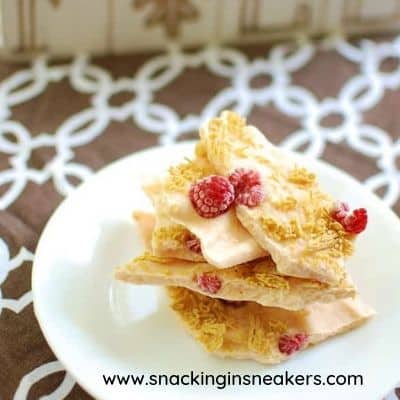 I think this looks dead appealing to adults and kids alike. This is full of protein and would be a perfect treat after a workout as well as after dinner!! It only contains 133 calories! I might also add blueberries on top as my 2 year old is addicted to them!
Pumpkin Fruit Leather
If you are looking for one of the super healthy Pumpkin Halloween Dessert ideas for the kids then this is it! Mixing pumpkin with fruit is awesome.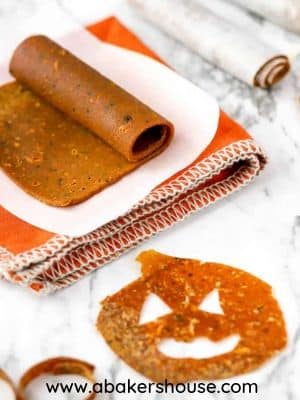 A Bakers House has created a 45 calorie gluten free Pumpkin fruit leather! She suggests cutting out Halloween themed shapes for extra fun! This would definitely keep the kids interested.
Salted Chocolate Bar With Pumpkin Seeds
Anything to do with chocolate and I am sold!! I absolutely love my collection of chocolate chip pumpkin recipes so I knew as soon as I read this one I would want to eat it!!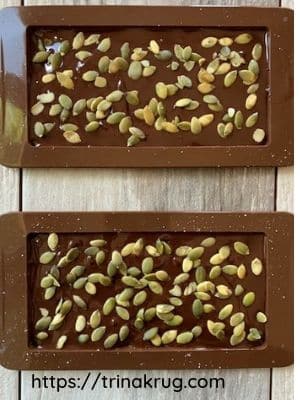 The good news is that this salted chocolate bar with pumpkin seeds has only 29 calories per serving!! As Trina Krug the baker and creator of this recipe has said it is keto and gluten free. Personally I think it looks amazing and is something I would want to eat.
I hope you loved these choices and please feel free to check out my extensive range of pumpkin dessert recipes for those who want something different.
Did you enjoy this selection of healthy pumpkin dessert recipes?
Please pin this and revisit anytime you need inspiration for some healthy pumpkin recipes!