Pumpkin and coffee combined are divine so I just knew my pumpkin mocha cupcakes recipe would be a massive hit this Fall!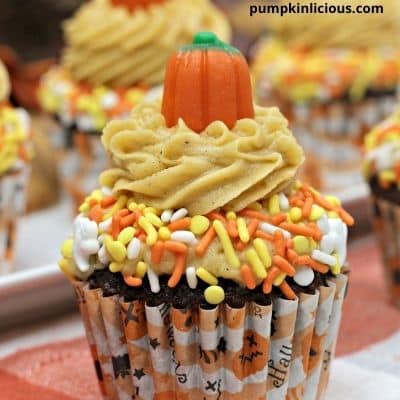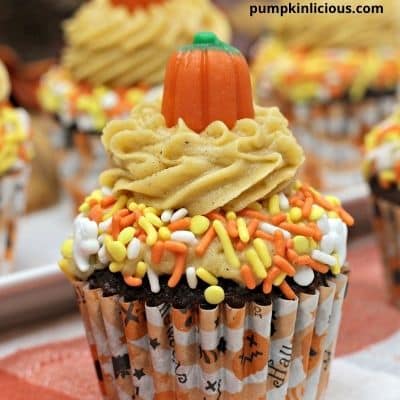 Fall is the best time of the year for get-togethers with friends and family! When you have visitors you want to make something that looks and tastes good!
My pumpkin mocha cupcakes definitely fit the bill! I always make some iced pumpkin cookies for the kiddies but I know the adults want something more indulgent.
Coffee lovers will adore the combination of espresso and pumpkin in these moist cupcakes, which taste even better when paired with one of my best pumpkin spice coffees.
Make sure you make more than one batch because I can guarantee people will want more than one of these! They really are a show stopper of dessert!
If you love these you might want to see my other suggestions for quick and easy pumpkin cupcakes
Pumpkin Mocha Cupcakes Recipe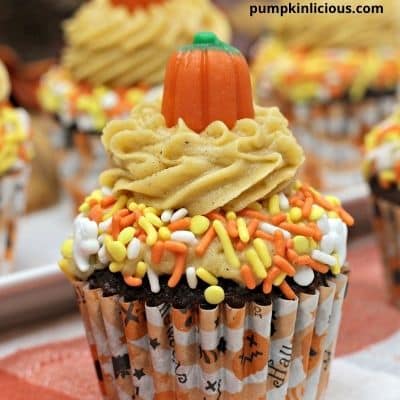 This pumpkin mocha cupcakes recipe combines the taste of espresso and pumpkin in these Fall delights.
Ingredients
I have split these into two groups, first for the actual pumpkin cupcake, and secondly for the spice frosting.
Pumpkin Mocha Cupcake Supplies
1 C flour
¾ teaspoon baking soda
½ teaspoon salt
1 teaspoon instant espresso powder
½ C hot water
½ C cocoa powder
6 tablespoon unsalted sweet cream butter, softened
¾ C sugar
1 large egg
¼ C vegetable oil
1 teaspoon vanilla extract
2 teaspoon Pumpkin pie spice
Pumpkin Spice Frosting Ingredients
1 C unsalted sweet cream butter, softened
1 C shortening
1 C canned pumpkin puree
2 teaspoon pumpkin pie spice
5 C powdered sugar
1 large piping bag fitted with a star tip
Decoration ingredients
2 Wilton fall sprinkles
12-24 Candy Corn Pumpkins
Instructions
Preparation and Cooking Instructions for Pumpkin Mocha Cupcake

1) Preheat oven to 350 degrees and line your cupcake pan with cupcake liners.

2) In a medium bowl, whisk together the flour, baking soda, pie spice

and salt until combined.

3) Using a small bowl, combine the water, espresso powder, cocoa, and

whisk until combined.

4) Using a standing mixer, cream together the sugar and butter.

5) Beat in the eggs, oil and vanilla until combined

6) Alternating between the espresso mixture and flour mixture, gradually

mix in both until combined.

7) Scoop batter into cupcake liners filling about ¾ full

8) Bake in the oven for 21 minutes or until a toothpick comes out clean

9) Allow to cool completely on the counter before frosting

Preparation Instructions for Pumpkin Spice Frosting

1) Using a standing mixer, beat together the butter and shortening until smooth

2) Mix in the pumpkin puree and the pumpkin spice

3) Gradually mix in the powdered sugar until combined

4) Continue to mix until smooth and creamy and stiff

5) Scoop 1 ½ C of frosting into piping bag

Decorating the pumpkin mocha cupcakes

Pour the Fall colored sprinkles into a bowl.

Using a small ice cream scooper, scoop some frosting onto the top of

the cupcakes and using a butterknife, smooth it into a thick disk.

Dip the frosting into the sprinkles and completely coat it.

Using the piping bag, pipe a dollop of frosting onto the center.

Place a candy pumpkin in the center.

What would you serve along with these for your guests?
I can imagine serving these to friends around Thanksgiving or even at a Halloween party.
Some of my other Pumpkin dessert ideas can be found below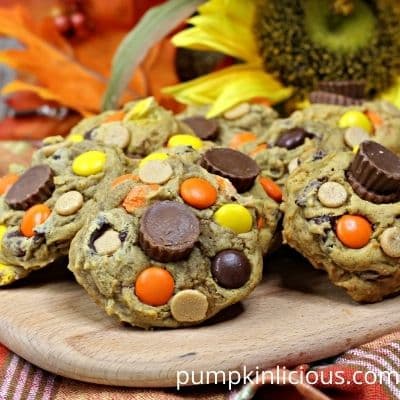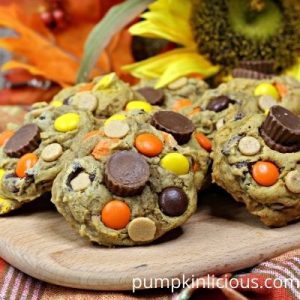 Do you like these Pumpkin Mocha Cupcakes Recipe?