These easy pumpkin cupcakes taste like Fall, and in a good way! Follow this super simple recipe to treat your family!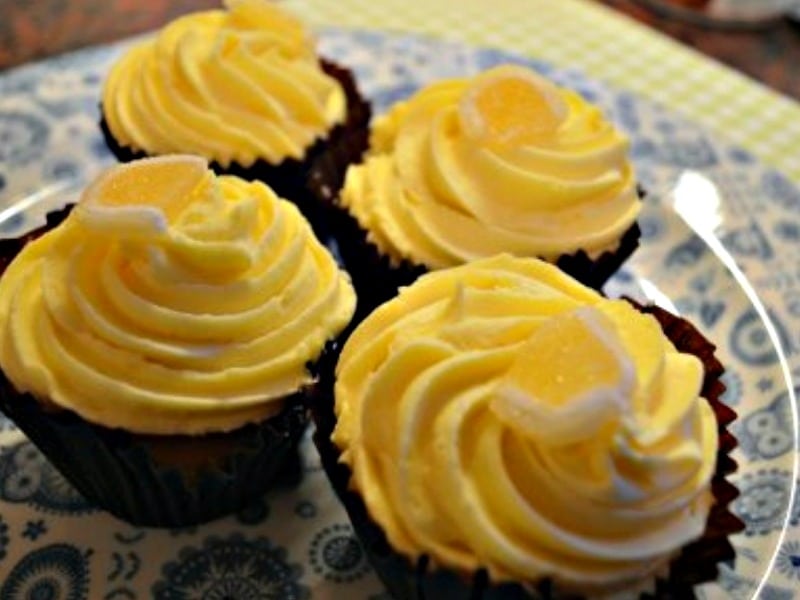 I have known one of my best friends for many years: more years than I really care to think about! We have probably gone through more experiences in those years than you can imagine, from school to working together and traveling around the world together.
Her grandchildren are 6 and 4 years old and have voracious appetites akin to vacuum cleaners, sweeping up any treats when they come over. Many children have discerning palates these days.
Being exposed to cuisines from around the world, we need to make something different when they come to visit. It's fun to play guessing games as to the ingredients in that specific treat 😉
The last time they came back in October, I had decorated the house with 'spooky pumpkin faces' which they loved. But they gasped with horror and cries of 'yuck' filled the house when they thought that the treat was going to be the pumpkin soup which was sitting on the top of the stove !
They did not realize that this was not for them: this was for our own dinner party! They were about to enjoy some of my QUICK Pumpkin Cupcakes. I didn't tell them what was in the cupcakes until they had finished the 4 cupcakes on the plate....'delicious', said the little one.....I rest my case!
Yield: 12
Easy Pumpkin Cupcakes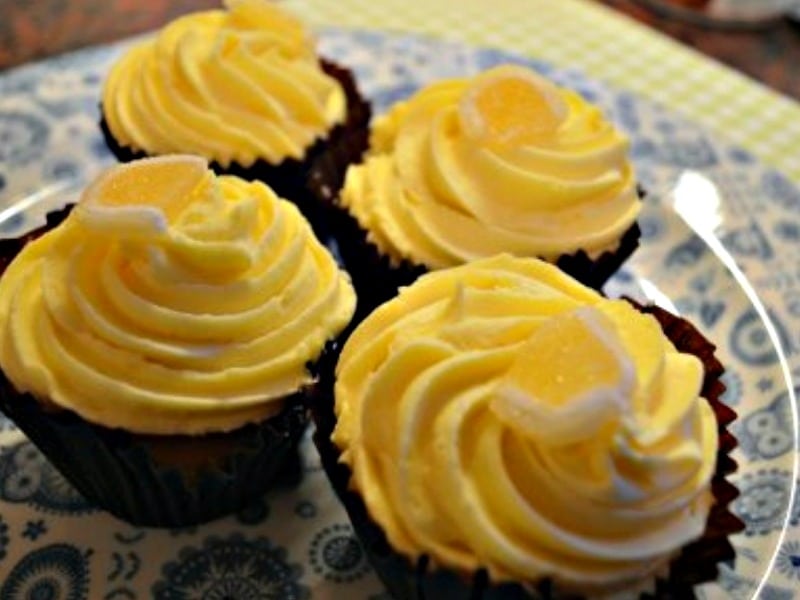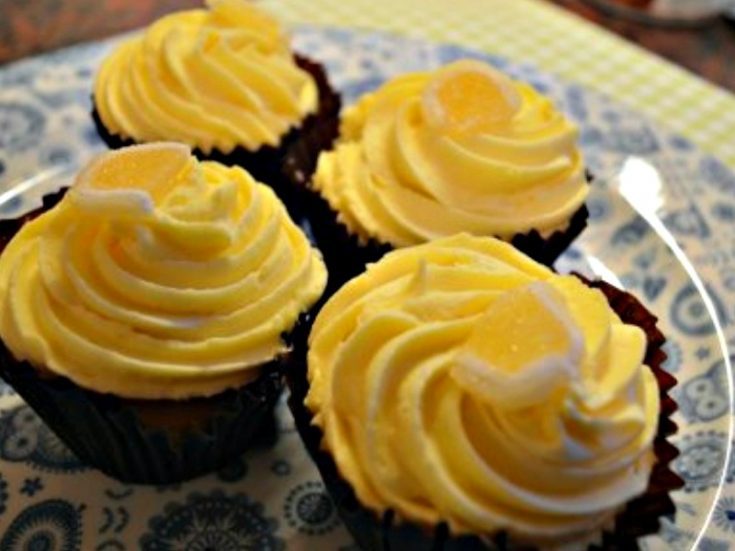 These easy pumpkin cupcakes taste like Fall, and in a good way! Follow this super simple recipe to treat your family!

Prep Time 15 minutes

Cook Time 25 minutes

Total Time 40 minutes
Ingredients
3 cups self-raising flour
2 teaspoon baking soda
1 ½ tablespoon pumpkin pie spice
4 large eggs
½ cup vegetable oil
Juice and zest of 2 large oranges (or ¼ cup/2fl.oz of orange juice)
1 teaspoon salt
For the lemon frosting
1 cup/4oz cream cheese
1fl.oz lemon juice
1 tablespoon milk
Instructions
Preheat oven to 340°F/170°C/Gas mark 4. Grease the cupcake pan

Combine all the dry goods in one bowl. Mix together all the 'wet' ingredients in a separate bowl, and beat until blended. Add the dry goods to the wet and gently stir until everything is well mixed together.

Spoon the mixture into the cupcake pan up to approx ¾ full. Bake for 25 minutes until golden and firm to the touch. Check the centers with a wooden pick: if it comes out clean, the cupcakes are ready. If not, return to the oven for another 5 minutes.

While the cupcakes are cooking, beat together the ingredients for the frosting mix. If the mix is too wet, add a little more icing sugar. If too dry, add a drop more milk.

When completely cool, decorate the cakes with the frosting, and top with a little half-moon of crystallized lemon.

You can use whatever frosting or icing flavor you want – or, if you don't like frosting, simply leave it off! There are a couple of icing recipes on the Pumpkin Cake Recipes page along with lots of other cake ideas.
KEEP READING FOR MY LIST OF 10 QUICK PUMPKIN CUPCAKE RECIPES
Variation for these quick pumpkin cupcakes
Have some fun decorating with some pumpkin shaped candy? These are fabulous for decorating any autumn desserts or cakes.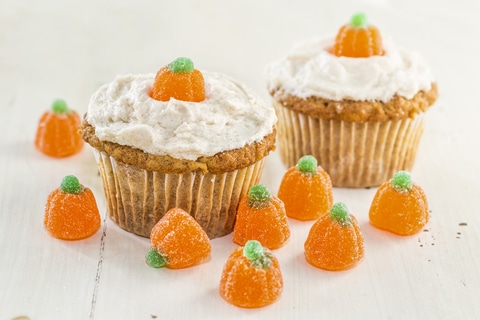 I actually have tons of ideas for easy Pumpkin cupcakes and you can find some of my favorites below!! These will definitely make some of the best Halloween pumpkin dessert ideas for your guests.
Quick Pumpkin Cupcakes
Looking for some quick pumpkin cupcakes that are easy to make! These recipe ideas will be a real treat this Fall!

You do know that you can also get some easy pumpkin cupcakes that are not edible?! I made some pumpkin pie soap cupcakes for a Thanksgiving gift! They did smell and look good enough to eat, but instead they were for the bath!
What would you serve with your Quick and Easy Pumpkins Cupcakes?