Fall is the best time for house parties, and one of the most requested things is my pumpkin spice cocktail with caramel vodka. I have drunk some caramel vodka drinks before and they are amazing.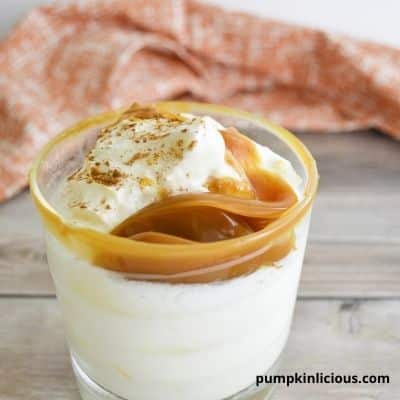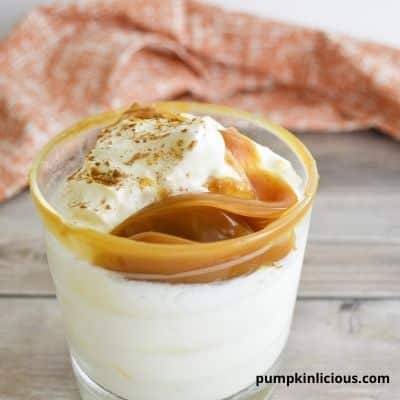 When the evenings start to get cooler I am less likely to get glammed up for a night out with friends. Instead I like to invite them around to mine for some pumpkin goodness including snacks and pumpkin cocktails!
It is a much cheaper to enjoy some refreshing drinks at home than in the bar anyhow. Once I stock up on my essentials I am ready to make cocktails for several nights!
Sometimes we light a little fire pit and sit around it sipping our delightful pumpkin drinks! There is always a nominated driver so they have to make do with one of my best pumpkin spice coffee recipes instead!
There are so many difficult ways to make these but I have fallen in love with caramel vodka. Come on who does not love caramel?! Alongside pumpkin it is one of my of favorite flavors. You can find one of my best caramel vodka recipes below.
Yield: 1
Pumpkin Spice Cocktail With Caramel Vodka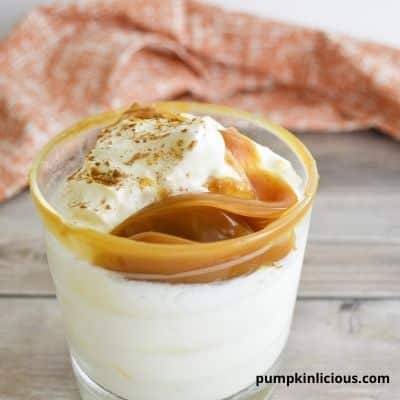 This delightful pumpkin spice cocktail with caramel vodka is the perfect Fall drink for parties.

Prep Time 2 minutes

Total Time 2 minutes
Ingredients
ice
2 oz Caramel Vodka
3-4 oz Pumpkin Spice Coffee Creamer
Whipped topping
Cinnamon
*optional -caramel for garnish
Instructions
Using glass of choice, dip glass into caramel to garnish rim. Sometimes I use a martini glass, other times a brandy glass. This cocktail tastes fab so it doesn't matter what you serve it on!

Then fill the glass with ice - this makes the cocktail delightfully refreshing.

Add Caramel vodka and pumpkin creamer.

Top with whipped topping, cinnamon, and more caramel for garnish.

Drink as slowly or quickly as you like.

What nibbles would you eat along with one of these divine cocktails?! How about some nachos with one of my favorite pumpkin dip recipes?!
Please let me know if you enjoyed this delicious pumpkin spice cocktail as much as I did 🙂 Can you think of any other caramel vodka drinks you would like to try?
Do you like this Pumpkin Spice Cocktail with Caramel Vodka?