Fresh Pumpkin Bread with Herbs
This fresh pumpkin bread with herbs is such an easy pumpkin bread recipe and wonderful with cream cheese.
It had been a lovely warm autumnal Sunday, but suddenly the sky turned black and I knew a storm was coming as Jessie the dog was suddenly tripping me up non-stop. As the rain started to clatter on the roof, I thought the time had come to put the oven on and finally do something with the roasted pieces of pumpkin I had in the fridge from two days before. I'd cooked them up when I was doing some sausages in the oven on Friday night.

So I put some relaxing music on the CD player in the kitchen, put all the lights on so I could actually see what I was doing, and proceeded to brighten up a dull afternoon.
Luckily I had run out to the garden and got some herbs before the rain started, as I had been wanting to make this fresh pumpkin bread with herbs all morning, but things kept getting in the way.

So, the ingredients I got together as I sang along at the top of my voice were:

1 cup of mashed pumpkin
2 eggs
1/3 cup extra virgin oil
1/2 cup milk


These I mixed together in my big green bowl using my favourite egg whisk with the Bakelite handle.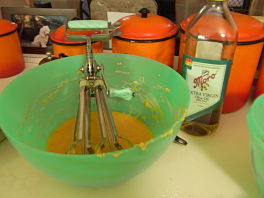 Then I put in:

2 cups plain flour – you can use wholemeal or spelt or any healthy flour you choose
1/2 tsp. baking powder
1/2 tsp. baking soda
1/2 tsp. salt, optional
1 tbsp. Sugar
2 tsp. Chopped herbs – I used basil, thyme, rosemary and sage

I mixed it with my trusty whisk which could just get through it with the flour in. It made quite a thick mixture.

Then I turned it into a loaf tin which I'd greased and sprinkled with a bit of flour – hopefully so it wouldn't stick. (Note to self – buy some new cake tins – maybe those funky new silicon ones you just peel off?)

I baked the loaf at 350 F or 180 C degrees for 1 hour until it was looking brown on top and a toothpick came out clean.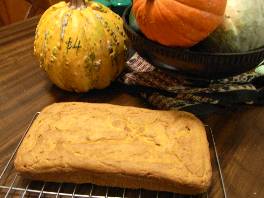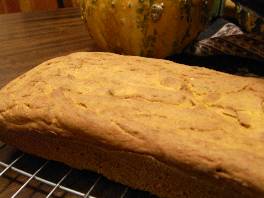 I couldn't resist trying it straight away, though I was in the middle of making my next recipe – a pumpkin bread with spices and walnuts. So I cut a piece, spread it with yummy butter and had it with a piece of Gouda.

I think it would be amazing toasted with cream cheese too, so I'll try that tomorrow.

Yum. So easy to do, one bowl, and I didn't even have to wash up the food processor. That recipe is a keeper!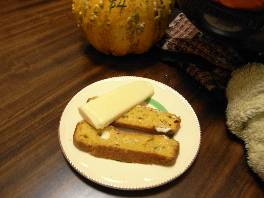 Return from Fresh Pumpkin Bread with Herbs to Pumpkin Bread Recipes
---