Pumpkin Ginger Cheesecake

I made this pumpkin ginger cheesecake recently and even I was seriously impressed. The base is to die for. Buttery, caramelly, nutty, gingery and crunchy, I could have just eaten that. But the topping is an orangey, creamy, spicy delight. What's more it was actually much easier to make than I was anticipating.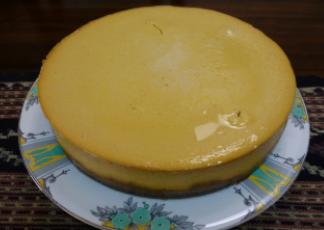 I made a couple of mini ones too, while I was at it. They cook much more quickly if you're in a hurry.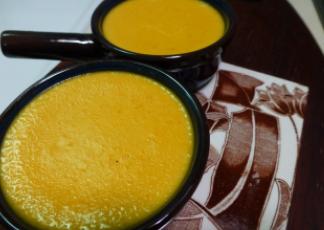 I used fresh pumpkin which was cooked in the oven and then lightly pureed in the blender. If you use canned, make sure it doesn't already have spices in. If it does just omit the spices in the ingredients.
Click on the tin to order a supply of healthy organic pumpkin!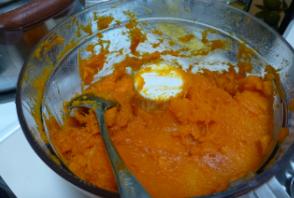 Here are the ingredients:

Crust:
1 small pack of ginger biscuits or cookies – crunchy ones
½ cup of pecan nuts ( or use walnuts instead)
6 tablespoons butter (melted)
2 tablespoons brown sugar

Filling:
2 packs of cream cheese (8 ounces or 225 grams)
1 ½ cups pumpkin puree
1 cup sugar
4 eggs
1 cup sour cream
1 teaspoon vanilla extract
½ teaspoon salt
1/2 teaspoon cinnamon
¼ teaspoon cloves
¼ teaspoon ginger
¼ teaspoon nutmeg

To make:

Blend all the crust ingredients together until they are in fine crumbs. Grease a 9" circular springform pan and place on a baking tray. Press the crumbs into the base and bake in the oven for 10 – 15 minutes at 350 F or 180 C (Gas mark 4)

Take out of the oven and allow to cool while you make the filling.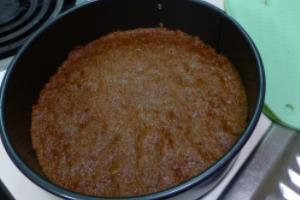 Reduce the oven temperature to 275 F or 140 C (Gas mark 3)

Beat the cream cheese in your blender. Add sugar and blend. Then add eggs one at a time. Finally mix in the pumpkin puree, the sour cream and all the other ingredients.

Pour over the base and place in the oven for 2 hours and 15 minutes.

Don't worry if the middle is slightly wobbly still, it will firm up in the fridge.

Allow to cool, cover and chill in the fridge for at least 4 hours or overnight.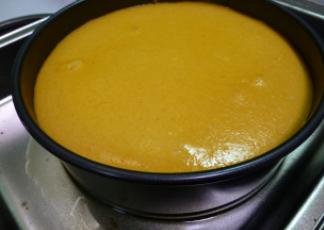 To serve: Release the spring form pan and tranfer to a serving plate.

This was absolutely delicious. I shall definitely be making that one again. Next time, instead of just eating it straight away as it comes, (which was pretty wonderful) I think it will go marvellously with some stewed rhubarb with a little cinnamon and a dollop of whipped cream or yoghurt. That would impress anyone at a dinner party.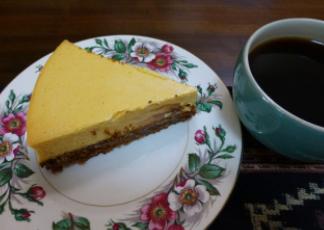 This pumpkin ginger cheesecake can easily be wheat and gluten free if you use a pack of gluten free ginger biscuits for the base, and check the label on your cream cheese and vanilla extract to make sure they are GF.
Return from Pumpkin Ginger Cheesecake to Pumpkin Cheesecake Recipes
---